MediCard HMO Health Card for Individual/Family/VIP/Corporate(100+) Sponsored
Contact Numbers:

+63-917

-XXX-XXXX

+63-917-895-7792

(GLOBE)

+63-908

-XXX-XXXX

+63-908-866-7535

(SMART)

+63-932

-XXX-XXXX

+63-932-848-5977

(SUN)

02-668

-XXXX

02-668-5937

(PLDT)

Feedback Score:

Close X

Feedback Computation

Feedback
Type
> 12 mos.
x1 pt.
12 mos.
x2 pts.
6 mos.
x3 pts.
3 mos.
x4 pts.
Total
Positive
(3) 3
(1) 2
-
(1) 4
9
Negative
-
-
-
-
-
Total:
9

Legend: (Feedback Count) Computed Score Feedback Details

SG Ranking:

Member Address:

Pasig City, Metro Manila

Last Access From:

Philippines

Registered:

Feb 20, 2007

Last Sign In:

4 hours ago

View other ads of rontan.

Seller Details
Description
[NOTE: Please Do Not Copy my Ads as I made my

OWN Strategies

, anyone who used

COPY PASTE

my Ads,

The Advertiser has a right to 

REPORT

to

Sulit.com.ph Support Team

.]
Thank You.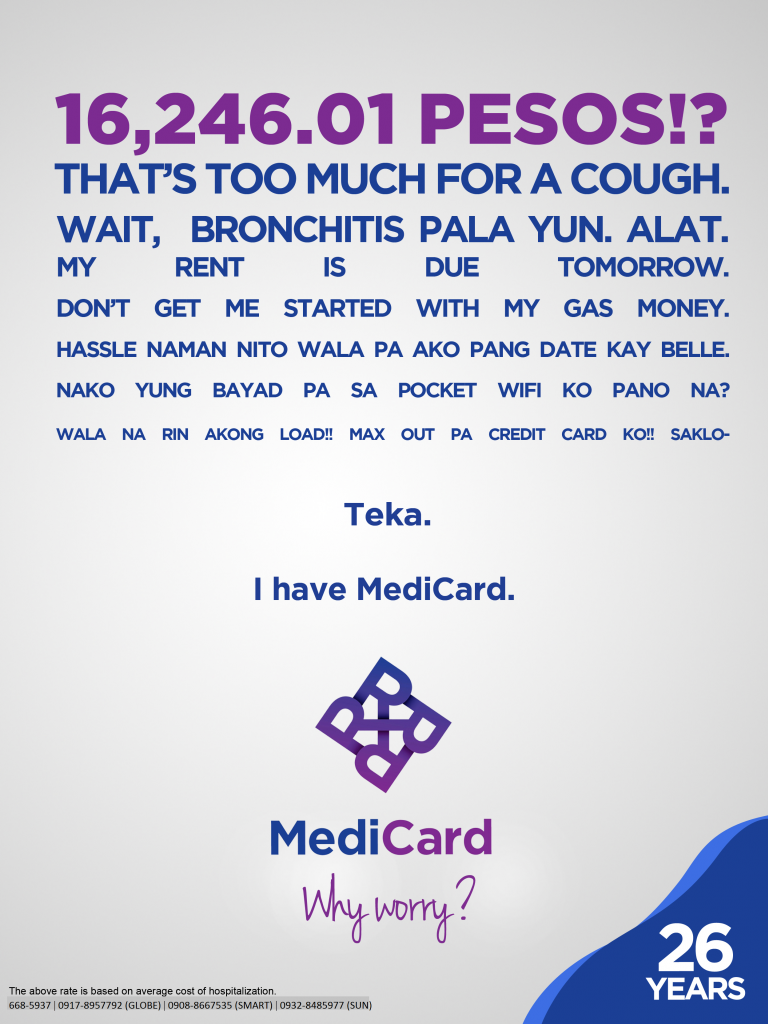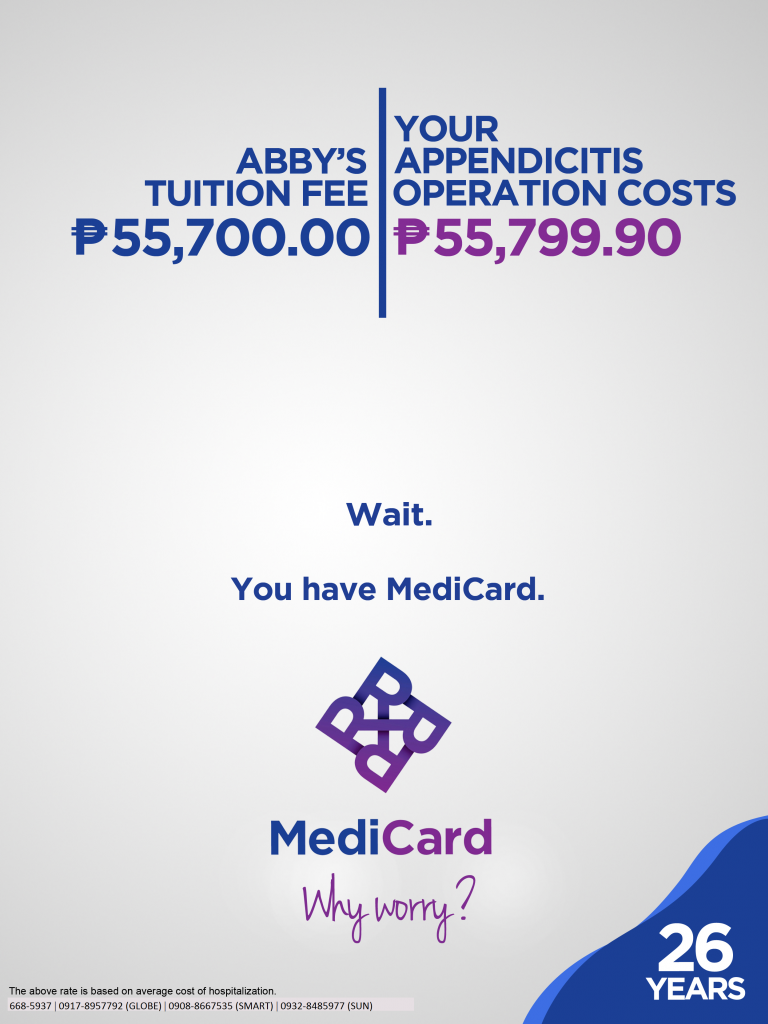 ===================================================================
Are you tired of paying your traditional medical expense such regular consultations with you Doctor (Out-Patient Services) without Health Card? Are you tired of paying your Hospital Expenses during your confinement in any hospitals in our Country? Good thing, there's MediCard that could assist you in your healthcare needs. 
===================================================================
=== PROCEDURES FOR INQUIRIES OF OUR INDIVIDUAL/FAMILY and VIP PROGRAMS ===
We would appreciate if you could 

TEXT

 me your

 

Email Address first

 to

0917-8957792

to 

know more about our offers

 your Inquiring for 

BEFORE calling me

 

after you received my Email

.
Please note that I do not disclose via  TEXT/SMS MESSAGE nor TALKING VERBALLY ONE-BY-ONE to ask our RATES and BENEFITS via Phone instead, its too long to discuss and we do not want to waste your time too.
Hope you understand because I receive Callers and they want to ask immediately the RATES straight while doing Phone Conversation without texting their EMAIL ADDRESS.
It is better to

TEXT

your

EMAIL ADDRESS

so that you might understand what's our Services are and I made my OWN TEMPLATE for easy viewing.

Kindly see the information below and follow the Procedure as mentioned.
NOTE: For those who do not text their NAME, EMAIL ADDRESS, AGE OF ENROLLEES will not Entertain.
NOTE

For

CORPORATE Accounts

, See my notations below.


MediCard Company Music Television

Introducing our New Corporate Logo

To symbolize the rebirth after 25 years of being a pioneering HMO in the Philippines, MediCard unveils a refreshed corporate logo as part of a corporate strategy that stresses the company's brand promise of giving the best healthcare available. 

Within this new logo is the universal symbol of healthcare, the cross. MediCard has kept the Rx and in fact multiplied it by 4 that rotate clockwise to form a single icon to convey the message to MediCard clients that they can avail of affordable medical services round the clock through its partner doctors and medical institution. The new logo also uses typefaces that make the brand look modern and refreshing. 

With the blue color, MediCard reminds people of trust, reliability and calmness. Purple hue was added to represent peace of mind and fulfillment. MediCard has brought back its tagline, Prescribed by doctors, to stress the difference of MediCard being the only HMO run and founded by doctors.
==== WATCH OUR NEW MediCard PRESENTATION ====
1st Video: MediCard's Products and Services
The MediCard Lifestyle Center provides a relaxing ambience that takes the fear and anxiety out of an otherwise intimidating hospital environment. View the video to learn more.
2nd Video: MediCard Presentation - How it works?
MediCard Philippines, Inc. 
the #1 Most Pioneer

H

ealth

M

aintenance

O

rganization in our Country that commits to provide the best quality health care service through total customer satisfaction to our members and to contribute to the well-being of the society that we serve.
You may read our
MediCard
 

Newspaper Articles for your Reference about our Organization: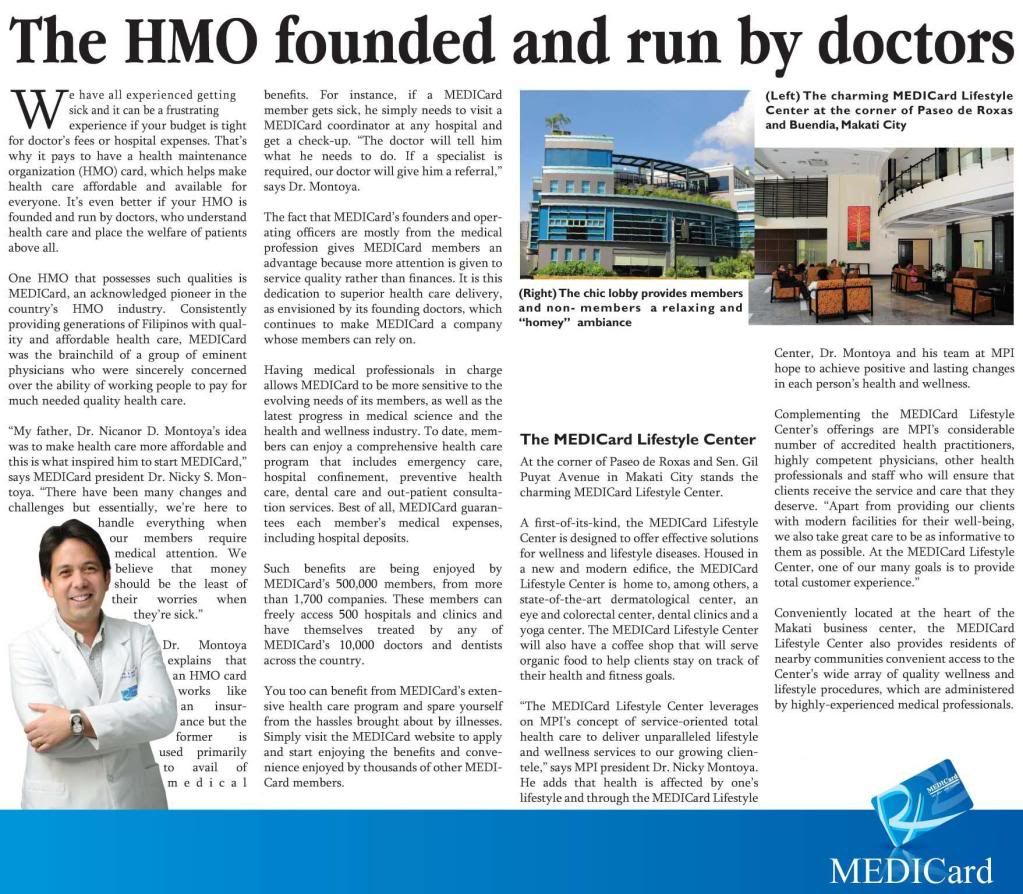 You want to avail a health care benefit for yourself? Get our Exciting Services only here from
MediCard
.
Before you contact me, we appreciate to read my ads below for procedures. 
 

---------------------------------------------------------------------------------------------

---------------------------
~ Be a member of the HMO that you deserve... MediCard. We facilitate applications for

Individual, Family

, and

Corporate

at least

Minimum 50 and Above (For Corporate Accounts)

membership. Explore and find a program best suited to your healthcare needs from the country's leading HMO.~
Enroll with MediCard Healthcare, and enjoy:
1. Unlimited consultations whether emergency or not
2. No deposit required upon admission to the hospital
3. Free Annual Check Up

And so much more!

Can be used in over 415 hospitals and clinics nationwide including:

Alabang Medical Center
Asian Hospital Medical Center
Capitol Medical Center
Cardinal Santos Medical Center
Chinese General Hospital
De Los Santos Medical Center
FEU-Nicanor Reyes Hospital
Las Pinas City Medical Center
Las Pinas Doctors Medical Center
Makati Medical Center
Manila Doctors Hospital
Perpetual Help Medical Center
St. Lukes Medical Center
The New Medical City
University of Santo Tomas Hospital
University of the East-Ramon Magsaysay Medical Center

And many other top & recognized hospitals in Luzon, Visayas & Mindanao! 
Get an application form now and have your MediCard ID in 1 week!
Also Avail of our our different programs:  Individual, Family, VIP (MEDICard Accomodates Ages 61 - 65 Years Old) Programs, Corporate Programs)
========To Request for a Quote / Proposal

(For CORPORATE ACCOUNTS ONLY) ==========
>>> For those who have Existing HMO who wish to get a Quote from us 
(For Corporate Accounts who had Minimum 50 Employees and Above) <<<
Please prepare the number of members (Master List of Employees) to be included in the program for a brief survey of the account, and Send me your Complete Name, Position, Company Name, Location, Email Address, Contact Numbers and Cell Numbers (Via PM) below for more details and Text me your email address at 0917-8957792 (GLOBE)
To Request of our Rates and Benefits (FOR INDIVIDUAL / FAMILY ONLY)
Kindly text me your your Complete Name, AGE of Enrollees (Important Contact Number (Landline Preferred), and Email Address at 0917-8957792 (GLOBE) so that I can send you the rates, benefits and other details.
=== TIPS: We would appreciate if you could follow the procedures as mentioned above before calling me. After you received my Email, you may call me if you have other Questions based from our offers.
Thank you so much for your understanding. :)
>>>>>> NOTE <<<<<<
FOR INDIVIDUAL / FAMILY / VIP PROGRAM CLIENTS ONLY:
Our Mode of Payment will be ANNUAL PAYMENT ONLY. We do NOT have SEMI-ANNUAL, QUARTERLY nor MONTHLY mode of payment. All premiums are fixed. Kindly respect my ads. Thank you for your understanding.
Also enrolling your DEPENDENTS  for themselves are not allowed. Father and Mother (Spouses) Should be enrolled first followed by their Eldest to Youngest child. Its a Hierarchy Rule as required by our Association.
>>>> MediCard BEST SELLER PLANS<<<<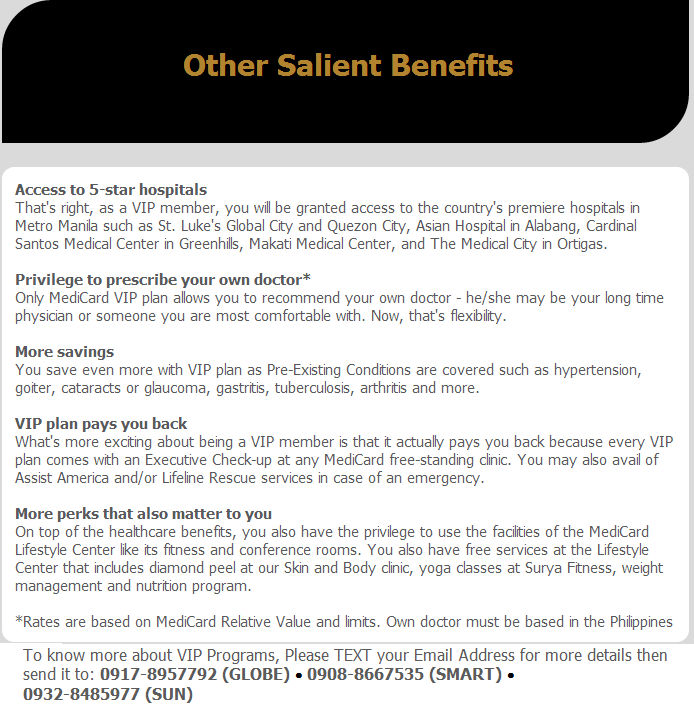 >>>> VIP Programs <<<< 
~~~ To know our SPECIAL Rates and Special Benefits for this,

TEXT me your Email Addresses at 0917-8957792

so that I can send you more details ~~~
:-) GOOD NEWS!!!!!!! :-)
MediCard Offers VIP Program for Ages 61-65 Years old.
--------------------------------------------
~~~ Thank you so much for your time to read my ads. Its better you have your healthcard right now inside your pocket because we cannot say our Life has rare complications and situations happening to you. So MediCard is here for you to take care all your healthcare benefits, Protection and a Good Investment to start and maintain your Health you need it. Anytime! Anywhere!. ~~~
FOR YOUR INQUIRIES: 
CONTACT US AT: 
0917-8957792 (GLOBE)
668-5937 (PLDT Landline)

Subject:  MediCard HMO Healthcard Inquiry
Other Offers, visit my homepage here at Sulit.com.ph:
http://rontan.sulit.com.ph 
------------------------------------------------------------------------ 
tara.flores@stwlanguage.com
Seller Contact Details
RON
Contact Details
+63-917

-XXX-XXXX

+63-917-895-7792

(GLOBE)

+63-908

-XXX-XXXX

+63-908-866-7535

(SMART)

+63-932

-XXX-XXXX

+63-932-848-5977

(SUN)

02-668

-XXXX

02-668-5937

(PLDT)
Last Access From: Philippines
Feedback Score
Close X
Feedback Computation
Feedback
Type
> 12 mos.
x1 pt.
12 mos.
x2 pts.
6 mos.
x3 pts.
3 mos.
x4 pts.
Total
Positive
(3) 3
(1) 2
-
(1) 4
9
Negative
-
-
-
-
-
Total:
9
Legend: (Feedback Count) Computed Score
Feedback Details
Other Ads by rontan
Comments
Leave a message for the advertisement owner here (for members only). Follow this ad's comments via RSS
medicard Ads