Personalized Mugs And Tumblers For Give Aways! No Minimum Order!!! Sponsored
Date Posted:

1 day ago (May 18, 2013)

Classification:

For Sale

Condition:

Brand New

Location: Caloocan City, Metro Manila
Warranty:

Personal Warranty

Ad Details
Crazetee Printing Services

Business Name Checked
Kristine Marquez

Name Checked
Contact Numbers:

+63-917-XXX-XXXX

+63-917-832-1121

(GLOBE)

+63-922-XXX-XXXX

+63-922-873-5121

(SUN)

02-975-XXXX

02-975-4075

02-407-XXXX

02-407-6137

Feedback Score:

Close X

Feedback Computation

Feedback
Type
> 12 mos.
x1 pt.
12 mos.
x2 pts.
6 mos.
x3 pts.
3 mos.
x4 pts.
Total
Positive
(5) 5
(1) 2
-
-
7
Negative
-
-
-
-
-
Total:
7

Legend: (Feedback Count) Computed Score Feedback Details

SG Ranking:

Member Address:

#7 stall SM Homes Commercial Bldg. Susano Road, Novaliches, Caloocan City, Metro Manila

Last Access From:

Philippines

Registered:

Aug 21, 2007

Last Sign In:

1 hour ago

View other ads of crazyforstones.

Seller Details
Description
PERSONALIZED MUGS, TUMBLER, SPORTS JUG, WITH NO MINIMUM ORDER!!!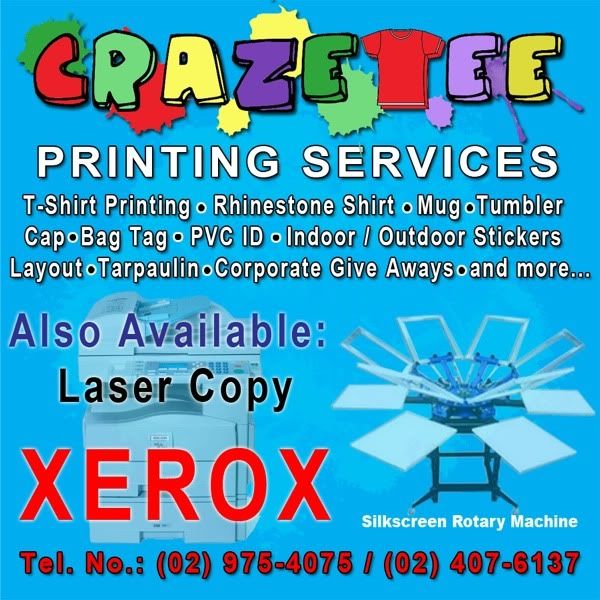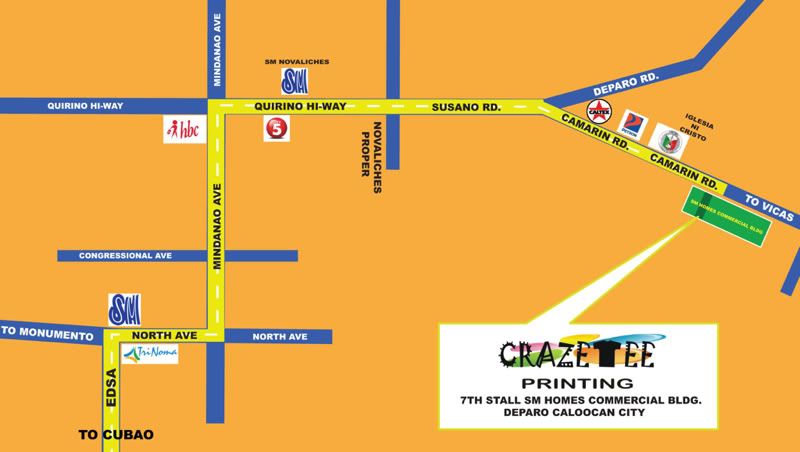 DIRECTION BY COMMUTE: The easiest way to get there, is take FX at SM North edsa. 
 FX TERMINAL going to VICAS. Tell to Driver to drop you at SM Homes.
The very convenient way, hassle free. So come and visit us now!!! =)

 


WE PERSONALIZED MUG WITH NO MINIMUM ORDER!!! PLEASE CALL FOR INQUIRIES... 

note:*** OUR MUG IS WASHABLE., SUPER WHITE., 100%CERAMIC MUG. 

KINDLY PLEASE EMAIL YOUR DESIGN AT crazetee_ph@yahoo.com thank you so much! 
other giveaways product:
*kiddie tumbler
*starbucks tumbler
*tumbler with handle
*sports jug
Crazetee Printing clients:
- ABS-CBN M.U LIVE
- QUEZON POWER PLANT
- LRA ( LAND REGISTRATION AUTHORITY )
- WSI ( IBM ,NOVELL )
- STATELAND 
- EUROPEAN MOTORS
- PLUVIAL ENTERPRISE
- TK COMMERCIAL
- COFFEE BELLE
- DUPLO
- SANDIGAN BAYAN
- AFP ( ARMED FORCES OF THE PHILIPPINES )
- MANILA BULLETIN
- QUALIFOAM MANUFACTURING
- BTSI ( Broadcast & Telecom Supply Inc. )
- and more....
Legend:
Actual Location
Nearest Landmark
Seller Contact Details
Crazetee Printing Services

Business Name Checked
Kristine Marquez

Name Checked
Contact Details
+63-917-XXX-XXXX

+63-917-832-1121

(GLOBE)

+63-922-XXX-XXXX

+63-922-873-5121

(SUN)

02-975-XXXX

02-975-4075

02-407-XXXX

02-407-6137
Last Access From: Philippines
This user has disabled private messaging from Guests. Sign In or Sign Up for Free to send this user a private message.
Feedback Score
Close X
Feedback Computation
Feedback
Type
> 12 mos.
x1 pt.
12 mos.
x2 pts.
6 mos.
x3 pts.
3 mos.
x4 pts.
Total
Positive
(5) 5
(1) 2
-
-
7
Negative
-
-
-
-
-
Total:
7
Legend: (Feedback Count) Computed Score
Feedback Details
Other Ads by crazyforstones
Comments
Leave a message for the advertisement owner here (for members only). Follow this ad's comments via RSS
posted on January 27, 2011 05:14PM
celmarksky

Last Access From: Philippines

posted on July 3, 2011 09:25PM
louistan

Last Access From: Philippines

posted on July 6, 2011 06:12PM
crazyforstones

Last Access From: Philippines

posted on September 3, 2011 12:39PM
trishdigitalid

Last Access From: Philippines

posted on November 29, 2011 08:31PM
miclazo

Last Access From: Philippines

posted on December 9, 2011 08:31PM
ShoutDee

Last Access From: Korea, Republic of

posted on January 7, 2012 01:19AM
FINOticz

Last Access From: Philippines

posted on March 28, 2012 02:13PM
swift888

Last Access From: Philippines

posted on March 30, 2012 07:00PM
crazyforstones

Last Access From: Philippines

posted on September 11, 2012 04:01PM
JeffreyCapili

posted on December 5, 2012 02:29PM
annalynatienza

posted on December 5, 2012 08:53PM
crazyforstones

Last Access From: Philippines
personalized mugs Ads