Adobe Photoshop CS5 Training | Basic to Advance Hands-on Course
Now Only:P

6,000.00

Regular Price: P 15,000.00
Save:P 9,000.00
Date Posted:

2 days ago (May 21, 2013)

Classification:

Offered

Location: Makati City, Metro Manila
Ad Feedback: 13 Details

Ad ID:

3060279

Date Updated:

1 day ago (May 21, 2013)

Short URL:

Ad Details
Avatar Checked
Inventive Media

Business Name Checked
Henry N. Ong II

Name Checked
Contact Numbers:

+63-917

-XXX-XXXX

+63-917-406-4205

(Globe)

+63-932

-XXX-XXXX

+63-932-613-4856

(Sun)

+63 2 62

XXXXX

+63 2 6250543

(Office)

Feedback Score:

158
100% Positive Feedback

Close X

Feedback Computation

Feedback
Type
> 12 mos.
x1 pt.
12 mos.
x2 pts.
6 mos.
x3 pts.
3 mos.
x4 pts.
Total
Positive
(110) 110
(11) 22
(2) 6
(5) 20
158
Negative
-
-
-
-
-
Total:
158

Legend: (Feedback Count) Computed Score Feedback Details

SG Ranking:

Member Address:

1051- B Teresa Street, Barangay Valenzuela, Rizal Village, Makati City, Metro Manila

Registered:

Mar 8, 2007

Last Sign In:

1 hour ago

View other ads of soul774.

Seller Details
Description
Gain hands-on experience with industry-standard, cutting-edge Digital Media technology. Learn the latest in graphic design, video editing, web development and computer networking through our one-of a-kind

training

methodology.




ADOBE PHOTOSHOP CS5
Any unauthorized duplication, copying, reproduction, publication and use of Inventive Media's course outline and other materials herewith without the consent, approval or permission of Inventive Media is punishable by law. To the other Computer Training Centers and IT Schools, please refrain from copying or imitating our personally authored course outline as a pattern to your course outlines
Photoshop Interface

Start Page
Menu bar
Options Palette
Tool Box/Tools Palette
Palettes well
Palette groups
Default Workspace
Managing your Workspace
Saving your workspace
Menus and Keyboard shortcuts
Tools and Tool Presets
Understanding Preferences
Photoshops Help Menu
Navigation
Document Window
Navigator Palette
Panning and Zooming with the Navigator Palette
Info Palette
Screen Modes
Changing the Matte Color for Presentation Mode
Synchronized Screen mode switching
Managing Multiple Document Windows
Synchronized Zooming and Panning
Digital Image Essentials
File Formats Essential
Resize Images
Resample Images
Knowing what Resolution to use
Resize Image Wizard
Accurate Print Size Preview
Image Cropping
Creating Frames and Borders
Adobe Bridge
Introduction to Adobe Bridge
How to access the Bridge
Understanding the Interface
Camera Raw
Understanding Camera Raw
Editing a Camera Raw File
Editing Multiple Camera Raw Files
Undoing Changes in Camera Raw
Applying Changes to multiple images
Non-Destructive Cropping
History and Actions
History Palette
Creating Snapshots
Painting with History States and Snapshots
Actions Palette
Creating Actions
Applying Actions
Learning Selections
Marquee Selection Tools
Lasso Selection Tools
Magic Wand Tool
Quick Selection Tool
Saving and Reusing Selections
Cutting, Moving, and Duplicating Selected objects
Image Transformations
Rotating and Flipping images
Straightening Crooked Images
Automatic Cropping and Straightening of images
Perspective Cropping using the Crop Tool
Scaling, Skewing and Rotating with Free Transform
Image Warping
Color and Swatches Palette
Using the Color Picker
Understanding Color Palette
Understanding Swatches
Saving Custom Colors as Swatches
Sampling Colors with the Eyedropper Tool
Painting and Brushes
Brush Tool
Color Replacement Brush Tool
Dodge Tool
Burn Tool
Sponge Tool
Burn Tool
Sharpen Tool
Smudge Tool
Image Extraction
Eraser Tool
Background Eraser Tool
Magic Eraser Tool
Extract Filter (Photoshop CS3 Only)
Image Tonal Correction
The Disadvantages of Brightness/Contrast
Using the Histogram Palette
Using Levels to improve tonality
Using Curves to improve tonality
Using Shadow/Highlight
Auto Contrast
Auto Levels
Auto Color
Basic Color Correction
Removing a Color Cast with Auto Color
Adjusting the Auto Color Settings
Removing a Color Cast with the Levels Eyedroppers
Using Color Balance
Using Desaturation
Using Hue/Saturation
Using Matching Color
Adjusting Exposure
Using Variations
Layers
About Layers
The Background Layer
Adding and Deleting Layers
Linking and Merging Layers
Duplicating Layers
Converting a background layer into a normal layer
Layers Management
Changing the Opacity of a Layer
Using a Clipping Mask
Layer Masks
About Layer Mask
The Layer Mask and brush
The Layer Mask and selection tools
Layer Masking Tricks and Tips
Adjustment Layers
About Adjustment Layer
Levels Adjustment Layer
Curves Adjustment Layer
Shadows and Highlights Adjustment Layer
Masking the Effects of an Adjustment Layer
Digital Photo Filters Adjustment Layer
Color to Grayscale with Channel Mixer
Using Multiple Adjustment Layers
Blending Modes
About Blending Modes
Experimenting with Blending Modes
Photomerge
Image Retouching
Fixing Red Eye problem
Removing Unwanted Objects (E.g. Pimples, Blemishes, etc)
Removing Blemishes and Wrinkles with the Healing Brush
Using the Spot Healing Brush and Patch Tools
Whitening Teeth using various techniques
Smoothening Rough Surfaces
Repairing Discolored and Noisy Colors
Push and Pull with Liquify
Image Restoration
Restoring old tarnished photos
Filters
Filter Gallery (Artistic, Brush Strokes, Distort, Sketch, Stylize, Texture)
Blur (Gaussian, Surface, Lens Blurs, Smart, Radial, Etc.)
Noise
Pixelate
Render (Lens Flare, Lighting Effects)
Sharpen (Smart Sharpen, Unsharpen Mask)
Layer Styles
Creating Drop Shadows
Using Inner Shadow to Create a Carve Effect
Outer Shadow
Inner Glow
Bevel and Emboss
Satin
Color Overlay
Gradient Overlay
Pattern Overlay
Stroke
Vanishing Point
Vector Shapes and Tools
Shape Tools
Creating Multiple Shapes on a Single Shape Layer
Creating Custom Shapes
Using the Pen Tools
Path Selection Tools
Type Essentials
Character Typing
Paragraph Typing
Spell checker
Typing on a Path
Typing in Vector Shapes
Warping Text
Photoshop Tricks
Making a static image appear moving
Turn a Photo into a Sketch
High-Contrast Sketch
Photo Mosaic
Printing Images
Creating Picture Package
Creating a Contact Sheet
Creating a Web Photo Gallery
Web Layouting
How to layout a webpage
Cutting images using the Slice Tool
Naming images using the Slice Select Tool
Saving your layout
Generating HTML Pages
Web Layouting
How to layout a webpage
Cutting images using the Slice Tool
Naming images using the Slice Select Tool
Saving your layout
Generating HTML Pages
Improved Image Extraction using Refine Edges - Smart Radius
Elimination Color contamination/Fringes in Image Extraction using Refine Edges - Decontaminate Color
Merge to HDR Pro - Highly improved HDR Effect. Makes use of multiple Photo Exposures
HDR Toning - Let's you create an HDR effect without having to use multiple exposures
Puppet Warping - Let's you change or move object orientation similar to puppet animation in Flash
Content Aware Fill - A quicker and smarter way of erasing unwanted object. It's like Magic!
Spot Healing Brush - Huge adjustment with healing brush! It's now usable compared to older Photoshop releases where you completely ignore this tool
Mixer Brush - A great new Brush tool that easily helps you turn your photo into a painting like work of art!
TRAINING VENUE
Rm 202 Raman Condominium 1130,
Don Chino Roces Ave (Pasong Tamo)
Makati City 1231
<Click Here> For larger version of map
ABOUT THE TRAINER
Henry N. Ong II
DLSU-College of Saint Benilde (BSBA-Computer Application)
DLSU (Masters in Business Administration)
CISCO CCNA - Oasis Computer Institute, Abu Dhabi
Windows 2003 Server - Oasis Computer Institute, Abu Dhabi
Windows 2000 Server Oasis Computer Institute, Abu Dhabi
Microsoft SQL Server - Informatics
Microsoft SQL Programming - Informatics

PROFESSIONAL EXPERIENCE(S)
Started Professional Web Development as early 1997
14 Years of extensive training experience (Have conducted trainings here and abroad)
Inventive Media - Proprietor
Asian Institute of Management (AIM) - Web Developer/I.T. Consultant
Development Academy of the Philippines (DAP) - Resource Person/I.T. Trainer

European Innovation, Technology, and Science Center Foundation

(EITSC) - Resource Person/I.T. Trainer
Alagad Party-List - I.T. Manager
Best Ventures - I.T. Consultant
PC Tech Support Organization - Vice President
Adobe Systems Inc. - Beta Tester
Joomla.org - Documentation Specialist
Informatics, U.A.E. - Former I.T. Resource Person
New Horizons, U.A.E. - Former I.T. Resource Person
TOTAL S.A. - Oil and Gas - Former Jr. Network Engineer
Project Consultant to many of the known Schools, Colleges, and I.T. Training Centers in and around Metro Manila.
I.T. Consultant/Resource Person to several Government Agencies, LGUs and NGOs
I.T. Trainer/Speaker - Have done numerous speaking engagements, seminars, trainings and corporate trainings for various Multinational Corporations, Companies, Banks, Call Centers and Government Agencies and schools both local and overseas.
RECENT ACTIVITIES
Versar International Philippines

Herco Bldg., Benavidez St., Makati City
---
Website Development Course using Joomla
Audio-Visual Room, DAP Building
Participants were from the Land Transportation Office, Department of Agriculture,
Development Academy of the Philippines, Department of Energy, Local government of Batangas,
Local government of Vigan City, etc
---


ALAGAD Party-List Website Launching
Bureau of Soil and Water Management Auditorium
The event was covered by
NET25's Convergence
Giving
Convergence
some insights to what the site is all about
and its relevance to the marginalized sector
Slugging it out with the big boys!
The Alagad Party-List Website launching was a well attended event;
by influencial people from both the business and government sector
---
Carl Duisberg Association of the Philippines
Oxford Hotel, Burgos Street, Makati City
Joomla CMS 2 Days Corporate Training

Resource Person: Henry N. Ong II
Carl Duisberg Association of the Philippines
Oxford Hotel, Burgos Street, Makati City

Awarding of Certificates
---
De La Salle University
Taft, Manila
LEAP 2010LASALLIAN ENRICHMENT ALTERNATIVE PROGRAM - JOOMLA Seminar
---
Contract Signing with Congressman Diogenes S. Osabel
for Alagad Party-List's Website
---
Joomla Content Management System - 3 Days Corporate Training
3F JMT Building, Pasig City

Resource Person:
Henry N. Ong II
PC Tech's One Day Free Seminar 
 for Basic Computer Assembly and Installation,
CCTV (Surveillance Camera) and Digital Shirt Printing
in cooperation with Barangay Valenzuela, Makati City
CCTV Seminar Training conducted by Henry N. Ong II
---
PC Tech's One Day Free Seminar 
 for Joomla CMS, Virus Prevention,
CCTV (Surveillance Camera) and Digital Shirt Printing
in cooperation with RCBC Saving Bank, Pasong Tamo Branch
Joomla CMS Training conducted by Henry N. Ong II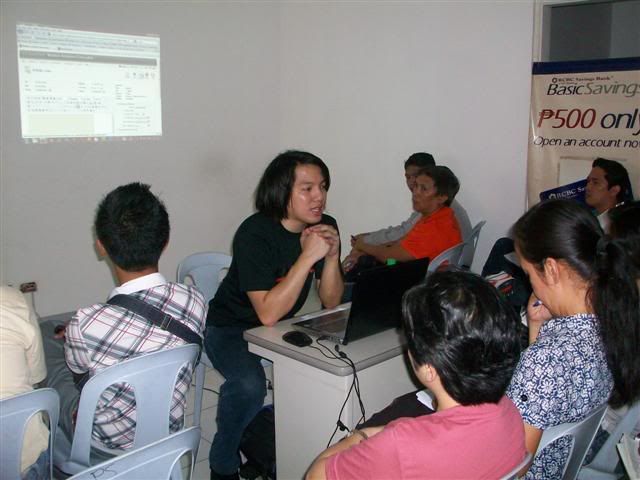 ---
OneWebDay
September 22, 2009
SM Mall of Asia Music Hall
Learn more about OneWebDay Click Here
Guest Speaker: Henry N. Ong II (PC Tech Vice President)
Topic discussed: Open-Source
PC Tech Group
1 Day Free PC Repair and Troubleshooting Outreach during the OneWebDay event


---
EITSC
Computer Literacy
Training
for Teachers conducted at the Rizal Technological University
Resource Person/Trainer:
Henry N. Ong II
Rizal Technological University's Computer Laboratory donated by EITSC
---
Green-Jacobsen
Chatham House, Valero St., Makati City
Macromedia Flash Professional 8 Training
(Corporate In-house Training)
Trainer: Henry N. Ong II
Green-Jokobsen Staff
Working on the prepared exercises for Flash


OVER 400+ OF POSITIVE FEEDBACKS

www.TipidPC.com<click here for link>
www.Sulit.com.ph<click here for link>






CHAT WITH ME NOW!!!<click here for link>


Henry N. Ong II
MBA/CCNA
IT Consultant / IT Trainer
Raman Condominium 1130,  Chino Roces Ave.
(Formerly Pasong Tamo Ave.) corner Vito Cruz extension.
Makati City1231 Philippines

Email: inventivemedia.ph@gmail.com
YM: pacific_webphone@yahoo.com
Tel/Fax: +63 2 6250543
Globe Mobile: +63 917 4064205
Sun Mobile: +63 932 6134856
Hong Kong Tel: +85 2 31795563
Seller Contact Details
Inventive Media

Business Name Checked
Henry N. Ong II

Name Checked
Contact Details
+63-917

-XXX-XXXX

+63-917-406-4205

(Globe)

+63-932

-XXX-XXXX

+63-932-613-4856

(Sun)

+63 2 62

XXXXX

+63 2 6250543

(Office)
Feedback Score
158
100% Positive Feedback
Close X
Feedback Computation
Feedback
Type
> 12 mos.
x1 pt.
12 mos.
x2 pts.
6 mos.
x3 pts.
3 mos.
x4 pts.
Total
Positive
(110) 110
(11) 22
(2) 6
(5) 20
158
Negative
-
-
-
-
-
Total:
158
Legend: (Feedback Count) Computed Score
Feedback Details
Other Ads by soul774
Comments
Leave a message for the advertisement owner here (for members only). Follow this ad's comments via RSS