Pretty Model Slimming Capsules Authentic
Price:P

200.00

Date Posted:

March 25, 2013

Classification:

For Sale

Condition:

Brand New

Warranty:

No Warranty

Ad Feedback: 4 Details
Ad Details
Q7studios
Dennis Michael B. Quiambao

Name Checked
Feedback Score:

40
100% Positive Feedback

Close X

Feedback Computation

Feedback
Type
> 12 mos.
x1 pt.
12 mos.
x2 pts.
6 mos.
x3 pts.
3 mos.
x4 pts.
Total
Positive
(27) 27
(5) 10
(1) 3
-
40
Negative
-
-
-
-
-
Total:
40

Legend: (Feedback Count) Computed Score Feedback Details

SG Ranking:

Member Address:

Novaliches Quezon City

Registered:

May 5, 2010

Last Sign In:

May 14, 2013

View other ads of q7studios.

Seller Details
Description
 Pretty Model Slimming Capsules Authentic
450 mg x 20 capsules / box
Guaranteed 100% Original/Authentic!!!!!!!! 
NOT BFAD APPROVED
For those who want to reduce fat 13 kg in a month 
Honored as the top honorable: GOLDEN EMPEROR AWARD" of Japan Fat Reducing Association
The Best Modern Slimming Product Recommended by the Movie Starts and Models of Korea and Japan.
Pretty Model Slimming Capsule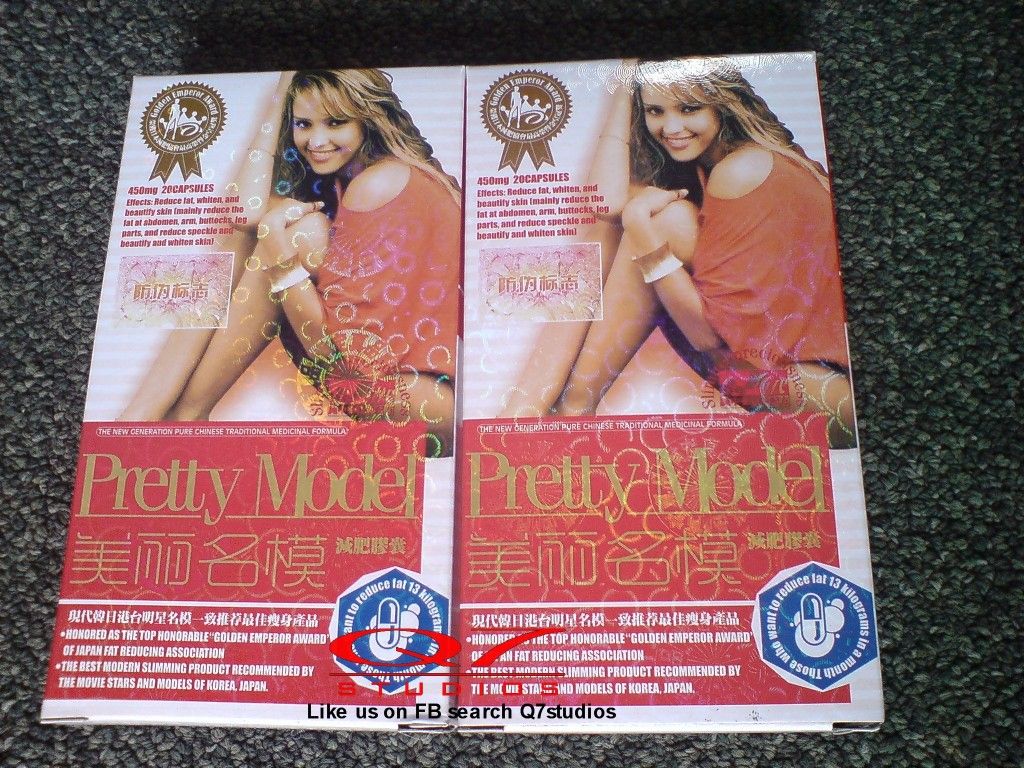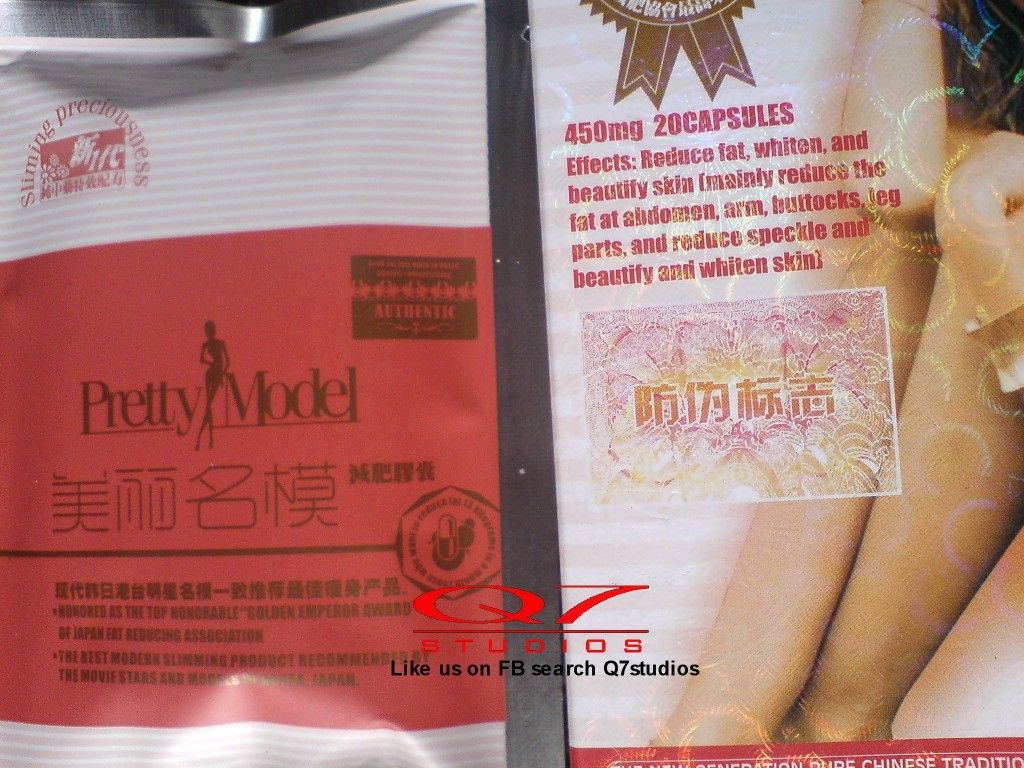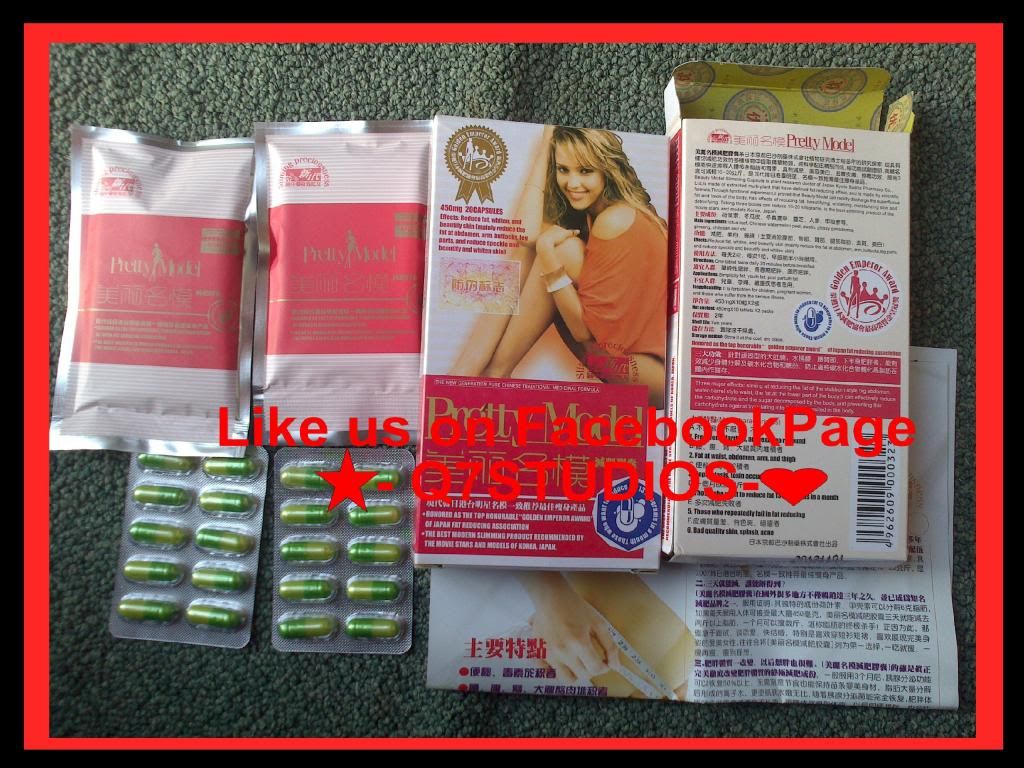 is plant research doctor of Japan Koto Basha Pharmacy Co., Ltd., is made of extracted multi-plant that have defined fat reducing effect, and is made by scientific formula. Through functional experiment, it proved that Pretty Model can rapidly discharge the superfluous fat and toxin of the body, has effects of reducing fat, beautifying, whitening, moisturizing skin and detoxifying. Taking three boxes can reduce 10-20 kilograms, is the best slimming product of the movie stars and models of Korea and Japan.

It can REDUCE FAT IN THREE DAYS. "Pretty Model Slimming Capsule" was not only selling well in many places in Foreign countries, but also become one of the most famous slimming products. It proved that after taking it, the unique ingredients of Lotus Leaf and Chitosan can decompose 6 grams of fat, taking it every day, the human body can accept the maximum of 450 mg, Pretty model can reduce fat over one kilogram in three days, reduce fat several kilograms in a month. Because of it, those who are anxious to interview, who are in love, and near wedding day, and the woman who wants to be beautiful, especially like wearing short skirt, like showing perfect figure shall list, Pretty Model Slimming Capsule" as the first choice. This product makes you slim once you take it, then slim down again and again until to the perfect slender.
MAIN CHARACTERISTICS:
1. Free from diarrhea, anorexia, no rebound
2. Reduce fat at waist, abdomen, arm and thigh
3. Coprostasis , eliminate toxin accumulation
4. Suited for this whi want to reduce fat 13 kilograms in a month
5. Suited for those who repeatedly fail in fat reducing
6. For those who have bad skin quality, splash and acne
MAIN INGREDIENTS:
Lotus Leaf, Chinese Watermelon peel, aweto, glossy ganoderma, ginseng and Chitosan.
EFFECTS:
Reduce fat, Whiten and Beautify skin
(mainly reduce fat at abdomen, arm, buttocks, leg parts and reduce speckle and beautify and whiten skin)
Open for Wholesale/Re Seller  
How to order:
(Send us a personal message via Facebook Page)
->NAME
->ADDRESS
->ORDER/S
->PAYMENT DETAILS:
(BDO,BPI,Cebuana, ML KWARTA,WESTERN,LBC & GCASH)
---------------------------------------
**SHIPPING:
JAMGLOBAL EXPRESS - LBC
XEND -LBC
(You can Choose which courier was going to use.)
Monday to Friday ONLY
Metro Manila: P50.00 (1/2 kilo)
Provincial Area: P90.00 (1/2 kilo)
SEND TO:  http://www.facebook.com/pages/Q7studios/129254153818393
Visit us on Facebook Page
http://www.facebook.com/pages/Q7studios/129254153818393 
Thank You and God Bless us always. 
Seller Contact Details
Q7studios
Dennis Michael B. Quiambao

Name Checked
Feedback Score
40
100% Positive Feedback
Close X
Feedback Computation
Feedback
Type
> 12 mos.
x1 pt.
12 mos.
x2 pts.
6 mos.
x3 pts.
3 mos.
x4 pts.
Total
Positive
(27) 27
(5) 10
(1) 3
-
40
Negative
-
-
-
-
-
Total:
40
Legend: (Feedback Count) Computed Score
Feedback Details
Other Ads by q7studios
Comments
Leave a message for the advertisement owner here (for members only). Follow this ad's comments via RSS