Brandnew Panasonic Lumix GF2 14mm with 1 Year Shop Warranty!
Price:P

15,500.00

Date Posted:

March 12, 2013

Classification:

For Sale

Condition:

Brand New

Location: Pasay City, Metro Manila
Warranty:

Shop/Factory Warranty

Ad Details
Dianne's Gadget & Gizmos
Dianne Senires
Contact Numbers:

+63-932-XXX-XXXX

+63-932-782-9899

(Sun)

+63-917-XXX-XXXX

+63-917-819-5095

(Globe)

02-844-XXXX

02-844-4525

(PLDT)

Feedback Score:

610
100% Positive Feedback

Close X

Feedback Computation

Feedback
Type
> 12 mos.
x1 pt.
12 mos.
x2 pts.
6 mos.
x3 pts.
3 mos.
x4 pts.
Total
Positive
(353) 353
(46) 92
(31) 93
(18) 72
610
Negative
-
-
-
-
-
Total:
610

Legend: (Feedback Count) Computed Score Feedback Details

SG Ranking:

Member Address:

Pasay City

Last Access From:

Philippines

Registered:

Mar 17, 2009

Last Sign In:

5 days ago

View other ads of samarahchan.

Seller Details
Description

Click this Link:http://www.facebook.com/index.php?lh=9d4e1c7b90dfed202605e09966e55666&eu=Lq-JU6Bkk7bLWVDNJrDf6Q#!/pages/Diannes-Gadget-Gizmos/160046410709261
Panasonic Lumix DMC-GF2 system camera : Compact can be even more compact! Panasonic introduces the new interchangeable lens system camera DMC-GF2 from Lumix G Micro System based on the Micro Four Thirds standard. With a dramatic downsizing from the predecessor, the Panasonic Lumix GF2 features an outstanding compactness and ease of operation while pursuing high image quality. The world's smallest and lightest Panasonic GF2 is reduced approx. 19% in size and approx. 7% in weight compared with the DMC-GF1. The Panasonic Lumix GF2 is equipped with a built-in flash which adopts new pop-up mechanism to prevent vignetting effect due to short distance between the flash unit to the interchangeable lens.
Key Features
12.1 megapixel Micro Four Thirds sensor
14mm kit lens f/2.5, 28mm equivalent
3 inch touch screen, 460k dots
Optional EVF accessory port
Dust removal system (SSWF)
Creative / My Colour Filters (GF3: Creative Control): 9 vs 6 on GF3
Colour adjust: Colour, Black and White, Contrast, Sharpness, Saturation, Noise Reduction (+/- 2)* (* Called Photo Style in the GF3, and comes with presets: Standard, Vivid, Natural, Monochrome, Scenery, Portrait, Custom)
17 scene modes
ISO100-6400
AF-assist lamp
Dynamic range expansion: iContrast
Full HD Video, Stereo sound
Whats in the Box?


  Panasonic GF2 Body
Lumix G 14mm
Battery Charger
Battery Pack
Battey Case
Body Cap
Hot Shoe Cover
AV Cable
USB Connection Cable
Shoulder Strap
Stylus pen
CD-ROM
SilkyPix Developer Studio 3.1 SE


                                                                     Add Ons Acessories (Not Included in the Box Package)



P400    

                                                                    P600                                                                  P900
4GB Original SD Card                                         8GB Original SD Card                               16GB Original SD Card


LCD Protector                                                       

LCD Protector                                                

LCD Protector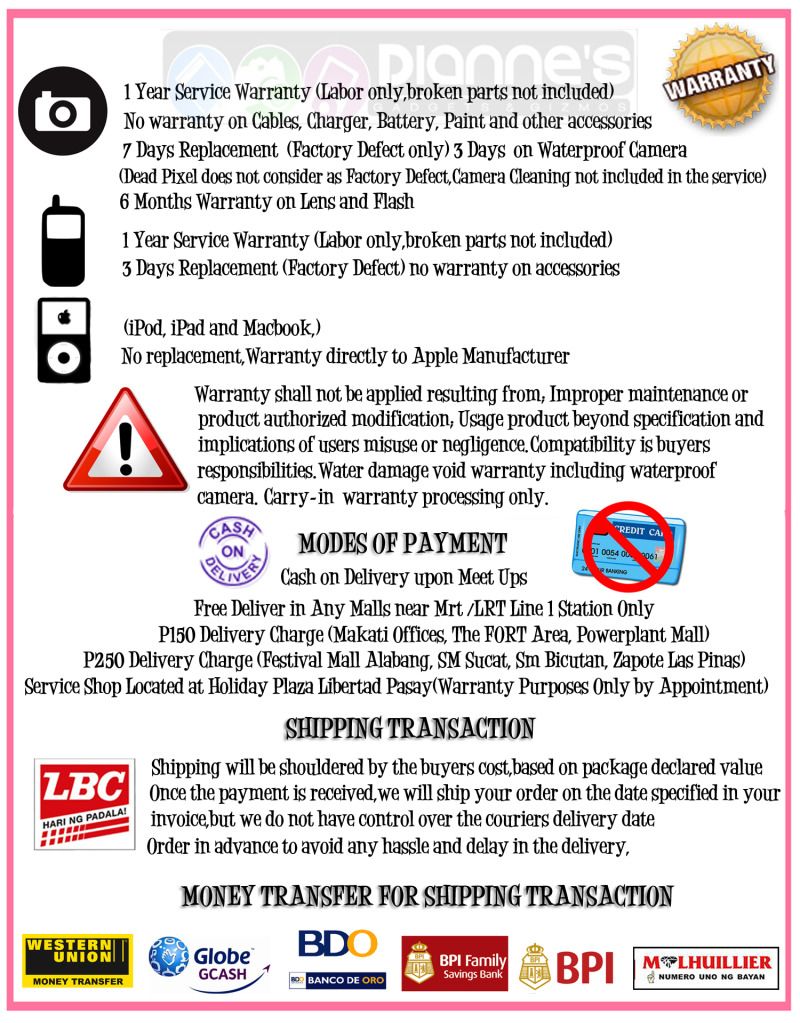 Seller Contact Details
Dianne's Gadget & Gizmos
Dianne Senires
Contact Details
+63-932-XXX-XXXX

+63-932-782-9899

(Sun)

+63-917-XXX-XXXX

+63-917-819-5095

(Globe)

02-844-XXXX

02-844-4525

(PLDT)
Last Access From: Philippines
Feedback Score
610
100% Positive Feedback
Close X
Feedback Computation
Feedback
Type
> 12 mos.
x1 pt.
12 mos.
x2 pts.
6 mos.
x3 pts.
3 mos.
x4 pts.
Total
Positive
(353) 353
(46) 92
(31) 93
(18) 72
610
Negative
-
-
-
-
-
Total:
610
Legend: (Feedback Count) Computed Score
Feedback Details
Other Ads by samarahchan
Comments
Leave a message for the advertisement owner here (for members only). Follow this ad's comments via RSS
lumix gf2 Ads