Nintendo 3DS Cosmo Black / Aqua Blue (Asian & US Edition)
Cellpower Sales

Business Name Checked
Tom Li Pascual

Name Checked
Contact Numbers:

+63-922

-XXX-XXXX

+63-922- (SUN) 598-4220

+63-906

-XXX-XXXX

+63-906- (GLOBE) 348-8222

9967

XXX

9967 (LANDLINE) 070

Feedback Score:

665
100% Positive Feedback

Close X

Feedback Computation

Feedback
Type
> 12 mos.
x1 pt.
12 mos.
x2 pts.
6 mos.
x3 pts.
3 mos.
x4 pts.
Total
Positive
(218) 218
(74) 148
(61) 183
(29) 116
665
Negative
-
-
-
-
-
Total:
665

Legend: (Feedback Count) Computed Score Feedback Details

SG Ranking:

Member Address:

1138 G. Masangkay St., Sta. Cruz, Manila, Metro Manila

Last Access From:

Philippines

Registered:

Oct 31, 2007

Last Sign In:

12 hours ago

View other ads of tomli.

Seller Details
Description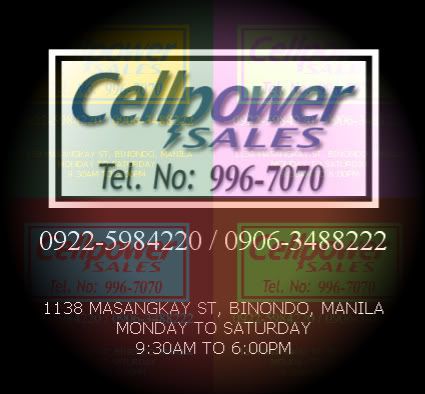 MAP LOCATION: <click here for link>

Selling BRAND NEW Nintendo 3DS Core Pack (Asian & US Version) for P8,200.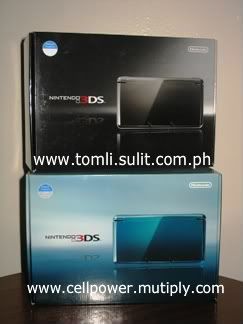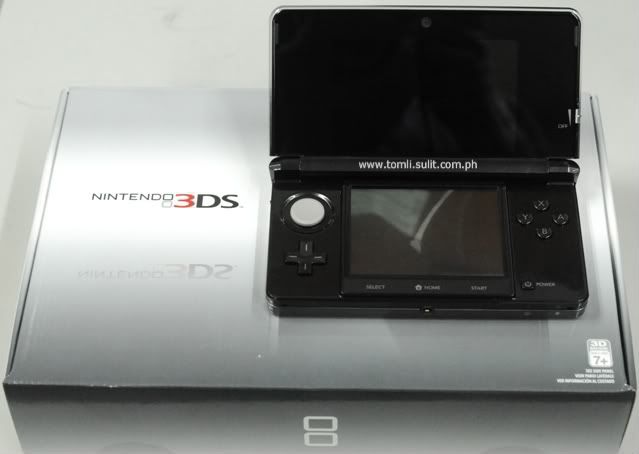 What is included:
- Console (Cosmo Black / Aqua Blue)
- Charging Cradle
- AC Adapter (Charger)
- Stylus
- 2gb SD Memory Card (Storage for Pictures & Music only)
- AR Card(s) 6pcs
- User Manual
- Quick-Start Guide

FREE:
- LCD Protector
- 220v AC Adapter (Charger)

FOR US VERSION ONLY



- 6 MONTHS SERVICE WARRANTY ON CONSOLES 

- NO WARRANTY ON AC ADAPTERS & BATTERY
 WILL ISSUE A SHOP WARRANTY RECEIPT
ADD ON: (FLASHCARD)
ACEKARD2i Flashcard to Play DS Games (3DS Compatible) Probably  the best Flashcard for 3DS

Acekard2i with 2gb Transcend MicroSD at P1,400
Acekard2i with 4gb Transcend MicroSDHC at P1,500
Acekard2i with 8gb Transcend MicroSDHC at P1,700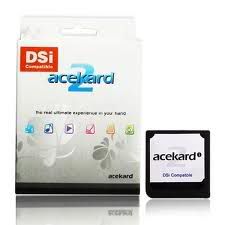 R4i FlashCard to PLAY DS GAMES  (LOW BUDGET BUYERS) <click here for link>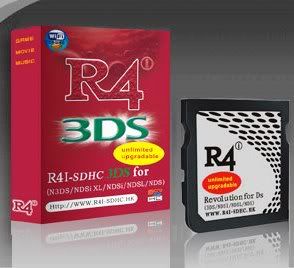 R4i FlashCard for LOW BUDGET BUYERS
<click here for link>
<click here for link>
<click here for link>

R4i with 2gb microSD Transcend at P800
R4i with 4gb microSDHC Transcend at P900
R4i with 8gb microSDHC Transcend at P1,100
LOADED WITH DS ROM GAMES (NOT 3D GAMES). REQUEST ARE WELCOME.

ADD ON ACCESSORIES:
1) LCD Protector at P150
2) Crystal Case at P200
3) ICORE 3 in 1 Eva Pouch at P300<click here for link>
4) ICORE 20 in 1 Premium Bundle Kit at P600 <click here for link>

HOW TO BUY:
- Pickup at my shop in Binondo
- FREE personal delivery (Cash On Delivery) within Manila, Pasay (near Manila), Makati Business District, Quezon City (near Manila), Kalookan (near Manila), Mandaluyong, San Juan, & Ortigas Business Center
- Meet up in ALL LRT1, LRT2, & MRT Stations (Cash on Meet Up) NO EXTRA CHARGE
- Meet up in MALLS within Manila, Pasay (near Manila), Makati Business District, Quezon City (near Manila), Kalookan (near Manila), Mandaluyong, San Juan, & Ortigas Business Center (Cash on Meet Up) NO EXTRA CHARGE
- Shipping via local courier (Air21 / LBC / JRS). Shipping cost shouldered by the buyer. Payment via bank deposit (Metrobank / BDO / BPI / Allied), Globe GCASH, & SmartMoney. CLEARING OF PAYMENT BEFORE SENDING THE ITEM. NO EXCEPTIONS

BUY WITH CONFIDENCE!!!!
Click this link and type in CELLPOWER SALES: <click here for link>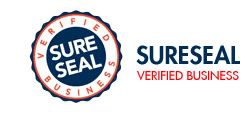 FOR MORE INFO:
0922-5984220 (SUN)
0906-3488222 (GLOBE)
996-7070 (PLDT WIRELESS LANDLINE)
Legend:
Actual Location
Nearest Landmark
Seller Contact Details
Cellpower Sales

Business Name Checked
Tom Li Pascual

Name Checked
Contact Details
+63-922

-XXX-XXXX

+63-922- (SUN) 598-4220

+63-906

-XXX-XXXX

+63-906- (GLOBE) 348-8222

9967

XXX

9967 (LANDLINE) 070
Last Access From: Philippines
Feedback Score
665
100% Positive Feedback
Close X
Feedback Computation
Feedback
Type
> 12 mos.
x1 pt.
12 mos.
x2 pts.
6 mos.
x3 pts.
3 mos.
x4 pts.
Total
Positive
(218) 218
(74) 148
(61) 183
(29) 116
665
Negative
-
-
-
-
-
Total:
665
Legend: (Feedback Count) Computed Score
Feedback Details
Other Ads by tomli
Comments
Leave a message for the advertisement owner here (for members only). Follow this ad's comments via RSS
posted on August 16, 2012 12:29PM
leedeltierro

Last Access From: Philippines

posted on August 17, 2012 07:55AM
tomli

Last Access From: Philippines

posted on August 18, 2012 09:45AM
leedeltierro

Last Access From: Philippines

posted on August 18, 2012 11:24AM
tomli

Last Access From: Philippines

posted on August 20, 2012 03:25PM
leedeltierro

Last Access From: Philippines

posted on August 22, 2012 08:07AM
tomli

Last Access From: Philippines

posted on August 22, 2012 01:50PM
leedeltierro

Last Access From: Philippines

posted on August 22, 2012 09:09PM
tomli

Last Access From: Philippines

posted on August 31, 2012 09:10PM
GalitSaPanget

Last Access From: Philippines

posted on August 31, 2012 11:12PM
Npain

Last Access From: Philippines

posted on September 1, 2012 09:03AM
tomli

Last Access From: Philippines

posted on October 13, 2012 01:25PM
jumper2012

Last Access From: Philippines

posted on October 14, 2012 08:02AM
tomli

Last Access From: Philippines

posted on October 15, 2012 11:11AM
jumper2012

Last Access From: Philippines

posted on October 16, 2012 08:24AM
tomli

Last Access From: Philippines

posted on April 7, 2013 11:58AM
neilpatrick14
nintendo 3ds Ads