Disclaimer: Sulit.com.ph is not involved in any way with the advertisement below. Any promise of income or earnings is solely of the advertisers, and NOT of Sulit.com.ph.
Play Globe Games And Win Load, Earn Money, Win Gadgets
Price:P

15.00

Date Posted:

May 6, 2011

Address:

Legaspi VIllage Makati City

Classification:

Offered

Ad Details
Contact Numbers:

+63-915

-XXX-XXXX

+63-915-296-7637

(Globe)

Feedback Score:

Close X

Feedback Computation

Feedback
Type
> 12 mos.
x1 pt.
12 mos.
x2 pts.
6 mos.
x3 pts.
3 mos.
x4 pts.
Total
Positive
-
(1) 2
-
-
2
Negative
-
-
-
-
-
Total:
2

Legend: (Feedback Count) Computed Score Feedback Details

SG Ranking:

Last Access From:

Philippines

Registered:

Nov 1, 2010

Last Sign In:

1 day ago

View other ads of veravision.

Seller Details
Description
GRAB-A-GOLD is a web gaming portal wherein Globe
subscribers can subscribe to games packs, play them online, earn GOLD
from accomplishing game levels, use earned Gold to spin the Prize Wheel
and win prizes instantly.
 http://www.grabagold.com/fbunlock/40575/16
Like us on Facebook. Click Here
List of Load winners.
When you hit this, globe will send you load.
HOW TO JOIN AND PLAY GRAB-A-GOLD?
How to join & who are eligible to join:

For a subscriber to qualify, he/she must be a mobile subscriber of Globe and have registered to www.grabagold.com.

Once registered, user gets access to 5 Free games, available for a 3-day trial.

From Apr 8, 2011 to Apr 7, 2012, Globe subscribers can subscribe to GRAB-A-GOLD Games Packs, play them online & earn Gold from playing. Users can choose among several games packs. Each games pack will have a total of 15 games.

How to register:

a. To register, user goes to www.grabagold.com and fills up the information required under Register now for FREE! window. After filling up the Nickname and Mobile Number, user clicks on Register

b. User will be sent an SMS message to his registered mobile number.

SMS Reply from access number 8888:

Your Verification Code: 123ABC. To complete your Grab-a-Gold registration, please enter the Verification Code on the web. Visit www.grabagold.com from any pc.
a. User goes back to the Register now for FREE window in the website. Enters the Verification Code Word (that was sent to his mobile phone). Then enters a password of his choice under Preferred Password and Confirm Password. Upon filling up the above information, user clicks on Complete my Registration button.

b. Once registered, subscriber can start subscribing to any games pack/s in the website. Registration is a one-time process per SIM card and is free of charge. All information sent will be kept confidential and will be used solely for this promo.

New Registrant Freebies:

a. All new registrants automatically get free 3 spins plus 3-day free trial of five (5) selected games.

b. Subscriber can earn GOLD as he/she plays and levels up during his/her free trial. However, his/her Gold will be locked and cannot be used for spinning unless he subscribes to a paid Games Pack. Unused GOLD will expire after 3 days from time of registration, unless subscriber successfully opts-in to a paid Games Pack on or before 11:59pm of day 3.

c. Subscribing will NOT pre-terminate your 3-day free trial for the 5 games. Rather, those 5 games will co-exist with your paid Games Pack (composed of 15 games) for the balance of the free trial period. For that span then, you'd have 20 games.

d. If subscriber logs in again and enters a wrong password, he/she cannot log in and play a game. To be able to log in and play, subscriber needs to click FORGOT YOUR PASSWORD? so that the correct password will be pushed to his/her registered mobile number via SMS.

Every successful referral, you'll be getting 10p worth of load instantly from globe and 100 Gold Points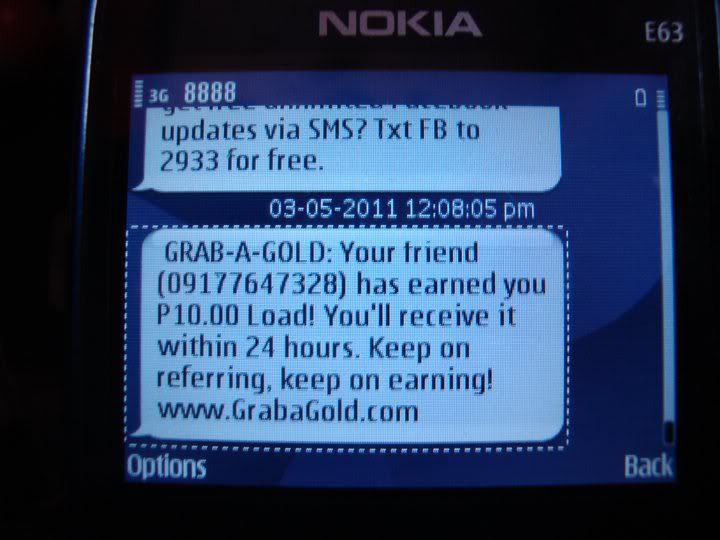 Every six sucecessful referral, you'll be getting 120p worth of load instantly from globe.
Try this game. Its FUN, and its productive since you'll have a chance to win prizes from Grab-A-Gold.
Registration is Totally FREE from 3 days of trial and you may win Ipad2 Instantly. etc. LOAD, GCASH...

When you enjoy it, then go for the gold.
here's my FB page.
Ask me for more info.
15 Pesos per 5 days per pack when you subscribe and go for the gold of play to win.
Its kinda cheap na parang pamasahe o pang yosi lng o pang text lang.

Ang maganda dito, maraming prizes. At habang naglalaro ka, tumataas ang points mo at may CHANCE to win.
REGISTRATION IS FREE for three days for you to test and play games.
Kung hindi ka mag subscribe, ok lng. at least na explore mo. nakapag laro ka ng libre for three days then un na. wala kang babayaran.
Im not doing this to earn, i just wanna share this with you guys kung may spare time kau, try nyo lng chance nyo d2. Mahilig ako sa mga winning games and raffle eh. hehe.
Bago palang ito n pinopromote ng GLOBE.
ON AIR na rin ito sa WAVE 89.1 RADIO STATION.

Nasa pics yung proof. And ung office heres the address

Galingan natin ha.
Try mo na.
click here
http://www.grabagold.com/fbunlock/40575/16
Like us on Facebook. Click Here
GRABAGOLD GAME MECHANICS (Questions, How to's) Blog page
GRABAGOLD REGISTRATION ASSISTANCE Blog Page

Seller Contact Details
Jerome I. Dilinila
Contact Details
+63-915

-XXX-XXXX

+63-915-296-7637

(Globe)
Last Access From: Philippines
Feedback Score
Close X
Feedback Computation
Feedback
Type
> 12 mos.
x1 pt.
12 mos.
x2 pts.
6 mos.
x3 pts.
3 mos.
x4 pts.
Total
Positive
-
(1) 2
-
-
2
Negative
-
-
-
-
-
Total:
2
Legend: (Feedback Count) Computed Score
Feedback Details
Other Ads by veravision
Comments
Leave a message for the advertisement owner here (for members only). Follow this ad's comments via RSS