Disclaimer: Sulit.com.ph is not involved in any way with the advertisement below. Any promise of income or earnings is solely of the advertisers, and NOT of Sulit.com.ph.
Cuyi Heat Press and Cutter,CUYI Brand,Best Quality,Best Seller!
Now Only:P

8,500.00

Regular Price: P 11,000.00
Save:P 2,500.00
Date Posted:

5 days ago (May 18, 2013)

Address:

c m recto sta cruz..

Classification:

Offered

Location: Manila, Metro Manila
Ad Details
Contact Numbers:

+63-917

-XXX-XXXX

+63-917- 587-6666

+63-922

-XXX-XXXX

+63-922- 826-6681

+63-939

-XXX-XXXX

+63-939- 909-9156

0063271

XXXXX

0063271 06388

0063255

XXXXX

0063255 91897

Feedback Score:

116
98% Positive Feedback

Close X

Feedback Computation

Feedback
Type
> 12 mos.
x1 pt.
12 mos.
x2 pts.
6 mos.
x3 pts.
3 mos.
x4 pts.
Total
Positive
(46) 46
(9) 18
(14) 42
(3) 12
118
Negative
(2) -2
-
-
-
-2
Total:
116

Legend: (Feedback Count) Computed Score Feedback Details

SG Ranking:

Member Address:

fengreco 2B 2nd floor Golden Valley Blog.CO 1512 C.M.Recto cor.F.Torres St.,sta.Cruz,Manila(first floor have 7-11 and LBC,in front of the vista hotel), www.fengreco.com, Manila, Metro Manila

Last Access From:

Philippines

Registered:

Dec 27, 2008

Last Sign In:

1 hour ago

View other ads of fengreco.

Seller Details
Description
Cuyi Heat Press and Cutter,CUYI Brand,Best Quality,Best Seller!



Digital High Pressure Heat Press 
                                                             ---US.Exported Quality Machine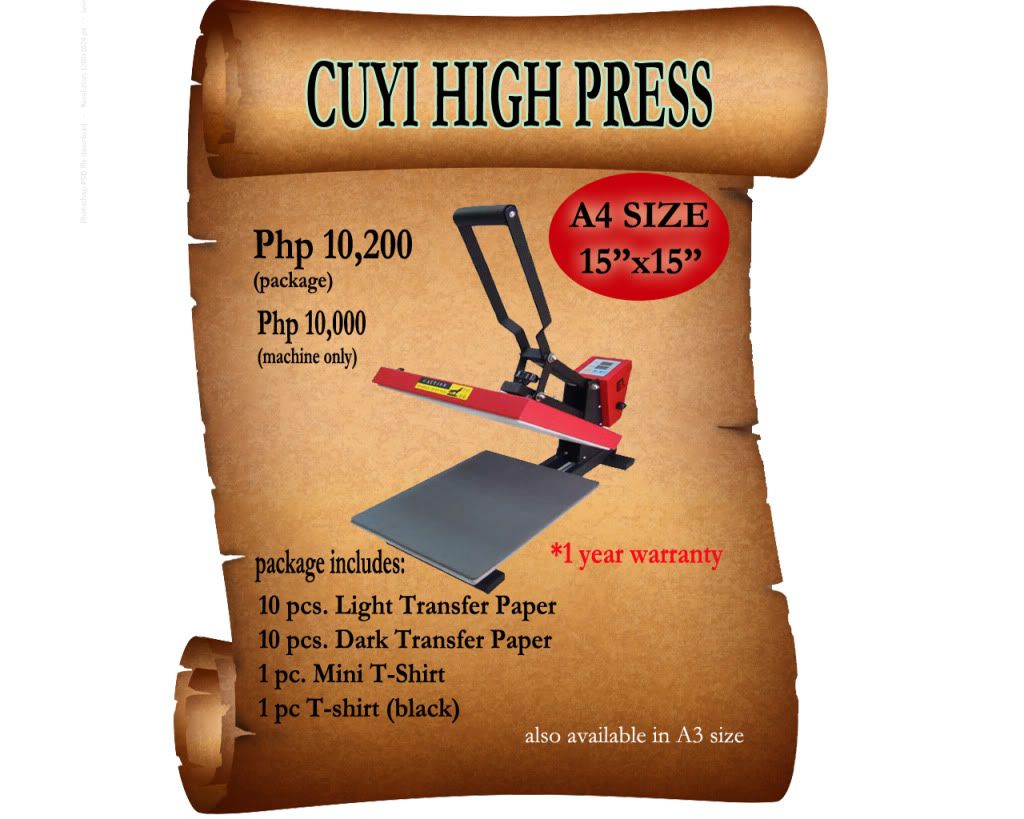 CUYI High Pressure HEAT PRESS PACKAGE:   P 8500
-10    pcs US Light Transfer Paper
-10    pcs US Dark Transfer Paper
-1      pcs Mini  Tshirt Black
-1      pcs Mini  Tshirt Black
1 Year Warranty For CUYI 

Digital High Pressure Heat Press

 !
Possible on sublimation tiles, glass frame, rock photo and others..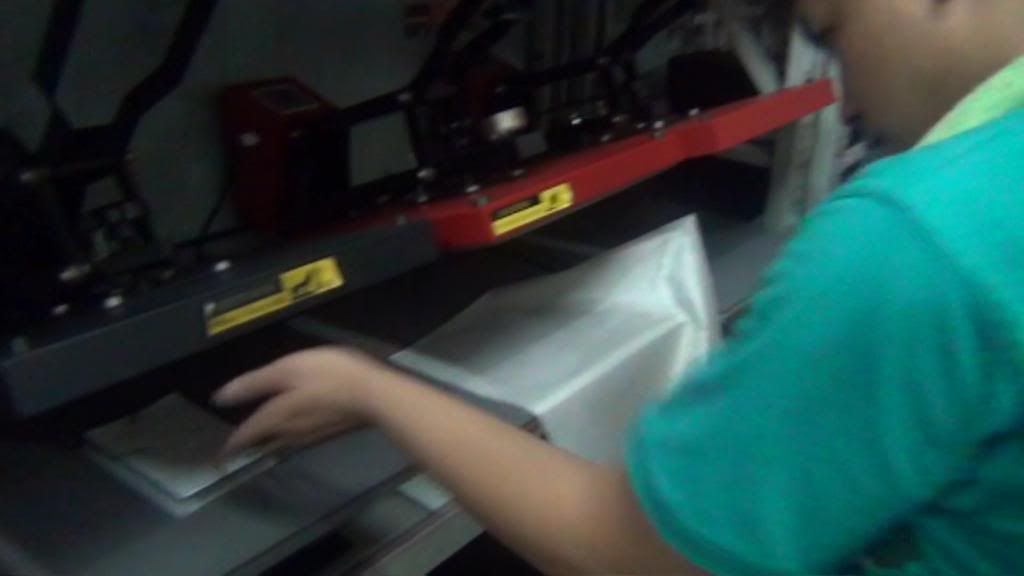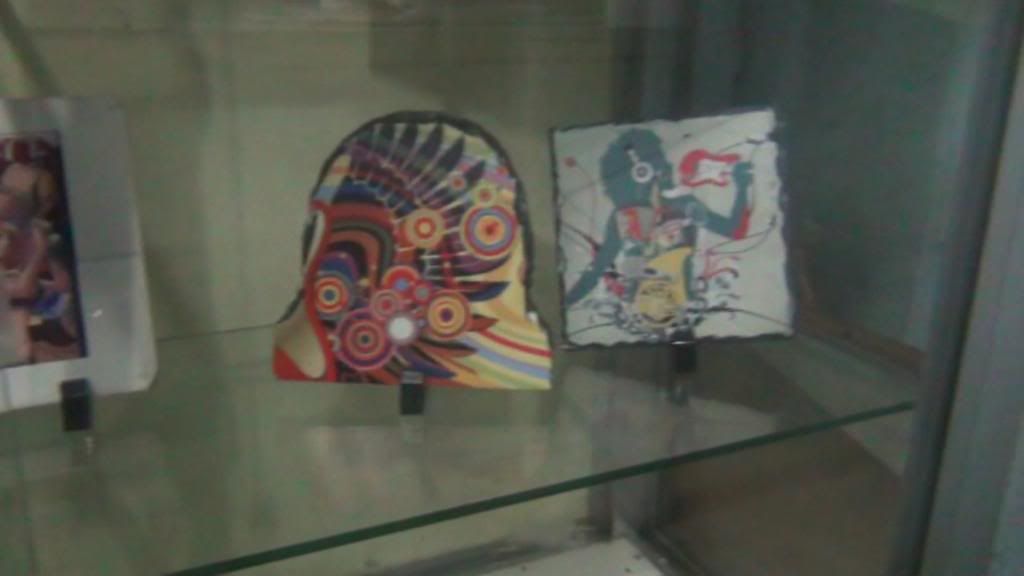 CUYI was made of good quality materials and was designed to be user-friendly.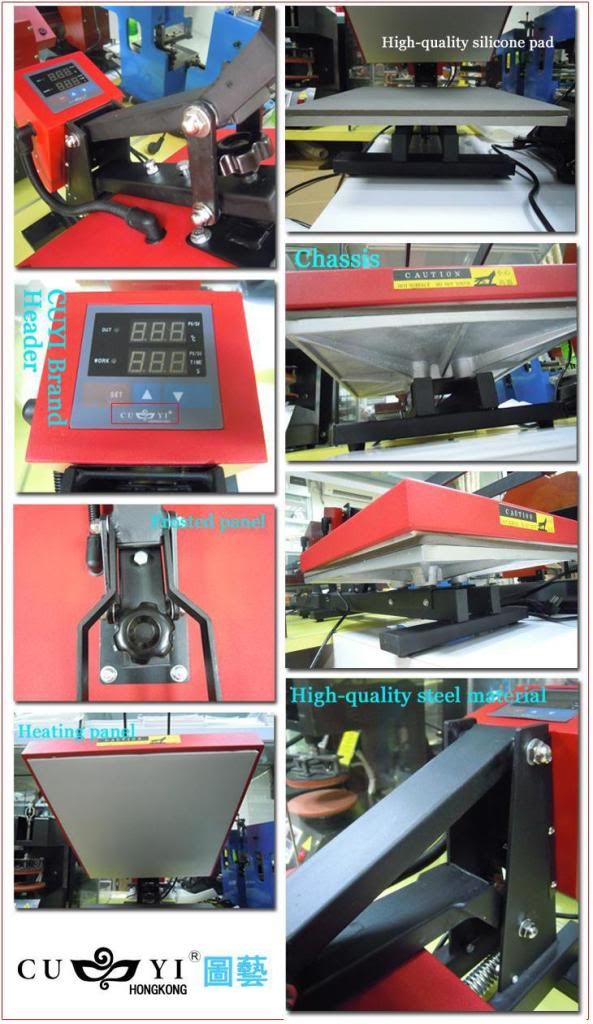 Summary
This machine is engineered to imprint a design or graphic on a substrate, such as a t-shirt, with the application of heat and pressure for a preset period of time. While heat presses are often used to apply designs to fabrics, they can also be used to imprint designs on mugs, plates, jigsaw puzzles, and other products. Furthermore, it can copy the colored pictures, photos, and sight patterns to the porcelain plate and other metal plates. This machine can produce more pressure and the heating plate can be moved by about 90 degrees because of the special designing, which makes us more comfortable and safer to operate. It is best for making common xylopyrography, American xylopyrography, singlet and others products, economically and practically.
 Videos for tutorial:
Maintenance
1 Pressure: If the pressure isn't enough or too hard, use the adjusting rode, clockwise means adding pressure, counter-clockwise means less pressure. 
2 Time: If warning buzer doesn't ring though time was up, we should check whether the switch in the box at the end of the machine is all right, if not, please adjust it to the right place.
3 Temperature: preheating for about 15 minutes. When the temperature reaches the right level, the heating indicator light turns off, we can begin our work. When the power is on, the plate doesn't heat, there might be a problem with circuit. (wirings, fuse)
4 When pressing the rod to the bottom, leave it alone for rising again. Adjust the screw nut at the heating plate, when finishing, if it is hard to raise the rod, please adjust the screw. 
*The machine is not hard to maintain, for it is not too sensitive. All you have to do is atleast take the machine in a rest for about an hour for a one-day usage.
CUYI has gained respects and build a reputable name in the market and therefore there are lots of machine trying to imitate it.
Please be careful of choosing your machine.
BEWARE OF IMITATION!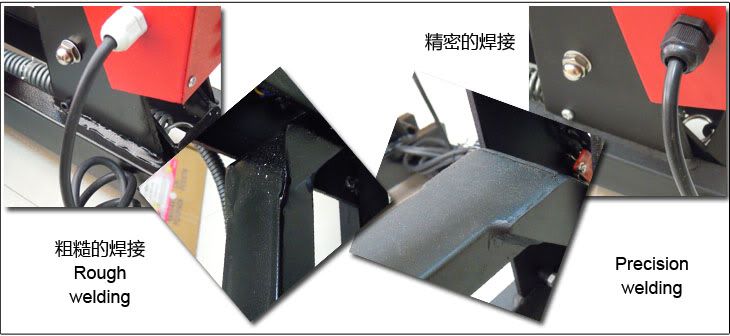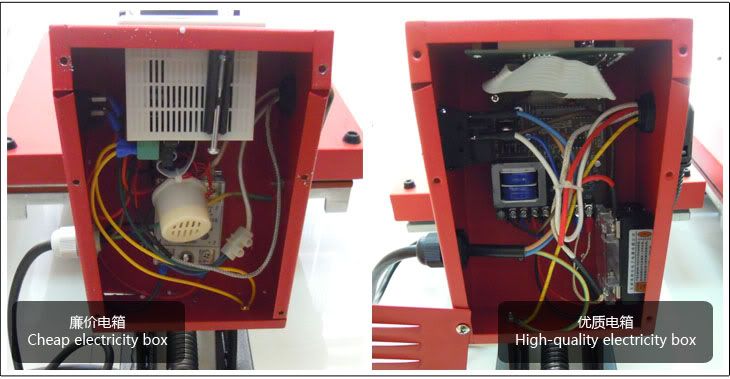 Another CUYI-like heat press for t-shirt and mug almost same as quality of CUYI machines are being sold in EUROPE for an incredible price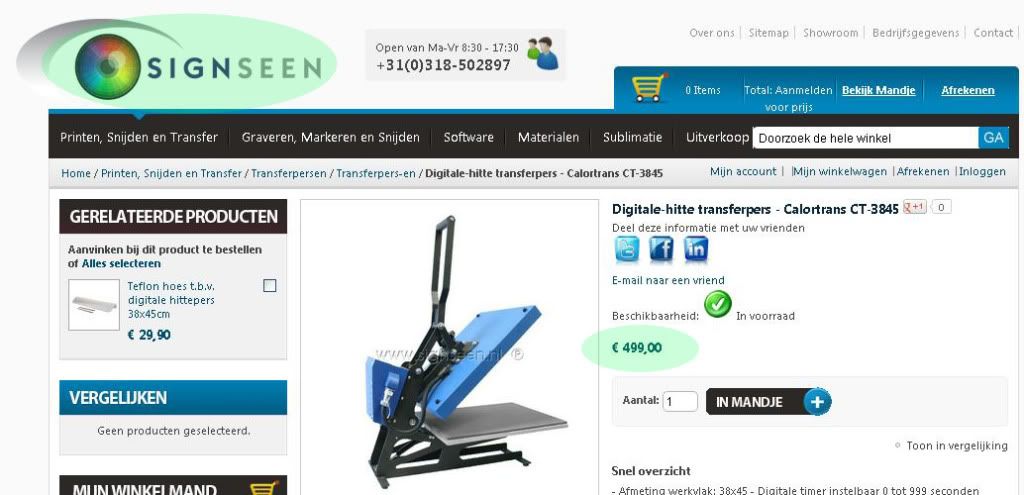 courtesy of http://www.signseen.nl
Notice the price that is being sell by them, it is more or less 25,000 as converted to Philippine Peso.
This machine has really good quality, but this proves that CUYI Machines has quality that is very competitive internationally.
With good quality and affordable price, you may enjoy the benefits of those who have higher value but same quality.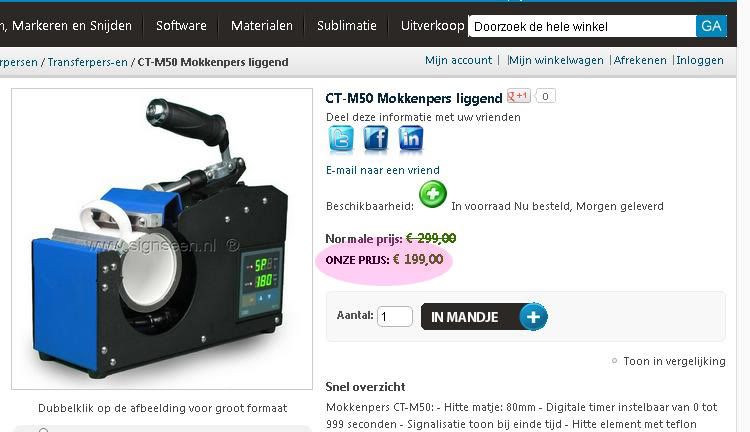 Also Available: CUYI Cutter Plotter
Why choose CUYI cutter plotters
1. Reputation- CUYI has much experience and are known better for satisfying customer demand around the world. It's a Taiwan and mainland joint venture founded a long time ago. They absorb the latest information of international high-tech break throughs, and make great efforts to develop and track  the latest world trend of technology products. 
2. Modern Design & High Technology-    CUYI has some of the best first class designers and engineers in the world to make sure all the machines got the latest technical, the best quality parts and are attractive as well. All the cutter plotters are faster  than normal plotters.
3. Useable & Professional: All the designs consider usability to make sure customers can use it easily and in comfort. They are very careful with each detail, like the screws to control opening the cover with rubber surround that can open the cover easily and is much quieter, the belt connect with the cartridge is much wider than others and can move smoothly and quiet . The  wheels of the vinyl paper roller are wider,  can get provide more  friction and the holder is also very strong.
The manual is much better than many other manufacturers. Most customers can set up and solve almost all problems by themselves, it's also in much better English, and is easy to read. Each machine is linked to a computer to be tested and a sample of vinyl is cut and included in the box to make sure each machine is fine, then it is  sealed in a bag.
4. Only use the best parts, not cheap ones-  All the parts are chosen carefully by CUYI, only the best parts are used, not  cheap ones. That's why it's more expensive than others, some cutter plotters like Refine, Seiki are very cheap but that can bring you hassles in the future. (ask yourself why some chinese cutters have a bad reputation and we have changed all of that) The main parts use the latest technology that other manufacturers find very hard to follow. 
                                            FIRST IN THE PHILIPPINES! RED DOT LASER FOR CONTOUR CUTTING!
Best in quality, lowest in price.. Php 25,000.00
and Free 1 meter rubber pvc vinyl kodea
                1 roll      car sticker(10meter) taiwan brand
CUYI CS-630 CUTTER PLOTTER HAS A NICE ELEGANT BLACK LOOK AND BODY MADE OF 95% STEEL SO YOU CAN ASURE ITS DURABILITY.
COMES WITH A GOOD ALUMINUM STAND.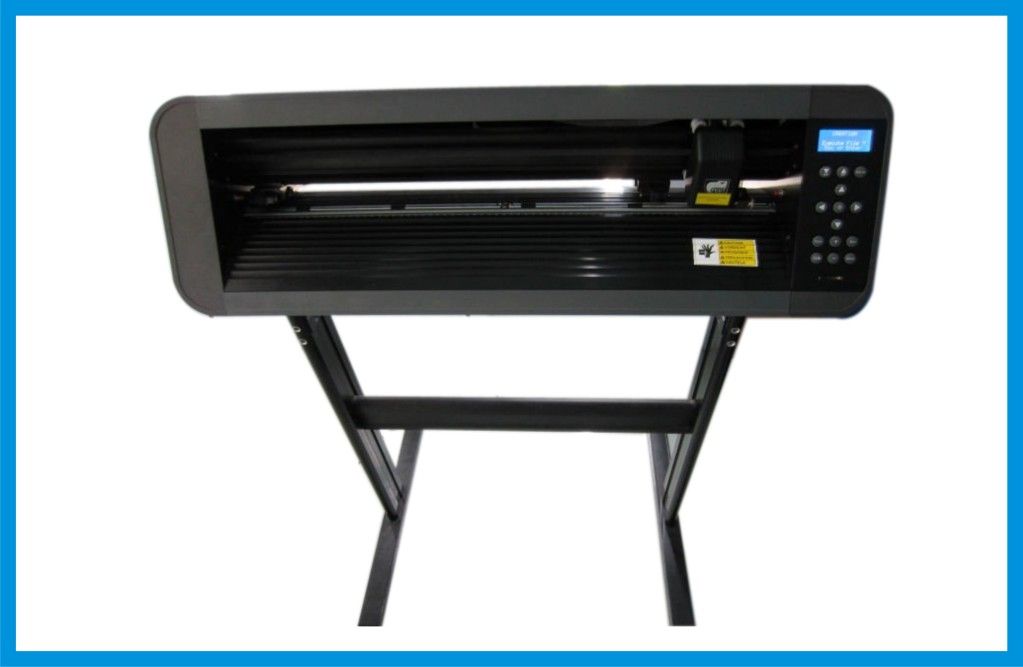 WITH BIG BLUE LCD AND SILICON BUTTON.
ALUMINUM ROLLER
CAPABLE OF EITHER SERIAL OR USB CONNECTION.
CAPABLE OF CONTOUR CUTTING AND WITH RED LASER DOT, CUTTING MADE EASIER.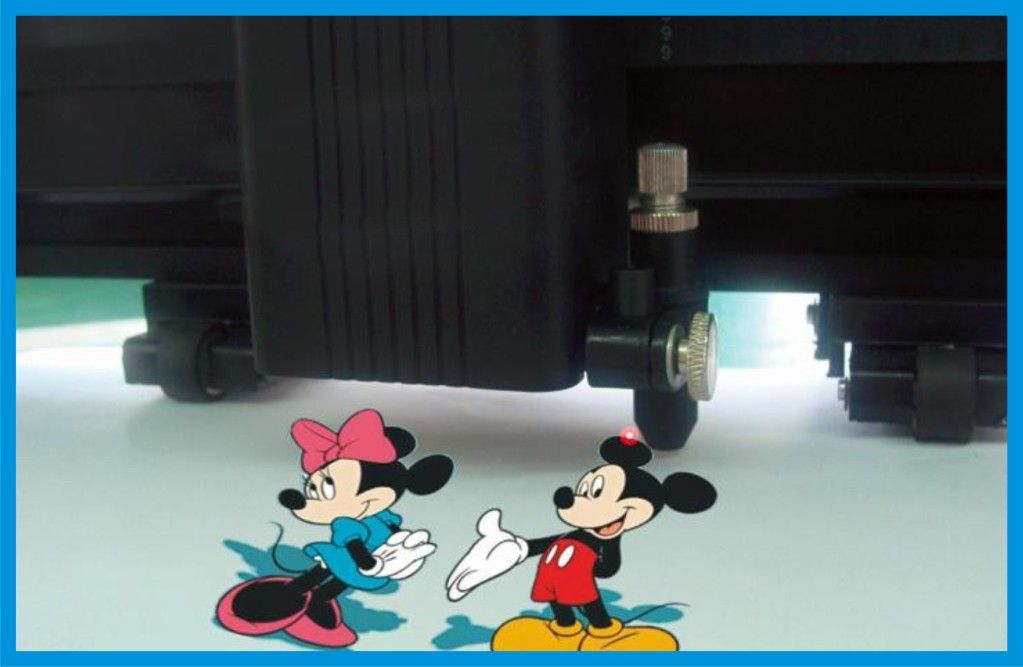 WITH SD CARD AND SD CARD HUB SO YOU CAN SAVE AND CUT FILES WITHOUT COMPUTER.
FAN WHICH EXHAUST DUST AND KEEP THE MEDIA ON TRACK BY SUCKING DOWN WITH THE HELP OF HIGH TORQUE MOTOR, PWM, MICRO-STEP DRIVE. 
MADE OF THICKER STEEL ON BOTTOM SO MOTHER BOARD, POWER SUPPLY AND OTHER PARTS ARE MORE PROTECTED.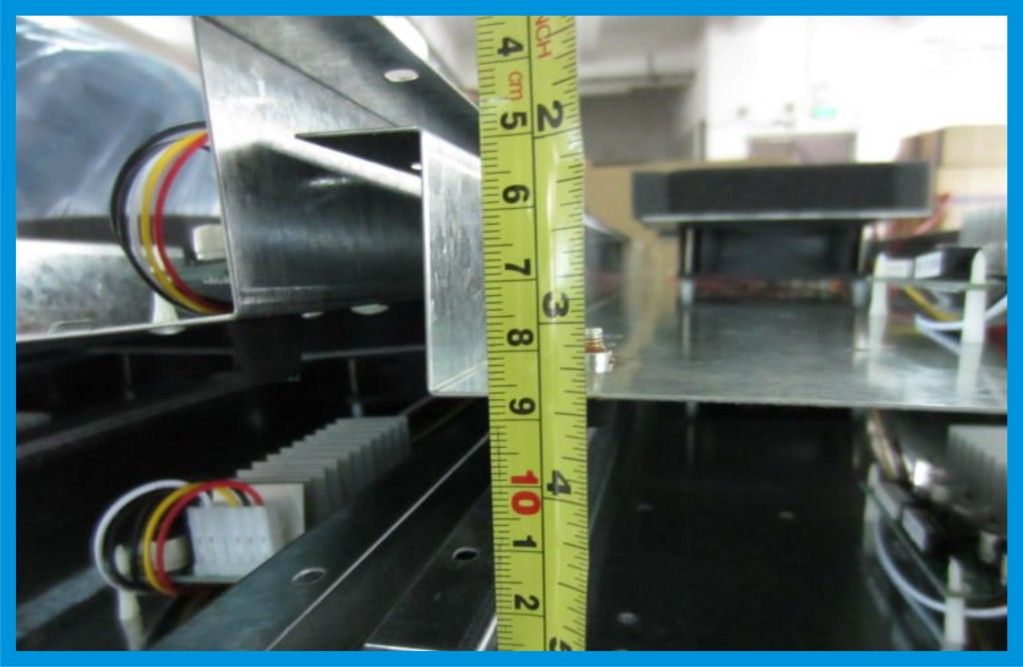 THE MOTHER BOARD WHICH IS 32-BIT ARM7 CPU, 1 Mb , HIGH-SPEED CACHE MEMORY. FAST BUT FINE IN CUTTING. CAN STAND BIG FILES THAT WERE SENT SO NO WORRIES ABOUT HANGING UP DURING CUTTING.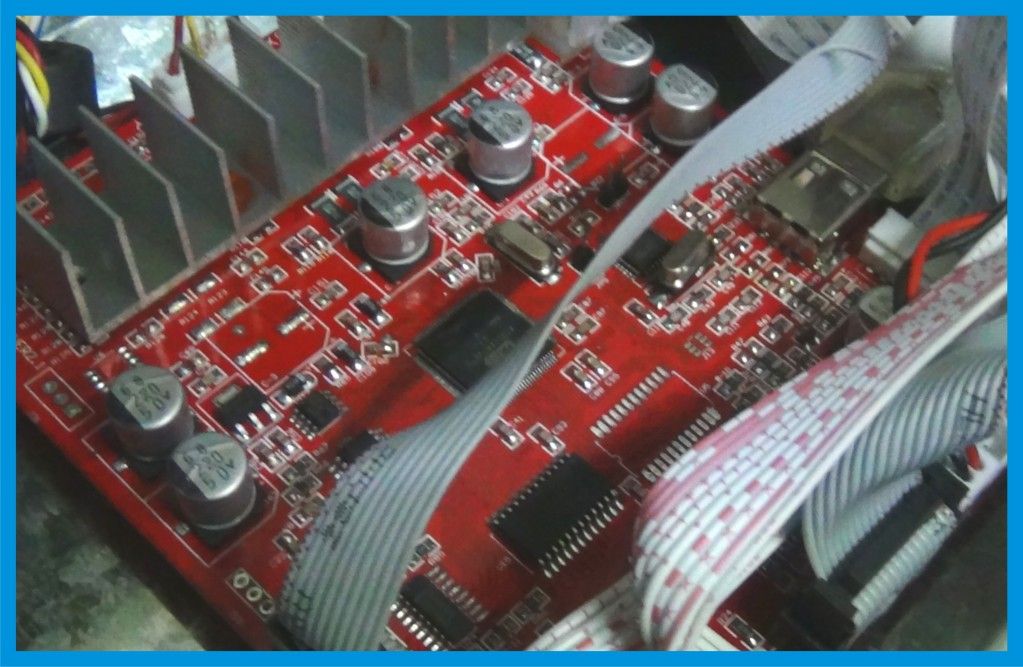 Laser red dot included for easy contour cutting.
Comes with SD Card Reader for work without a PC. You can cut out designs from the cutter's control panel, great for mobile users.
Higher speed, higher pressure,
Big blue LCD display, beautifully designed body and durable silicone buttons.
Aluminium teeth rollers make it cut more accurate for detailed designs.
It comes with the an easy to use yet professional program - FlexiStarter 8.6 /  FlexiStarter 10. Flexi family is one of the best program for sign making and now you get a starter edition for FREE with this cutter. It can help you import graphic art designs, do lettering and lots features to help you cutting.
for CorelDraw 12, X3, X4 & X5..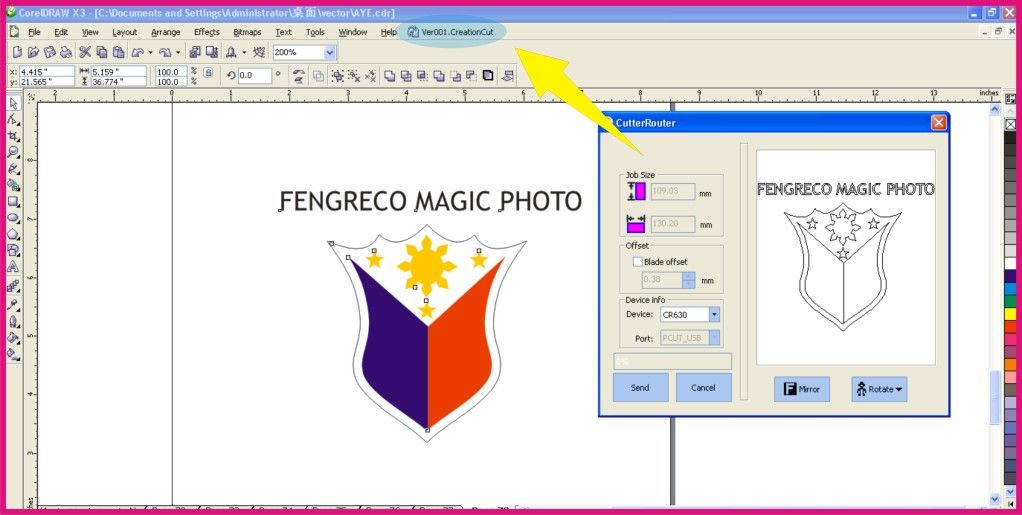 for Adobe Illustrator CS2-C5..
12 months warranty parts and services and a lifetime support.
Value over $500 software included:
FlexiStarter software with contour cutting function specially designed for this model.
Direct cutting plugin for Coreldraw X2 - X5 and Illustrator all versions. That's right, you can now cut directly from Coreldraw and Illustrator free.
What you can do with this cutter:
Make stickers for car deco, window sign, indoor deco
Cut shirt vinyl, such as football jersey numbers, names, etc to print on shirts.
Cut template out for sandblasting, etc.
Plotting for architectural designs, etc.
Think of your own or ask us to see if it works for your purposes.
Specifications: 
Model

CUYI CS630

CUYI CS1200

Media way

Floor Stand

Floor Stand

Main board

32-bit ARM7 CPU , I Mb , High-speed CACHE memory

Control Panel

Over-head,2x8LiquidCrysaal Display,14-button touch thin-film keyboard

Drive

High torque motor,PWM,micro-step driver

Position

Delimitation system,random origin setup,10 group origin in memory

Max paper feed width

730mm

1300mm

Max cutting width

635mm

1205mm

Max cutting speed

800mm/s

Max cutting length

20000mm

Max cutting thickness

1mm

Cutting pressure

50-800g(digital adjustment)

Mechanical precision

0.05mm

Repeatable precision

<±0.1mm

Blade

Tungsten knife

Pen

All types Diameter 11.4mm plotter pen

Command

Compatible DM/PL,HP/GL

Interface

USB/COM/SD Card

Power supply

AC110V/240V±10%,50Hz

Power Consumption

<100W

<120W

Working environment

Temperature:+5℃~+35℃, humidity 30%~70%

External size

1045×330×440mm3

1593×330×440mm3

Gross weight

18Kg

33Kg
CUYI Cutter Plotter w Contour Cutting 24Inch CT0 630   P 18,000.00
 Free: 1   Meter PVC Vinyl For T Shirt
          10 Meter/1 Roll  Car Sticker Ordinary Color
Good Product Is Proven By It's Quality!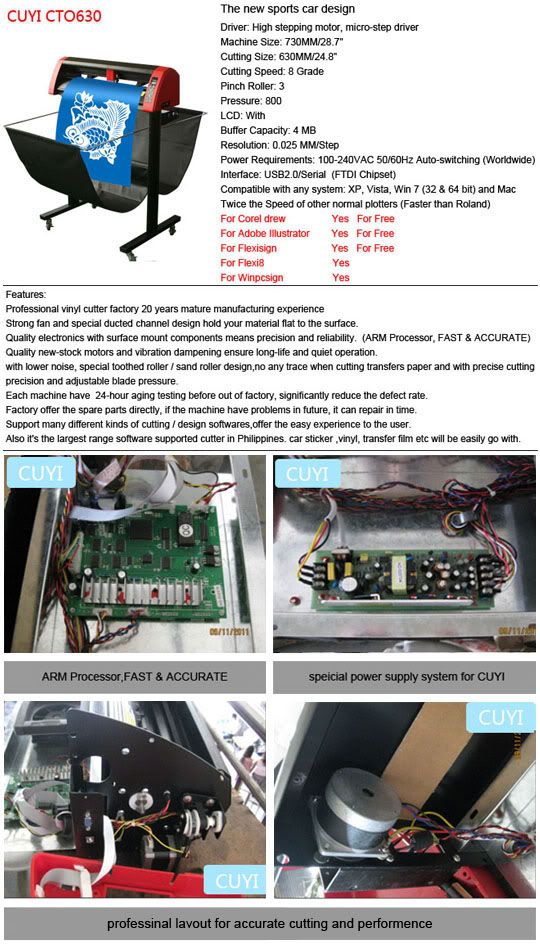 Fengreco Supper Package 3:
CUYI High Press 15*15 Inch  Package                    10,200
CUYI Cutter Plotter CTO 630 24 Inch Package        19,500
NOW ONLY   28,000     Original Price:29,700   Save 1,700
Fengreco Supper Package 4:
CUYI High Press 15*15 Inch  Package                    10,200
CUYI Cutter Plotter CS 630 24 Inch Package          28,000
NOW ONLY   36,000    Original Price:38,200   Save 2,200
Best Quality,Best Stating Printing Business Package:
Can Make T shirt, mouse pad, tiles, pillows, metal photos,puzzle,pillows, unbrella,rock photo,subliamtion glass,Car Sticker,vinyl Transfer For T shirt,Easier way to cut images without using scissors. (Hassle-free)
---
Bigger Discounts for Bulky Orders and Regular Clients!!!

Our Products..

 

MACHINES

Wit-Color

Large Format Tarpaulin Printer  *NEW

CUYI (1 Year Warranty)

 

Cutter Plotter w/ Contour Cutting                                         1 year warranty

Heat Press Digital & Heavy Duty (CUYI)                               1 year warranty

*15"x15"

*15"x18"

*16"x24"

Cutter Plotter Creation P-CUT (CT630)                                  6 months warranty

Magic Photo Machine                                                             6 months warranty

Photo Crystal Machine                                                           1 month warranty

 

QUAFF

6 in 1 Heat Press Machine                                                       6 months warranty

Digital Heat Press Heavy Duty                                                6 months warranty

Digital High Pressure Plate Heat Press                                   6 months warranty

Cap Press DIGITAL                                                                  3 months warranty

Mug Press DIGITAL                                                                  3 months warranty

Digital A3 Size Laminator                                                        1 month warranty

 

Heavy Duty Button Press Metal Base                                       3 months warranty

Button Press Metal Base 3 in 1(1.75/2.25/3 inches}              3 months

A4 Heavy Duty Ream Paper Cutter

A3 Heavy Duty Ream Paper Cutter

A3 Sliding Paper Cutter 14inches

3 in 1 PVC / Paper Puncher

I.D. Punchers (Oblong, Circle, Corner puncher) 

*1x1

*2x2

*Passport size

Impulse Sealer

UV Light Crystal Machine

Card Cutter   ( Calling Card Cutter )  
 

MACHINE PARTS AND ACCESSORIES  

 

Rubber Loops

Chains for pvc bag tag

Teflon | 6in1 Heating Pad | 6in1 Monitor

Mug Press Heating Pad | Cone Shape Heating Pad

Heat Press Spare Parts

 

PAPERS 


230 GSM 3R Glossy                          *Professional Back
230 GSM 4R Glossy                          *Professional Back
230 GSM 5R Glossy                          *Professional Back
230 GSM A4 Merry Photo Paper      *Professional Back*
230 GSM 4R Kodak Photo Paper
230 GSM 3R Kodak Photo Paper
180 GSm A4 Generic PHOTO paper 
210 GSm A4 Generic Photo Paper 
230 GSm A4 Generic Photo Paper 
210 GSM Double Sided Photo Paper
140 GSM Photo Paper High Glossy High Quality
260 GSM A4 Kodak RC Rough Satin


260 GSM 5R RC Satin
260 GSM 4R RC Satin
260 GSM 3R RC Satin
260 GSM 5R RC Rough Satin 
260 GSM 4R RC Rough Satin 
260 GSM 3R RC Rough Satin 
230 GSM A4 RC Satin 
130 GSM A4 Photo sticker 

220 GSM Calling Card Paper plain 
220 GSM Colored Calling card paper 
108 GSM Inkjet Paper 
108 GSM Merry Inkjet Paper 

210 GSM high glossy water proof high white 

Calling Card High Glossy and Matte Laminating Film

ID Laminating Film

*(A4, 3r, 4r, 5)

*(4", 9", 12") roll

PVC Sheets High Glossy

PVC Anti Fade High Glossy

PET Sheets High Glossy

PET Sticker

Transparent Inkjet Sticker [white, gold, silver]

Dark Transfer Paper

Light Transfer Paper

Sublimation Paper Yellow (good quality)

A4 Size Photo Magnet Paper
PRINTERS / CISS / INKS  

 

 

Epson T13       converted to ciss with U.V. Dye/Pigment/Sublimation

Epson R230    converted to ciss with U.V. Dye/Pigment/Sublimation

Epson R290    converted to ciss with U.V. Dye/Pigment/Sublimation

Epson TX121 converted to ciss with U.V. Dye/Pigment/Sublimation

Epson T1100 converted to ciss with U.V. Dye/Pigment/Sublimation

Epson K200   converted to ciss with U.V. Dye/Pigment/Sublimation

Epson              U.V. Dye Ink  100ml

Epson              U.V. Dye Ink   1 liter

HP                   U.V. Dye Ink   100ml

Cannon           U.V. Dye Ink   100ml
Brother           U.V. Dye Ink  100ml
Pigment Ink               100ml
Sublimation Ink         100ml

CISS ( Continous Ink Supply System )
INK Tank w/Tube

Epson R290 I.D. Tray

Epson R230 I.D. Tray

Cannon, Brother CISS are also available ….   

 

OTHER CONSUMABLES  

2.25 Inches Pin Button( Local )
1.75/2.25/3 Inches Pin Button( China )
Acrylic Key Chain(Big square,rectangle,circle,heart)
Acrylic Key Chain Oblong Pingeon(Big tshirt,flower,house,rectangle w/design,wave heart,big circle]
Acrylic Key Chain(Bottle Opener)
PVC InkJet Fan small/big

Seller Contact Details
Fengreco Magic Photo
Contact Details
+63-917

-XXX-XXXX

+63-917- 587-6666

+63-922

-XXX-XXXX

+63-922- 826-6681

+63-939

-XXX-XXXX

+63-939- 909-9156

0063271

XXXXX

0063271 06388

0063255

XXXXX

0063255 91897
Last Access From: Philippines
Feedback Score
116
98% Positive Feedback
Close X
Feedback Computation
Feedback
Type
> 12 mos.
x1 pt.
12 mos.
x2 pts.
6 mos.
x3 pts.
3 mos.
x4 pts.
Total
Positive
(46) 46
(9) 18
(14) 42
(3) 12
118
Negative
(2) -2
-
-
-
-2
Total:
116
Legend: (Feedback Count) Computed Score
Feedback Details
Other Ads by fengreco
Comments
Leave a message for the advertisement owner here (for members only). Follow this ad's comments via RSS
posted on June 8, 2011 11:17PM
chrisvill

posted on September 2, 2011 09:41AM
fengreco

posted on January 3, 2012 10:02AM
mymylo

Last Access From: Philippines

posted on March 10, 2012 05:48PM
malachibgo

Last Access From: Philippines

posted on April 3, 2012 06:57PM
dianegaya

Last Access From: Philippines

posted on April 6, 2012 08:05PM
cruiser412

Last Access From: Philippines

posted on June 22, 2012 04:54PM
xylo

Last Access From: Philippines

posted on August 24, 2012 09:18PM
ladyshai22

Last Access From: Philippines

posted on October 6, 2012 05:13PM
olimac21

Last Access From: Philippines

posted on October 25, 2012 05:53PM
macoi08

Last Access From: Philippines

posted on November 12, 2012 01:54PM
jefmartz

posted on December 14, 2012 04:40PM
vtec101

posted on January 3, 2013 07:37PM
ladyshai22

Last Access From: Philippines

posted on March 10, 2013 01:49AM
joniel69
cutter plotter Ads