chihuahua stud service (Son of Phil Champ (ROC))Quezon City Area. Sponsored
Contact Numbers:

+63-915

-XXX-XXXX

+63-915-898-8888

(GLOBE)

Feedback Score:

Close X

Feedback Computation

Feedback
Type
> 12 mos.
x1 pt.
12 mos.
x2 pts.
6 mos.
x3 pts.
3 mos.
x4 pts.
Total
Positive
-
(1) 2
-
-
2
Negative
-
-
-
-
-
Total:
2

Legend: (Feedback Count) Computed Score Feedback Details

SG Ranking:

Member Address:

Quezon City, Metro Manila

Last Access From:

Philippines

Registered:

Mar 26, 2011

Last Sign In:

4 days ago

View other ads of queenseondeokkennel.

Seller Details
Description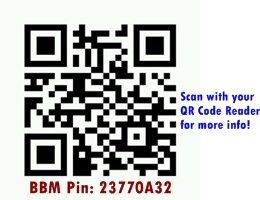 SMOOTH COAT @ LONGCOAT CHIHUAHUA STUD SERVICE
Chihuahua Standard
FCI Standard Number 218
Origin: Mexico.
Utilization: Companion dog.
FCI Classification: Group 9 Companion and Toy Dogs;
Section 6 Chihuahueño; without working trial.
General Appearance: Compact body, skull is apple-shaped,
moderately long tall carried very high, either curved or forming the shape of a semicircle with the tip pointing towards the loin region 
Important Proportions: Length of body slightly greater than height at withers. An almost square body is permitted in bitches.
Behavior/Temperament: Quick, alert, lively and very courageous.
CRANIAL REGION
Skull: Well-rounded apple head.
Stop: Well-marked, deep, and broad as the forehead is rounded above the set-on of muzzle.
FACIAL REGION
Nose: Any color is permitted. Moderately short, pointing slightly upwards.
Muzzle: short and straight when seen form side, broad at set-on, tapering towards the tip.
Lips: Lean and close fitting.
Cheeks: Only slightly developed, very clean.
Jaws/Teeth: Scissor bite.
Eyes: Large, roundish in shape, very expressive, not
Protruding, and dark in color; light-colored eyes permissible, but not desired.
Ears: Large, upright, widely open, broad at set-on, gradually tapering towards slightly rounded tip; in repose, laterally-inclined forming an angle of 45 degrees.
Neck: Upper profile slightly arched, medium length, thicker in dogs than in bitches, and without dewlap. In the long-haired variety, the presence of a neck-ruff with long hair is slightly desirable.
BODY
Compact and well built.
Topline: Level.
Withers: Only slightly marked.
Back: Short and firm.
Loin: Strongly muscled.
Croup: Broad  and strong; almost flat or slightly sloping.
Chest: Ribcage board and deep, ribs well sprung. Roomy but exaggerated when viewed from the front; reaching to elbows when viewed from the side; not barrel-shaped.
Underline and belly: Formed by a clearly tucked up belly.  
Slack belly is permitted but not desired. 
Tail: Set on high, flat in appearance, and moderate length: broad at base, tapering gradually towards the tip. Tail carriage is an important characteristic of the breed. When the dog is moving, the tail is carried either high in a curve or in a semicircle with tip towards the loin region, which gives balance to the body. It should never be carried between the hind legs nor curled below the backline.  The hair on the tail depends on the variety and is in harmony with the body coat.  In the long haired variety, the tail coat forms a plume. Tail is pendant in repose and forms a slight hook. 
LIMPS 
Forequarters: Forelegs are straight and of good length; seen from the front, they form a straight line with the elbows.  Seen from the side, they are upright. 
Shoulder: Clean and moderately muscled. Good angulation between shoulder between shoulder blade and upper arm. 
Elbow: Firm and fitting close to body, which ensures free movement. 
Metacarpus/Pastern:  Slightly sloping, strong, and flexible. 
Forefeet: Very small and oval with toes well apart but not splayed (neither hare-nor cat-foot); nails particularly well arched and moderately long; pads well developed and very elastic; dewclaws are not desirable. 
Hindquarters: Hind legs well muscled with long bones, vertical and parallel to each other with good angulation at hip, knee, and hock joints, in harmony with angulation of forequarters. 
Hock: Short with well developed Achilles' tendons seen from rear. They are well apart straight and vertical. 
Hock feet: Very small and oval with toes well apart but not splayed (neither hare-nor cat-foot); nails particularly well arched and moderately long; pads well developed and very elastic; dewclaws are note desirable. 
Gait/Movement: Steps are long, springy, energetic, and active with good reach and drive. Seen from rear, hind legs should move almost parallel to each other, so that the footprints of the hind feet fit directly into those of the front converge towards the median plane (single track). Movement remains free and springy without visible effort. Head raised, and firm back. 
Skin: Smooth and elastic all over body. 
COAT 
Hair: In this breed there are two varieties of coat. 
Smooth-haired: Coat is short and lying close all over body. If there is an undercoat, the hair is somewhat longer; sparse coat on throat and belly is permissible; slightly longer on neck and tail, short on face and ears. Coat is glossy with soft texture. Hairless dogs are not permitted. 
Longed-haired: Coat should be fine and silky, smooth or slightly wavy. Moderate undercoat is desired. Coat is longer, forming feathering on ears, neck, ear of front and hind leg, on feet and on tail. Dogs with long billowing coat will not be accepted. 
Color: All colors in all possible shades and combinations are admitted, except merle colors (pigment reducing genes). 
Size: In this breed only the weight is taken into consideration, not the height. 
Weight: Ideal weigh is between 1.5 and 3 kilograms. Subject weighing less than 500 grams or more than 3 kilograms shall be disqualified. 
Faults: Any departure from the foregoing points should be considered a fault and the seriousness with which the fault should be regarded should be in exact proportion to its degree and its effect upon the health and welfare of the dog. 
Missing teeth: "double teeth" (persistence of temporary teeth); pointed ears; short neck; long body; roach or hollow back (Lordosis or Kyphosis); sleep croup; narrow chest, flat ribcage; tail; incorrect set-on, short or twisted; short limbs; out at elbow; too close behind. 
Sever faults: Narrow skull; eyes small, deep set or protruding; long muzzle; under or overshot mouth; unstable stifle. 
Disqualifying faults: Aggressive or overly shy; deer type dogs (dogs with an atypical or extremely stylized structure; refined head, long neck, slender body, long limbs);  dgs with extremely long body; absence of tail; In the long-haired variety: Dogs with very long, fine, and billowing coat; In the smooth-haired variety: Bald patch (alopecia); Merle color; subjects  weighing less than 500 grams and more than 3 kilograms; any dog clearly showing physical or behavioral abnormalities shall be disqualified.
Càll Mè: MàcMàc
McQueen of QueenSeonDeok Kennel
Sire:Phil.Champ.Geiserich macmac imported from taiwan (ROC)
1.3kgs,Teacup Size,See to Appreciate :)
StudFee:1,500 2X Mating....
My Exact Address: CONGRESSIONAL ANIMAL CLINIC
                    28b Congressional Avenue
           Project 8 Quezon City
My Site: http://queenseondeokkennel.webs.com/
plz click d'arrow -->MY LOCATION View Larger Map
 ∞∞∞∞∞∞∞∞∞∞∞∞∞∞∞∞∞∞∞∞∞∞∞∞∞∞∞∞∞∞∞∞∞∞∞∞∞∞∞∞∞∞∞∞∞∞∞∞∞∞∞∞∞∞∞∞∞

Càll Mè: m&m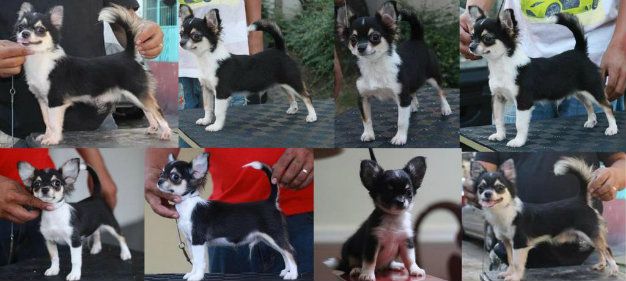 METRO NORTH'S EMINEM at QueenSeonDeok Kennel
BEST BABY PUPPY IN SHOW
SHOW WINNER 8POINTS "PHILIPPINE CHAMPION"
Stud Fee:3,500 2X Mating...
 PEDIGREE: http://ingrus.net/chihuahua/details.php?id=10110
 My site: http://queenseondeokkennel.webs.com/

plz click d'arrow -->MY LOCATION View Larger Map
∞∞∞∞∞∞∞∞∞∞∞∞∞∞∞∞∞∞∞∞∞∞∞∞∞∞∞∞∞∞∞∞∞∞∞∞∞∞∞∞∞∞∞∞∞∞∞∞∞∞∞∞∞∞∞∞∞

Càll Mè: Pògi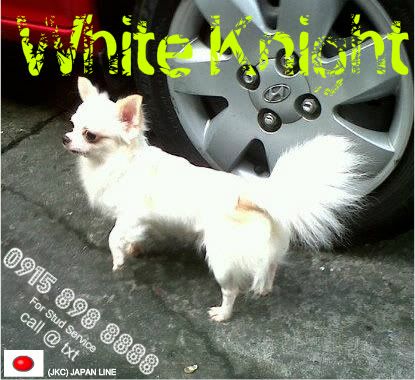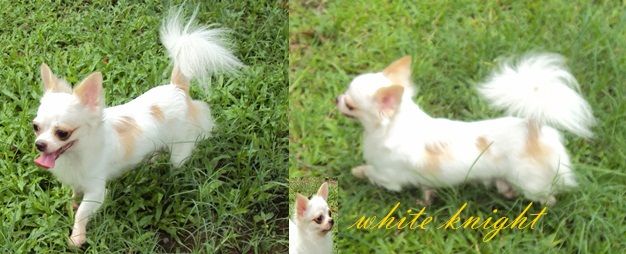 White Knight of Yokosuna at QueenSeonDeok Kennel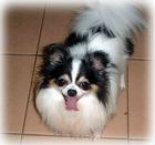 GRAND SON By AM CH DURBIN'S BLACK BEAU TIE (JKC)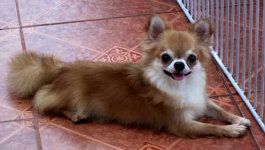 Sire:Kid Imported from Japan (JKC)/TATAY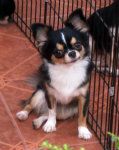 Dam:Viva Imported from Japan (JKC)/NANAY
White Knight 2kgs only!,See to Appreciate :)
Stud Fee:2,500 2X Mating...
 My site: http://queenseondeokkennel.webs.com/

plz click d'arrow -->MY LOCATION View Larger Map
Seller Contact Details
James Rengel Echalar
Contact Details
+63-915

-XXX-XXXX

+63-915-898-8888

(GLOBE)
Last Access From: Philippines
Feedback Score
Close X
Feedback Computation
Feedback
Type
> 12 mos.
x1 pt.
12 mos.
x2 pts.
6 mos.
x3 pts.
3 mos.
x4 pts.
Total
Positive
-
(1) 2
-
-
2
Negative
-
-
-
-
-
Total:
2
Legend: (Feedback Count) Computed Score
Feedback Details
Other Ads by queenseondeokkennel
Other Ads

Other Ads

Other Ads
Comments
Leave a message for the advertisement owner here (for members only). Follow this ad's comments via RSS
posted on January 14, 2012 02:11PM
queenseondeokkennel

Last Access From: Philippines

posted on February 17, 2012 03:43AM
queenCie9

posted on February 17, 2012 12:53PM
queenseondeokkennel

Last Access From: Philippines

posted on February 29, 2012 11:10PM
jhesz

Last Access From: Philippines

posted on March 22, 2012 10:01PM
georgia0522

Last Access From: Philippines

posted on March 22, 2012 10:34PM
queenseondeokkennel

Last Access From: Philippines

posted on April 15, 2012 11:55AM
florencabales

Last Access From: Philippines

posted on May 28, 2012 03:17PM
gboys

Last Access From: Philippines

posted on May 28, 2012 10:09PM
queenseondeokkennel

Last Access From: Philippines

posted on August 31, 2012 05:00PM
ksher29

Last Access From: Philippines

posted on September 4, 2012 08:23PM
queenseondeokkennel

Last Access From: Philippines

posted on September 30, 2012 10:14PM
rexorlando

Last Access From: Philippines

posted on October 13, 2012 12:42PM
jhumon

Last Access From: Philippines

posted on October 13, 2012 07:28PM
queenseondeokkennel

Last Access From: Philippines

posted on January 2, 2013 09:57AM
nokie020

Last Access From: Philippines

posted on February 15, 2013 05:12PM
queenseondeokkennel

Last Access From: Philippines
chihuahua stud Ads