Disclaimer: Sulit.com.ph is not involved in any way with the advertisement below. Any promise of income or earnings is solely of the advertisers, and NOT of Sulit.com.ph.
1BRO loadcentral Loading Business Free ipad4 iphone5
Royale Business Club
lance
Contact Numbers:

+63-922

-XXX-XXXX

+63-922-836-3868

(sun)

+63-916

-XXX-XXXX

+63-916-693-7890

(globe)

+63-947

-XXX-XXXX

+63-947-377-9975

(smart)

+63-947

-XXX-XXXX

+63-947-890-8704

(Imessage)

02-775

-XXXX

02-775-3003

(residence)

Feedback Score:

Close X

Feedback Computation

Feedback
Type
> 12 mos.
x1 pt.
12 mos.
x2 pts.
6 mos.
x3 pts.
3 mos.
x4 pts.
Total
Positive
-
(4) 8
-
-
8
Negative
-
-
-
-
-
Total:
8

Legend: (Feedback Count) Computed Score Feedback Details

SG Ranking:

Member Address:

rosal st., Malabon City, Metro Manila

Last Access From:

Philippines

Registered:

May 5, 2009

Last Sign In:

10 hours ago

View other ads of lamce.

Seller Details
Description
"ANG PANOORIN ITO AY DI MO MAGAWA, PAGYAMAN PA KAYA?"  
1BRO GLOBAL BUSINESS PRESENTATION TRAILER 2013 BY LANCE UY.
 With our mentor  Top 1 Millionaire Pewee Guasque
 THE MOST VIEWED AD! WANT TO KNOW WHY???
"THIS IS THE TEAM THAT IS PIONEER IN GIVING
/TEACHING TOP TIER STRATEGIES AND ADVICE NA WALA SA IBA"
WELCOME TO
THE TEAM THAT NO ONE LEFT BEHIND
IF YOU JOIN MY TEAM YOU'LL BE SURELY AHEAD OF THE OTHERS! FIND OUT WHY...
contact me now: 0916.693.7890/ 0947.377.9975/ 0922.836.3868

VIBER: 0947.890.8704 / Imessage 0947.890.8704
http://www.facebook.com/lanceuy
A GREAT OPPORTUNITY YOU CANNOT MISS!
Pls. Read the details below

A MUST READ BEFORE YOU CONTINUE!!!
ANG TINATANGGAP KO LANG SA TEAM KO E YUNG MGA GUSTO TALAGANG KUMITA SA NEGOSYONG ITO, GUSTONG MAABOT ANG MGA PANGARAP SA BUHAY AT GUSTONG MAKATULONG SA KAMAG-ANAK, KAIBIGAN, KAKILALA... WILLING AKONG MAGING MENTOR MO BASTA INTERESADO KANG MATUTU at MAKINIG... I'M LOOKING FOR QUALITY LEADERS WITH MILLIONAIRES MINDSET... 

PERO KUNG GUSTO MONG YUMAMAN EH USAP TAYO!!!
Anything is possible!
CONTACT OUR BUSINESS Associate NEAR YOU
 WHOLE METRO MANILA, NATIONWIDE, WORLDWIDE
Lance henryk t. Uy
0947.377.9975
0922.836.3868
0916.693.7890
whole metro manila, bantangas

Arthur Tolentinio/Roy Tolentino

0927-707-7596/ 0915-7544-726/0908-433-9145

Quezon city/ Eastwood/ortigas /pasig city
Jayson Goyena/ Chester Barrientos
0917-598-2400/ 0906-567-9890
The fort Global city/Pasay City
Benjamin Moralde
0906-456-8473/0908-341-7514
Pasay City/ The fort Global city
Mina Bayed
0905-567-1960
caloocan city / malabon city
Sheryl Tang
0922-3300163
Jleeb Al Shuyoukh, Al 'Āşimah, Kuwait/ Davao City
Belyn Labandero/Jhons Montefalcon Labandero/Janie Labandero 
0908-3546960 /09103209347
Singapore
Mina Bayed /oliver arce
+65 8323 9845

"ANG PANOORIN ITO AY DI MO MAGAWA, PAGYAMAN PA KAYA?"  
Alam mo ba friend na sa halagang 3,988 posible ka rin kumita ng 60,000PHP extra income sa loob ng 1 month?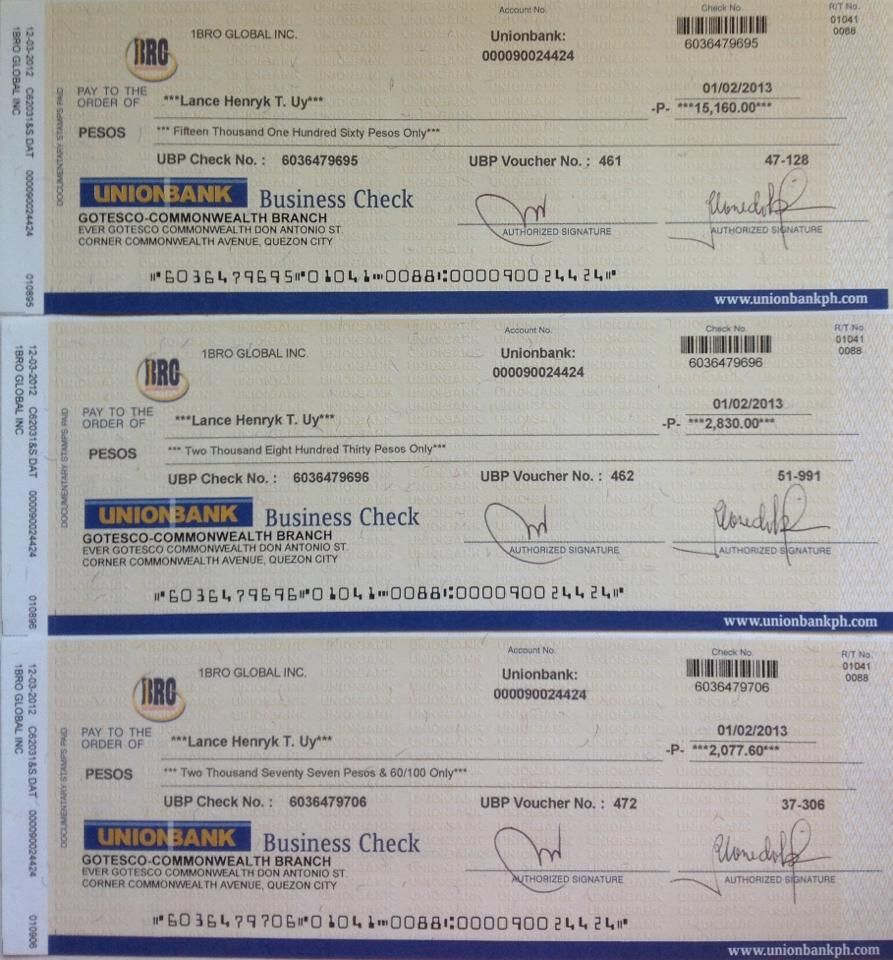 Price is

P3,988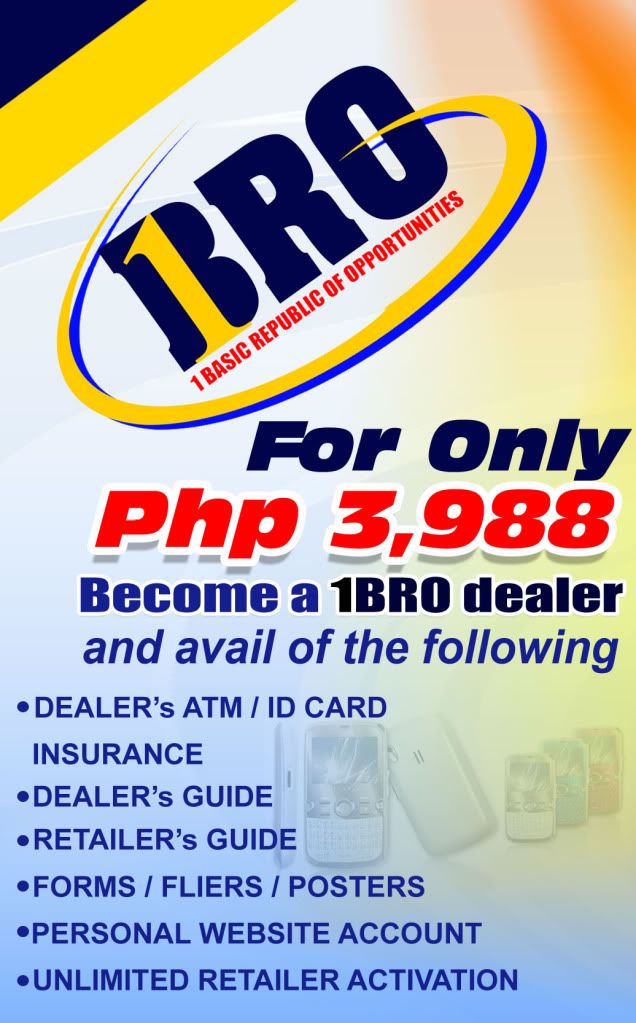 DEALER's ATM/ID CARD
UNLIMITED RETAILER    ACTIVATION
Be a Dealer of  1BRO (1 Basic Resources of Opportunities)
      One Sim Loads All Dealership Powered by LoadCentral
Income of not only 5 ways BUT 7 WAYS TO EARN
THE MOST GENEROUS COMPENSATION PLAN as compared with other One Sim Loads All Companies.
1) SELL E-LOADS OR PERSONAL LIFETIME DISCOUNTS
 Save up to 25% on discounts from more than 400 prepaid products!
2) UNLIMITED RETAILER SIGN-UP
1 Bro Dealers can register UNLIMITED number of Retailers! (di tulad ng iba jan na 20 lang!!)
3) OVERRIDE BONUS
Dealers override up to 2% from their UNLIMITED number of Retailers!
Example: 50 Retailers x P500 load consumed/day x 30 days = P750,000 consumed/month
Get 2% of P750,000 = P15,000 INCOME!
4) DIRECT REFERRAL
Dealer can refer anyone to become a 1 BRO Dealer also and earn P500 Direct Referral Bonus!
5) INDIRECT REFERRAL BONUS
Dealer earns P25/indirect referral or in other words, kikita siya ng P25 sa mga referrals ng mga referrals niya. 
USING THE POWER OF 5
LEVEL

 

NO. OF PEOPLE

BONUS/LEVEL

AMOUNT

DIRECT

 
 
 

1

5

500

P2,500

INDIRECT

 
 
 

2

25

25

P625

3

125

25

P3,125

4

625

25

P15,625

5

3125

25

P78,125

6

15,625

25

P390,625

7

78,125

25

P1,953,125

8

390,625

25

P9,765,625

 

 

 

P12,209,375
6) PAIRING BONUS
Earn P500 when Dealers pair in your A & B.
7) LEADERSHIP OVERRIDING BONUS
Earn 10% from all your direct referrals from their income in the pairing bonus! The more referrals made, the bigger the income! So what are you waiting for? JOIN NOW!!
SAFETY NET
Not to be deducted from your Direct Referral's income (It is to be paid by the company)
Kaya ang bawat isa ay gaganahan ng husto para mag Direct Referral at kapag kumita ng husto yun downline mo, kikita ka din panigurado aside from pairing bonus.
 EARN EVEN IF YOUR TEAM A AND TEAM B  (Left and Right) is NOT BALANCED)
MERON BA SILA NITO?????? ONLY AT MY1BRO!!!!!!!
*with the use of Myphone Cellphones (otherwise, use text codes for other cellphone units)
 FYI: 
Before you read 8ways I donts PROMISE instants YAMAN instants business YES! to EARN more you need to Learn 1st,buy effort, The good thing in this BUSINESS you can have UNLIMITED Retailers work for you and 8ways to EARN!!!!! pls read carefully... wag maakit sa magandang promo ng iba review the marketing plan!ANG PROMO ay 1time lang after that kikita kapaba? THE BEST BUSINESS ung kikita ka talaga lalo na pag masipag ka kumuha ng retailer mo or makapag sponsor ka. Ang ELOADS BUSINESS DAPAT PAG NAGLOAD KA WLANG BAWAS PERSONAL LOAD MO UNLIKE OTHERS MY1BRO was power by LOADCENTRAL which has own GATEWAY! anyway to give you more ideas pleased read carefully OUR MARKETING PLAN!
AVAIL OUR DEALERSHIP PACKAGE

BE A 1BRO DEALER NOW!!
PAALALA: FRIEND WAG MO ISIPIN YUNG PERANG IPUPUHUNAN MO, ISIPIN MO ANONG PWEDE MAGBAGO SA BUHAY MO DAHIL SA NEGOSYONG ITO:)
MAXIMUM INCOME OF UP TO P30,000 PER DAY
FREE COMPILATION OF TRAINING VIDEOS FOR MEMBER ABROAD PURPOSES!
FREE LBC EXPRESS DELIVERY NATIONWIDE
=========================================
TO HAVE FAST AND BIG STREAM OF INCOME INVEST ON MULTIPLE FRANCHISE PACKAGES :
BEST SELLER!!!!!! 
BEST SELLER!!!!!!
MAXIMUM INCOME OF UP TO P90,000 PER DAY!
IMMEDIATE R.O.I OF UP TO P1,500
FREE COMPILATION OF TRAINING VIDEOS FOR MEMBER ABROAD PURPOSES!
FREE LBC EXPRESS DELIVERY NATIONWIDE
ADVANTAGE OF MULTIPLE ACCOUNTS
===========================================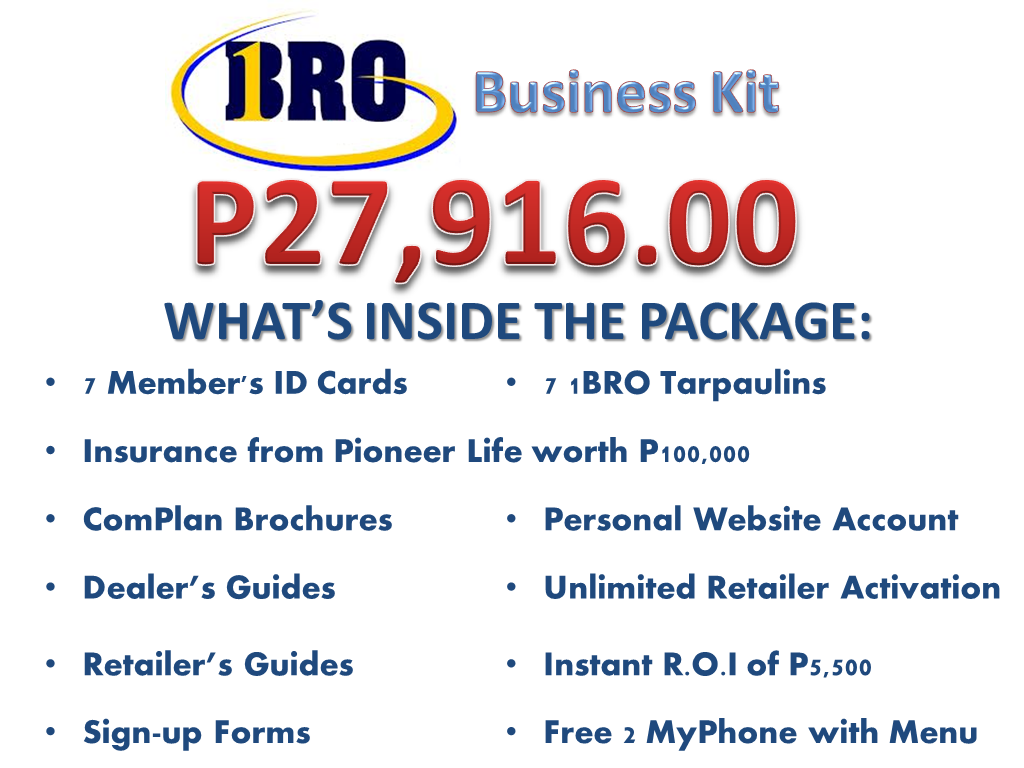 MAXIMUM INCOME OF UP TO P210,000 PER DAY!
IMMEDIATE R.O.I OF UP TO P5,500
 FREE COMPILATION OF TRAINING VIDEOS FOR MEMBER ABROAD PURPOSES!
FREE LBC EXPRESS DELIVERY NATIONWIDE
===========================================
MAXIMUM INCOME OF UP TO P450,000 PER DAY!
IMMEDIATE R.O.I OF UP TO P15,500
 FREE COMPILATION OF TRAINING VIDEOS FOR MEMBER ABROAD PURPOSES!
FREE LBC EXPRESS DELIVERY NATIONWIDE
REMEMBER: THE MORE FRANCHISE YOU GET THE BIGGER YOU EARN , PARANG JOLLIBEE LANG YAN , DI NAMAN YUMAMAN YUNG OWNER NG JOLLIBEE DAHIL MASARAP LANG ANG CHICKENJOY NILA , YUMAMAN SILA DAHIL MARAMI SILANG FRANCHISE. KAYA MAGANDA TALAGA ANG MULTIPLE FRANCHISE.. :-)
Team Elite We Work Together everyone achieves more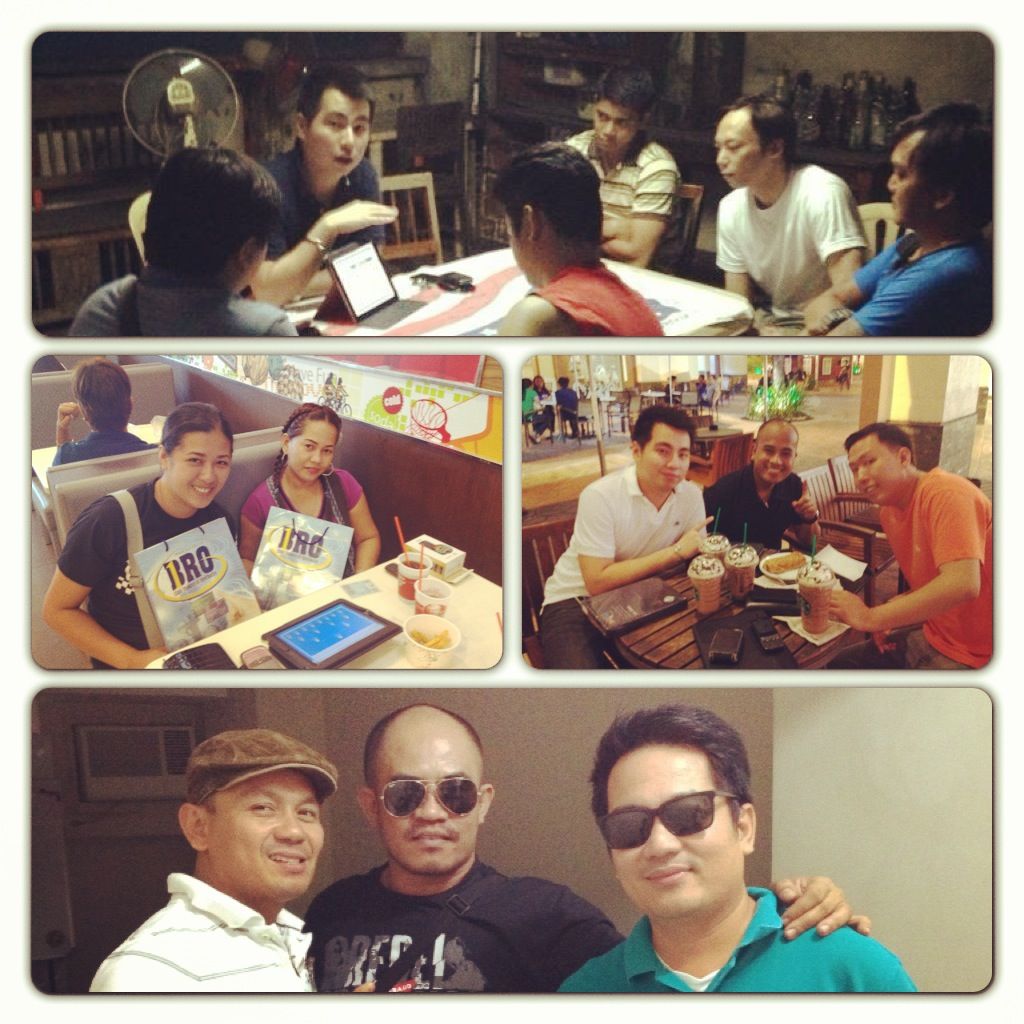 FREE DOWNLINES – How? The last person who will register after you will be your downline. So, siguradong lalaki ang team/group mo.

FREE BUSINESS TRAINING - for you to know all about on how to do our business.

100% SUPPORT FROM ME AND FROM OUR GROUP - if you join this business tandaan mo n kailangan mo ng tulong to succeed, at kaya kong ibigay yung tulong n yun s iyo. let's work together in doing this business.
-          Also available!
-          Become the master distributor of 1BRO IN a particular area!
-          MASTER DEALER / DISTRIBUTOR – P 288,000
guys be open minded :) i just 
want to encourage you to go into business  
habang tumatagal, lalong lumalaki! :D

REALITY CHECK:if can give 9 hours everyday working for P10,000 - P15,000/m

why can't you give 2 - 3 hours for an income averaging P50,000 - P100,000/m?

Time management is a solution for you, you are welcome in our company.
PM me for more info
It takes time to learn all you need to know when you make a dramatic change in your life and, you likely won't be paid right away. Don't give up. Don't "sell out" to the false promise of security. Chase your dream and it will become your reality. The quicker you believe it, the quicker you will get there. --MLM DONE RIGHT.
 IT'S A GROUP EFFORT! YOU NEED A PARTNER TO SUCCEED.
IF YOU JOIN MY TEAM, PLAIN & SIMPLE, I WILL HELP YOU & GIVE YOU EVERY MATERIALS, TRAINING & SUPPORT THAT YOU NEED FOR YOU TO BE SUCCESSFUL IN THEBUSINESS. THAT'S MY COMMITMENT!



 BE HIGHLY MOTIVATED WHILE EARNING AND REACHING FOR YOUR DREAMS!!!
WANT TO KNOW MORE, SMS OR CALL ME NOW OR POST COMMENTS BELOW: 

FOR INQUIRIES, PM ME OR CONTACT ME AT:
WANT TO KNOW MORE, SMS OR CALL ME NOW OR POST COMMENTS BELOW:

FOR INQUIRIES, PM ME OR CONTACT ME AT:


Lance Henryk Uy

0922.836.3868(sun)

0916.693.7890(globe)

0947.377.9975(smart)
VIBER: 0947.890.8704
Imessage 0947.890.8704
Legend:
Actual Location
Nearest Landmark
Seller Contact Details
Royale Business Club
lance
Contact Details
+63-922

-XXX-XXXX

+63-922-836-3868

(sun)

+63-916

-XXX-XXXX

+63-916-693-7890

(globe)

+63-947

-XXX-XXXX

+63-947-377-9975

(smart)

+63-947

-XXX-XXXX

+63-947-890-8704

(Imessage)

02-775

-XXXX

02-775-3003

(residence)
Last Access From: Philippines
Feedback Score
Close X
Feedback Computation
Feedback
Type
> 12 mos.
x1 pt.
12 mos.
x2 pts.
6 mos.
x3 pts.
3 mos.
x4 pts.
Total
Positive
-
(4) 8
-
-
8
Negative
-
-
-
-
-
Total:
8
Legend: (Feedback Count) Computed Score
Feedback Details
Other Ads by lamce
Comments
Leave a message for the advertisement owner here (for members only). Follow this ad's comments via RSS
vmobile Ads