Four Bedroom Unit For Sale At Trump Tower Manila
| Bedrooms | Bathrooms | Floor Area |
| --- | --- | --- |
| 4 | 6 | 430 sqm |
Real Estate Properties at its Finest
Realtor
Contact Numbers:

+63-905-XXX-XXXX

+63-905-822-5028

(GLOBE)

+63-935-XXX-XXXX

+63-935-804-4311

(GLOBE)

Feedback Score:

SG Ranking:

Member Address:

14th floor pacific star building buendia cor makati avenue, Makati City, Metro Manila

Last Access From:

Philippines

Registered:

Feb 22, 2012

Last Sign In:

1 hour ago

View other ads of TheBestHomesInMetro.

Seller Details
Description
---
 Team Century rose from a time when any ordinary day held the promise of history. Defined by such, we aspire to become the Brand of Choice for residential, business, and leisure spaces.

Through brand relationships, design ethos, location ideals and value sensibilities, we intend to elevate the experience for each and every one of our clients.

Join us as we deliver on these Great Expectations.
************************************************************************
  RESERVE NOW FOR JUST PHP150,000 / US $ 3,750 / EUR 2,800
(NO SPOT CASH/DOWNPAYMENT  REQUIRED) 
For Reservation FEE We Accept Cash / Check / Credit Card 
for queries:
Look for Stephen
globe +639058225028
smart +639213764376
Direct Bank Financing FREE ASSISTANCE 
Trump Tower Manila is the first Trump Branded home in Asia.Luxury items like bags can be considered as an investment. You buy a bag now that is worth $10,000 for all we know it will be worth 5 times the original when the right time comes. What more if you buy a Top of the line branded-property. You can never go wrong by investing in well-known brands.--stephen xian de Ramos
******************************************************************************************* 

"I've always loved the Philippines. I think it's just a special place and Manila is one of Asia's most spectacular cities. I know that this project will be second to none."
Donald Trump
Chairman & President of the Trump Organization

Trump branded projects have always been associated with the world's premier real estate. Trump buildings are known for their spectacular views, prime locations, luxurious amenities and discerning owners. The existing clientele of Trump includes global CEOs and celebrities. The experience of owning a Trump branded property and living in the Trump lifestyle is unparalleled.

Superior Quality, Detail and Perfection are standards that Trump demands of all properties bearing its name. The exclusive touch of the Trump brand is present in every aspect of their properties, from the design driven, cutting edge façades created in collaboration with the world's best architects, to the flawless interiors designed specifically for each market to the world-class service. No detail is overlooked. With each of its developed and branded properties, the Trump brand continues to raise the bar of super luxurious living consistently.
"Owning your very own space at Trump Tower Manila is the foremost testament to the encompassing realization of your well-deserved success. As we strive to create a stratospheric impact in our city skyline with each project we make, we ultimately aim to achieve our much-anticipated objective of elevating the Philippines into a premiere and globally-renowned destination."
"Century City's location is second to none, within the modernizing, future-ready district of a city in constant evolution."
"LIVE ABOVE THE REST"
Trump Tower Manila's concept of the 'peeled' façade is articulated with internal balconies. The top and bottom corners peel away which accentuates the dynamic form of the tower. Its curtain wall facade maximizes spectacular panoramic views of the city. The facade's function is environmentally responsive where light shelves and shading systems are designed to react to the building's orientation in relation to sun's path.
 LOCATION:
 century city at the buzzling business  district of makati
(A.Spring st. cor B.Valdez st. Poblacion, Makati) 
 TURNOVER DATE: ON OR EARLIER THAN DECEMBER 2016 
The perfect home
for the discerning clientele.
At Trump TowerTM Manila, units are carefully designed to adhere to the Trump brand's superior design and development standards.
PARK AVENUE – Originally known as Fourth Avenue, Park Avenue carried the tracks of the New York and Harlem Railroad in the 1830s. Well-known for its begonia flowers and lush greenery, Park Avenue's overall design philosophy remains classic and timeless.
Trump TowerTM Manila echoes Park Avenue's transitional style using traditional moldings on walls and cornices, contemporary wenge wood flooring, lacquered high gloss finish for doors and door jambs, marble and granite natural stones in cream, white and black. Park Avenue is best suited for those who want the best of both worlds – fusing contemporary and classic in interior finishes.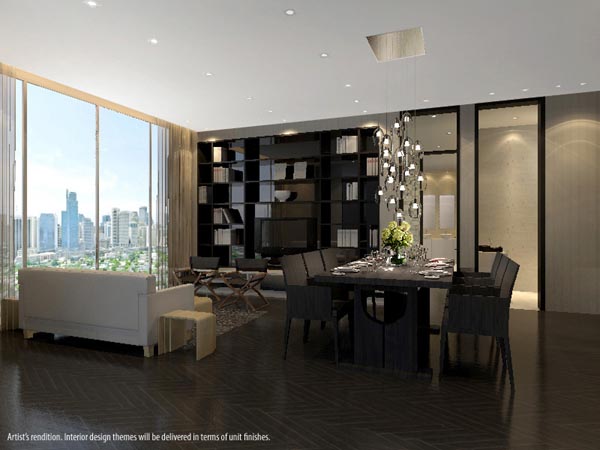 DOWNTOWN SOHO – A stylish neighbourhood in lower Manhattan notable for being home to many art galleries and artists' lofts, and for its trendy boutiques and flagships of national and international brands. Distinguished for its unitque architecture, Downtown Soho blends 18th century elegance in its decorative cast-iron facade "hip" interior design through high contrast hues.
At Trump TowerTM Manila lends Downtown Soho's unique sophistication through ebony wood flooring pristine white walls with linear panelling and white natural stones in smooth matte finish. Downtown Soho is the ideal interior theme for the upwardly mobile citizen with a contemporary taste in design.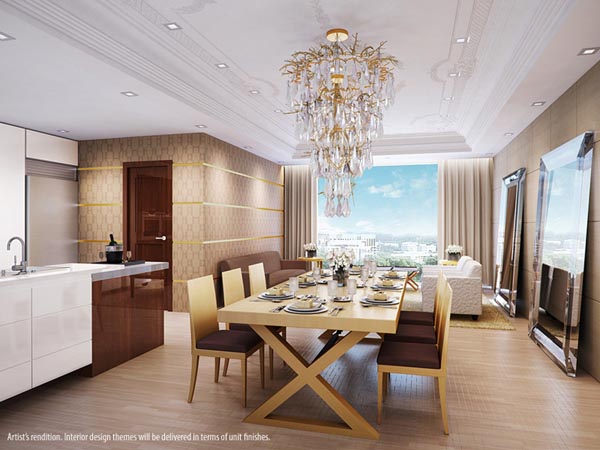 FIFTH AVENUE – Ranked as one of the most expensive avenues in the world. Fifth Avenue remains coveted for its endless variety of upscale retail shops, deluxe apartments and prestigious penthouses. It borders east of the Central Park, making it even more desirable for its lush environment.
Trump TowerTM Manila brings glamorous Fifth Avenue's classic design aesthetic through art deco in light wood veneer floors and walls, marble and granite natural stones in creams and browns. Fifth Avenue is the perfect interior finish for those who want to enhance and showcase their artwork collections like paintings, sculpture and art installations.
---
Floor Plans
A unit type perfect for the upwardly mobile citizen. This 1-bedroom unit has its living, dining and kitchen areas, and a luxurious bedroom with bathroom and tub.
The 1 bedroom unit is a bigger version of the suite allotting a very generous space for living, dining, kitchen and powder room; plus a master's bedroom with its own bathroom, walk-in closet, a glass-enclosed shower and a tub.
1Bedroom
Size : 80-105sqm
Price : Php 11-23M
US $ 273,195 - 575,000 
---
A two bedroom unit is ideal for a couple or a growing family. Its unit configuration is carefully-designed to accommodate a large space for living room, dining and kitchen, while two (2) large bedrooms have their own walk-in closet, bathroom with a glassenclosed shower and a tub.
2Bedroom
Size : 149-169sqm
Price : Php 27M
US $ 575,000 - 675,000
*2 BR DUPLEX

Limited 2 bedroom duplex units have their own private garden on the lower floor, with living room, dining, kitchen and powder room. This 2-level unit also has a bedroom with its own bathroom and tub, a guest room with toilet and bath, and a sprawling master's bedroom with its own walk-in closet, bathroom and tub.
A spacious flat unit with living room, dining, kitchen, service area, powder room, and maid's room. The two (2) large bedrooms have their own walk-in closet, bathroom with tub, while the guest room has its own toilet and bath.
---
3Bedroom
Size : 192sqm
Price : Php 33-39M

US $ 825,000- 975,000
*3 BR DUPLEX

A 2-level unit with a balcony, spacious living room, dining, kitchen, service area and powder room on the lower floor. The upper floor has two (2) bedrooms with their own bathrooms; and a luxurious master's bedroom with its own living room, walk-in.
---
4Bedroom (Lower Penthouse)
Ideal for big families or couples who need a lot of room. The 4-bedroom unit boasts of a spacious living room, dining, kitchen, powder room, and maid's room. The three (3) large bedrooms have their own walk-in closet, bathroom with tub, while the guest room has its own toilet and bath.
4Bedroom (Lower Penthouse)
Size : 276sqm
Price : Php 77M
US $ 1,925,000
---


Penthouse Units (Upper Penthouse)

 Penthouse Units (Upper Penthouse)
Size : 423sqm
Price : Php 124M
US $ 3,100,000
---
VIEWS
---
 AMENITIES 
Globally acclaimed sophistication. White gloved service. Exquisite interiors.
From a grand lobby that celebrates your arrival, en route to a marvellous hallway that draws your inner effervescence. Amidst a wide array of lavishly designed amenities. Leading to your exclusive living space with sweeping city views. You have arrived in a truly elegant and privileged new lifestyle.
Trump Tower Manila's emphasis on elegance, quality and craftsmanship will be evident in its amenity spaces. The building will be the first condominium in the world to use a selection of Hermes home collections for its amenities and common areas.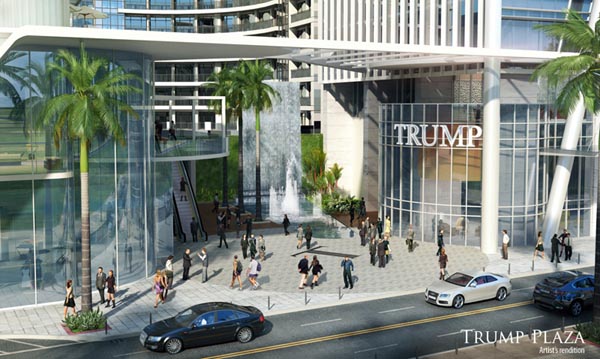 TRUMP PLAZA & WATER FEATURE 
A visual delight to welcome your arrival. 
Sophistication starts from the moment you glance. The Trump Plaza serves as a dramatic attestation that indeed, you have arrived.

GRAND LOBBY 
An understated elegance. 
The grand lobby greets you with a lofty triple height ceiling adorned with an iconic chandelier, pendant lamps and elegant furniture.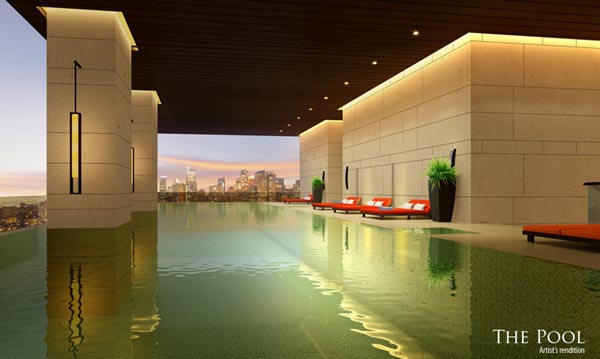 THE POOL
A plunge to a life well-lived. Take pleasure in a daily 5-lap routine workout or simply soak up the sun on a weekend in your very own pool overlooking the Makati skyline.Intricately designed with glass mosaic tiles honed finish marble and bright lounge beds.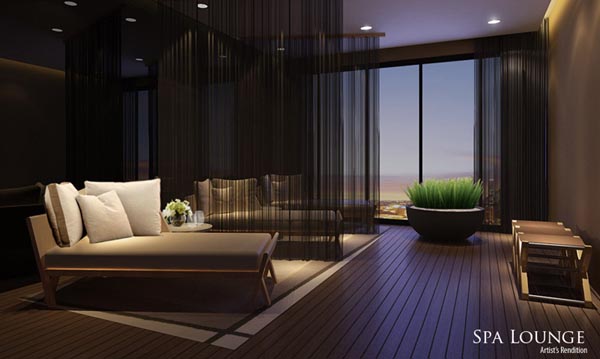 SPA LOUNGE
A prelude to your indulgence.Relax while you wait for your well-deserved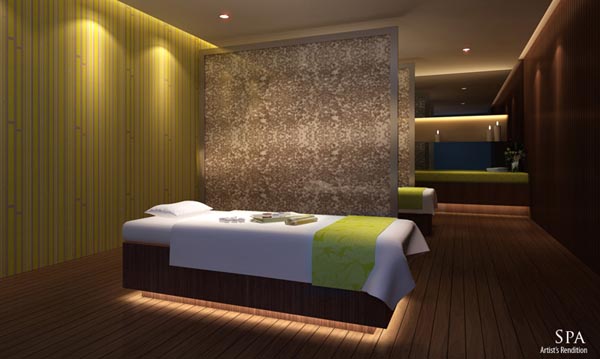 SPA
Sanus per Aquam (SPA) means health by water. Treat yourself to a relaxing dip in the Jacuzzi, 
a few minutes in the stream bath and an aromatherapy massage in your exclusive spa.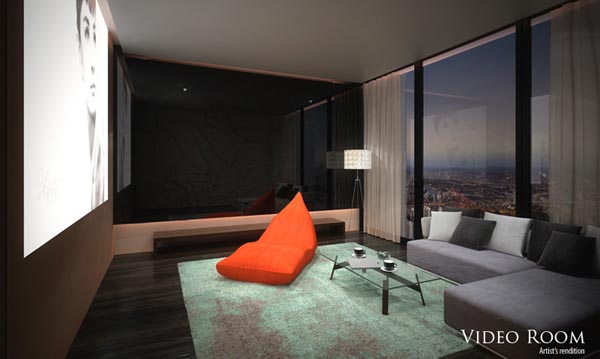 VIDEO ROOM
A time to dreamTransport yourself to a new world while you indulge in cinema or get excited in sports entertainment with your friends in the video room.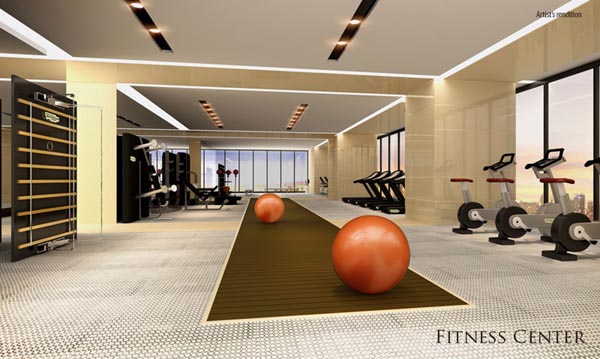 FITNESS CENTER
A habit that keeps you going.
Stay fit and fabulous in your fully-equipped and stylishly designed fitness center.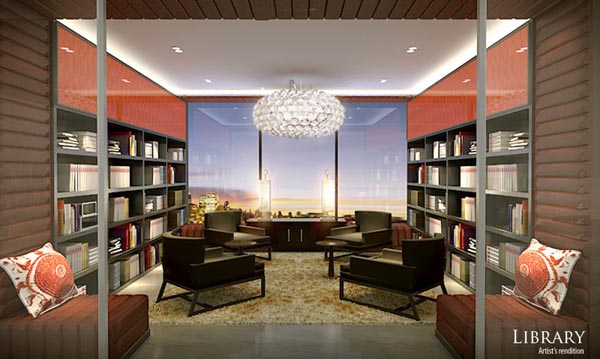 LIBRARY 
A chic alcove of erudition
Go through the archives of our special collection on finance, business art and travel in your library's 
elegant interiors accentuated with intricately-designed wallpaper and furniture.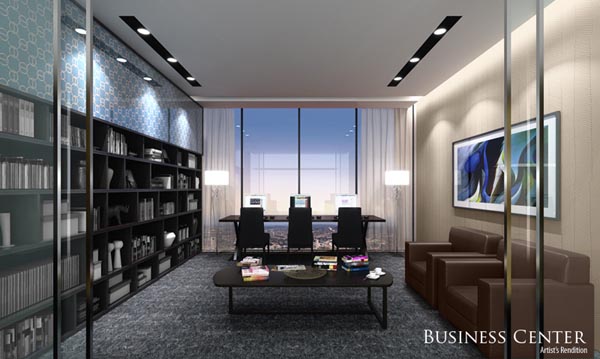 BUSINESS CENTER 
A pleasure to do business. 
Organize your work and mentally prepare for a busy day ahead in the business center embellished with art 
deco wallpaper and furniture, dark stained walnut book shelf and chevron slate carpet.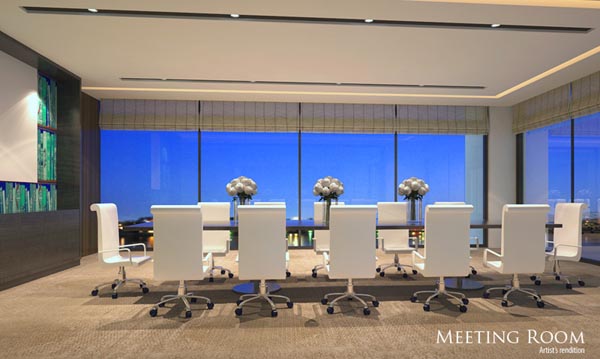 MEETING ROOM 
Conduct your business conference in style in its tastefully chic interiors that blends ultramodern and classic sophistication. 
---
At the groundbreaking of Trump Tower Manila, the smiles say it all. From left, Marco Antonio (Managing Director of Century Properties), Donald Trump Jr (EVP of Development & Acquisitions Trump Organization), Jose E.B. Antonio (Chairman, Century Properties), Eric Trump (EVP of Development & Acquisitions Trump Organization), and Robbie Antonio (Managing Director of Century Properties, Project Head of Trump Tower Manila). 
---



Century Properties
proudly unveils the

Ivanka Trump Fine Jewelry Collection

Discover the glamour, timeless elegance and original heirloom style of
the Ivanka Trump Fine Jewelry Collection.

The Boutique is Exclusively at Trump Tower Manila Showroom
3/F Pacific Star Building
Makati Ave corner Buendia Ave Makati City
---
________________________________________________________________________
Direct Bank Financing FREE ASSISTANCE  
 RESERVE NOW FOR JUST 150,000 PESOS
For Reservation FEE We Accept Cash / Check / Credit Card 
---
 others projects includes:  
Legend:
Actual Location
Nearest Landmark
Seller Contact Details
Real Estate Properties at its Finest
Realtor
Contact Details
+63-905-XXX-XXXX

+63-905-822-5028

(GLOBE)

+63-935-XXX-XXXX

+63-935-804-4311

(GLOBE)
Last Access From: Philippines