Catering Services By Francy Events
Francy Events Management
France Harris Villamayor
Contact Numbers:

+63-906-XXX-XXXX

+63-906-209-3892

(GLOBE)

+63-922-XXX-XXXX

+63-922-894-8162

(SUN)

Feedback Score:

Close X

Feedback Computation

Feedback
Type
> 12 mos.
x1 pt.
12 mos.
x2 pts.
6 mos.
x3 pts.
3 mos.
x4 pts.
Total
Positive
(1) 1
(1) 2
-
-
3
Negative
-
-
-
-
-
Total:
3

Legend: (Feedback Count) Computed Score Feedback Details

SG Ranking:

Member Address:

San Pablo City, Laguna

Last Access From:

Philippines

Registered:

Jul 25, 2008

Last Sign In:

1 day ago

View other ads of harcie.

Seller Details
Description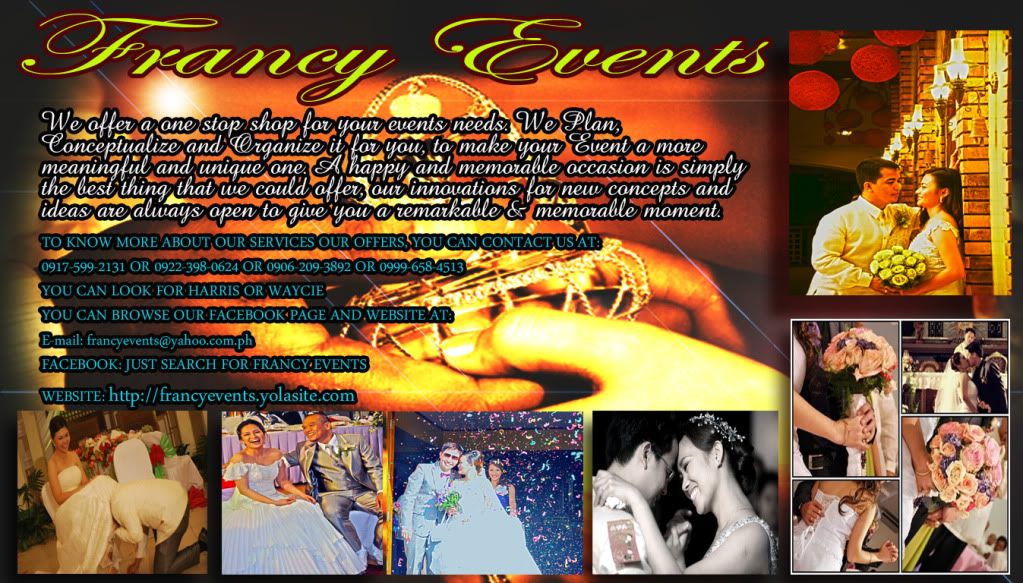 Services Offered:
*Events Planning and Coordination, Conceptualizing events and parties of any occasion
(Wedding, Debut, Birthday, Anniversary, School,Company or Corporate events,Christmas Parties, Reunions, Halloween Parties, etc.),
*Programs
*ON THE DAY OR FULL COORDINATION
*Gowns and Accessories (Custom-made and designed)
*Flowers/Floral arrangement
*Bridal Car
*Photo & video coverage and editing
*Photo Booth
*AVP/Music Video production and editing,
*Projectors for AVP presentation
*Lights/Sound System (includes bands, wedding singers)
*Invitation and souvenirs and many more
*Emcee/Program Host
*Usher/ Usherettes
*Cake & Catering Services
*Venue reservations & arrangement
* Tables and chairs
*Clowns
*Face Painting
*Balloons/Balloon Arch
*Chocolate Fountain, Cotton Candy, etc...
* Tarpaulin
*Balloon arch
*Bubble Show/Puppet Show/Yoyo Master
*Tents/ Parachute type
*CANDY BUFFET (NEW)

OTHER SERVICES:
WE ALSO DO BRIDAL SHOWERS ...
*CONCEPTUALIZING, EMCEES AND PERFORMERS
*CONSULTATIONS-FOR MORE INFO, KINDLY CONTACT US

RATES AND PACKAGES:
1. Rates and Packages are subjected for adjustment and will be discussed personally between by Francy Events Management and Client. 
2. Rates and Packages will depend upon the Client and the Coordinators agreement.

**If you will gonna Inquire us via Email: kindly inlcude also your NAME, CONTACT NUMBER,ADDRESS, and DATE OF EVENT for faster transactions. Thanks!!!
***For new clients abroad, kindly add us at at our ym - francyevents

Email : francyevents@yahoo.com.ph
For more info or if you have any questions, don't hesitate to text or call us at
GLOBE - 0906-209-3892 or 0917-599-2131
SUN - 0922-398-0624 OR 0922-894-8162
FOR MORE INFO AND UPDATED PICTURES OF OUR EVENTS, KINDLY VISIT OUR WEBSITE OR FACEBOOK PAGE...

Website: http://francyevents.yolasite.com/
Yahoo Messenger: francyevents
LIKE US AT FACEBOOK: (CLICK THE LINK BELOW)
 http://www.facebook.com/pages/Francys-Events-Management/161280713925174#!/pages/Francys-Events-Management/161280713925174?sk=wall
Catering Category (List of Menus)
Menu:
PORK:
Honey Pork Ribs
Ginataang Inihaw na liempo
Grilled Liempo
Imbutido
Lechon Kawali
Menudo
Pata tim
Pork Adobo
Pork Asado
Pork Barbeque
Pork Morcon
Sweet and Sour Pork
Pork Pastel
BEEF:
Adobong Tadyang ng baka
Beef Caldereta
Beef kare kare
Beef Morcon
Beef Teriyaki
Callos
Crispy Tadyang ng Baka
Beef Lengua/Kamto Asado
Lengua Legislativa
Lengua with mushroom sauce
Menudo Sulipena
Shredded Beef with Brocolli
Shredded Beef with Green peas and nuts
Beef Aspara-maki
Spicy beef ribs
Roasted Beef in mushrrom gravy
VEGETABLES:
Mixed Vegetables
Lumpiang Ubod (Chinese Style)
Chopsuey Guisado
Buttered Vegetables
Pinakbet Special
Vegetables in Oyster Sauce
CHICKEN
Breaded Fried Chicken
Boneless Chicken Bbq
Chicken Adobo
Chicken Chopped
Chicken Curry
Honey Chicken
Chicken Pastel
Chicken roll
Chicken Teriyaki
Spicy Chicken Wings
Sweet Chicken
Vittorios fried CHicken
SEAFOODS
Baked Tahong
Camaron Rebusdo
Crab Foo Yong
Fish Fillet con Tausi
Fish Fillet in Lemon Butter Sauce
Fish Fillet in Sweet and Sour Sauce
Fish Fillet in Tartar Sauce
Fried Calamares
Ginatang Sugpo
Grilled Fish in Lemon Butter Sauce
Lapu lapu in sweet and sour sauce
Mixed Sea foods inihaw
Pan fry fish in mornay sauce
Sea foods kare kare
Shrimp curry
Shrimp in Oyster sauce
shrimp with green peas and quail eggs
shrimps in garlic and butter
Shrimps Termidor
Spicy Squid
Steamed Fish Fillet in lite Soy Sauce
Steamed lapu lapu in tausi
Stuffed Squid
Sweet shrimp
NOODLES/PASTA
Bihon Guisado
Canton Guisado
Mike Bihon
Pansit Chopsuey
Sotanghon  Guisado
Crispy Pansit
Carbonara
Lasagna
Spaghetti
Baked Macaroni
Pesto
Tuna tomato
SOUPS
Pumpkin soup
Potato Soup
Clam chowder
Minestrone Soup
SALADS
Fruit Salad
Potato Salad
Chicken Macaroni Salad
Ensiladas
Kani Salad
Vegetable Salad Bar
DESSERTS:
Fruit Salad
Buko Lychee
Buko Pandan
Buko Salad
Cathedral Window
Leche Flanwith Macapuno
Mixed Fresh Fruits Balls
Citrus Panna Cotta
NOTE: MENUS ARE SUBJECTED FOR ADJUSTMENT OF PRICES DEPENDING ON THE MENU THAT THE CLIENT WANT.

Seller Contact Details
Francy Events Management
France Harris Villamayor
Contact Details
+63-906-XXX-XXXX

+63-906-209-3892

(GLOBE)

+63-922-XXX-XXXX

+63-922-894-8162

(SUN)
Last Access From: Philippines
Feedback Score
Close X
Feedback Computation
Feedback
Type
> 12 mos.
x1 pt.
12 mos.
x2 pts.
6 mos.
x3 pts.
3 mos.
x4 pts.
Total
Positive
(1) 1
(1) 2
-
-
3
Negative
-
-
-
-
-
Total:
3
Legend: (Feedback Count) Computed Score
Feedback Details
Other Ads by harcie
Comments
Leave a message for the advertisement owner here (for members only). Follow this ad's comments via RSS
No Comments Yet
san pablo city laguna catering services Ads
Related Ads

Related Ads

Related Ads

Related Ads

Related Ads