Cutter Plotter / Cutting Plotter - WinPCSIGN 2012 Software NEW!!!
5648 views
Price:P

4,500.00

Date Posted:

June 9, 2012

Classification:

For Sale

Condition:

Brand New

Location: Quezon City, Metro Manila
Warranty:

Shop/Factory Warranty

Ad Details
Avatar Checked
Tees and Prints Enterprise
Elaine Marie A. Vizmanos

Name Checked
Contact Numbers:

+63-917

-XXX-XXXX

+63-917-504-8337

(Globe)

+63-932

-XXX-XXXX

+63-932-874-8337

(SUN)

+63-917

-XXX-XXXX

+63-917-559-6054

(Globe)

+63-939

-XXX-XXXX

+63-939-914-3918

(Smart)

02-412

-XXXX

02-412-3714

(Landline)

Feedback Score:

74
100% Positive Feedback

Close X

Feedback Computation

Feedback
Type
> 12 mos.
x1 pt.
12 mos.
x2 pts.
6 mos.
x3 pts.
3 mos.
x4 pts.
Total
Positive
(28) 28
(15) 30
(4) 12
(1) 4
74
Negative
-
-
-
-
-
Total:
74

Legend: (Feedback Count) Computed Score Feedback Details

SG Ranking:

Member Address:

Unit 8 5GS Epifanio De Los Santos Ave ( EDSA ) South Triangle, Quezon City, Metro Manila

Last Access From:

Philippines

Registered:

Feb 6, 2011

Last Sign In:

3 days ago

View other ads of teesandprintsqc.

Seller Details
Description
                 WinPCSIGN 2012 Version w/ Security Dongle Included : P4500.00 Only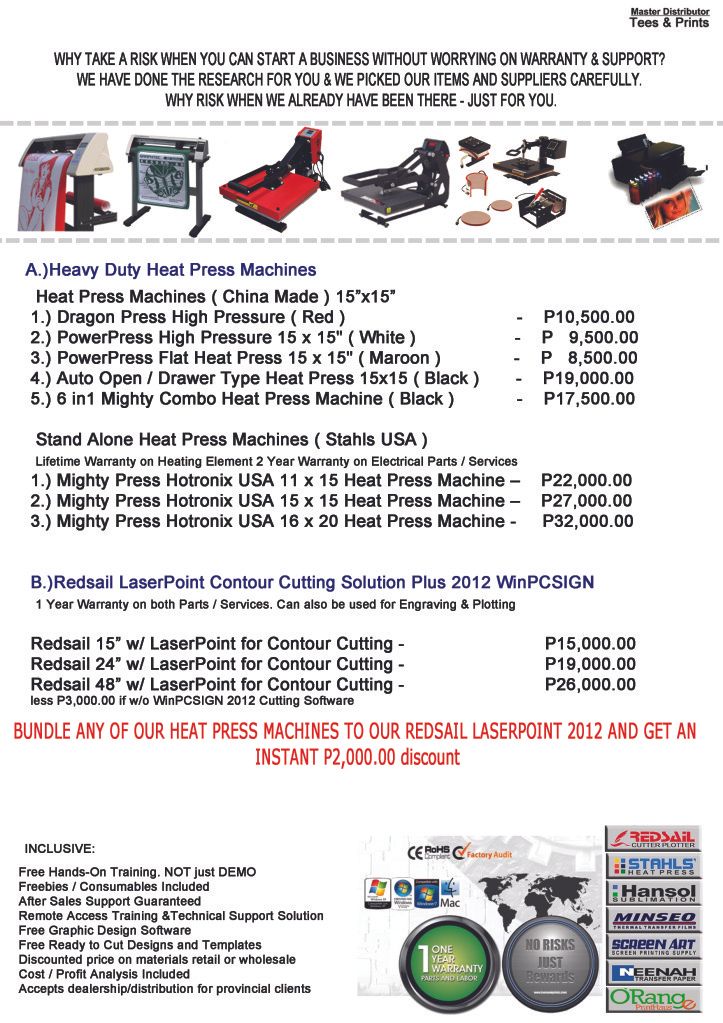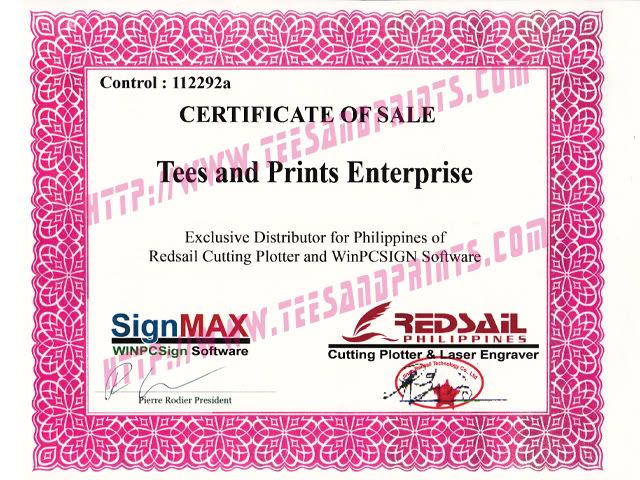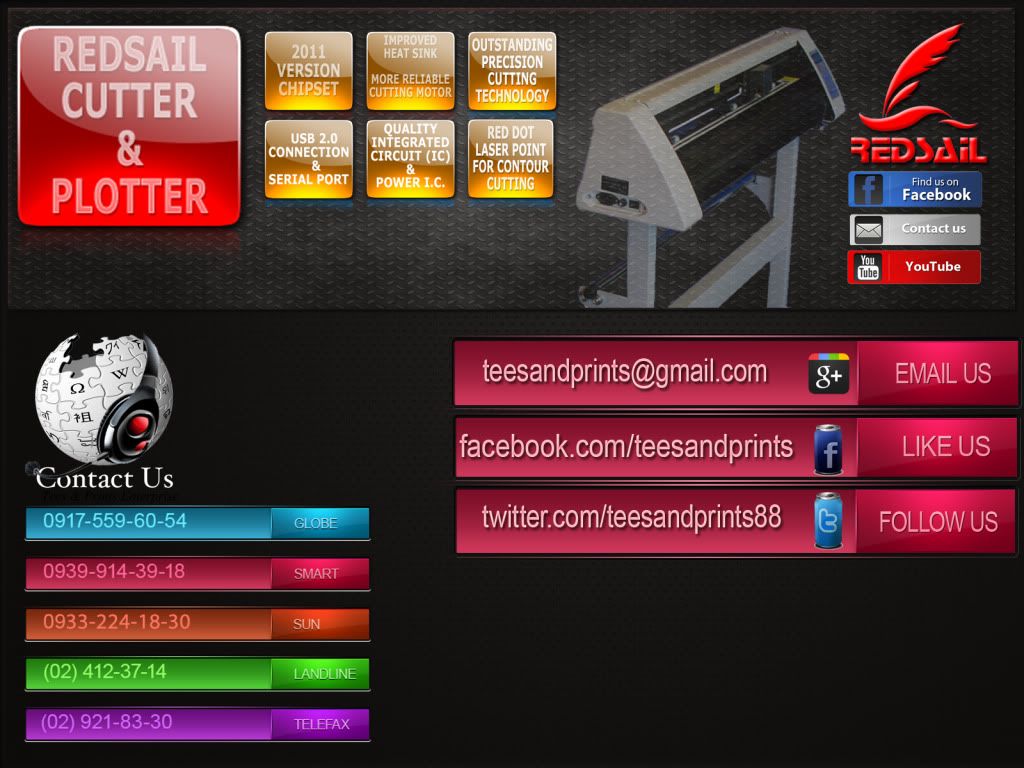 PROFESSIONAL CUTTING has never been so EASY




Specialized Sign Making functions proudly developed since 1988 to help sign makers complete jobs quickly with professional results.
Professional support 

 

Exclusively Distributed by : Tees and Prints Enterprise Philippines






Most popular : USCutter, SM,
Signwarehouse, Vinyl Express, Master...


Import: SVG, AI, EPS, PS, PDF, DXF,
JPG, BMP...

Let you select all the fonts installed on
Windows
 Windows 7, VISTA, XP, NT ...
Languages: English
Coming soon: Français, Español, Portugues, Deutsch, German
---
SMALL & LARGE SIGNS CREATION

CAR, BOAT, MOTO & RV DESIGN

T-SHIRTS
 

METAL ENGRAVING

*Purchase Separate Engraving Kit

SANDBLAST

STICKERS
 

WALL DECORATION

GLASS ETCHING
 
---
Text tranformation
Easely,create outstanding text effect

Contour Cut
Print & Cut images in color

Unicode: write in Chinese, Arabic, Hindi etc...
 

Freehand
Design like an artist

Break or group your logo in one click
Perfect for fast editing.

Apply a new color theme
Easily customise your design
 

New spiral tool for embellishment
Design amazing spiral easily

Auto Save
Automatically save your work
 
This exclusive function is useful to
weed big designs. Cuts design in
panels with easy overlap

Quick and useful cutting panels.
Cut by colors, add wedding, rotate etc....

Minimiseroll and unroll of the vinyl sheet to avoid slipping and distortion
 

Cutter always start a new path with
a good blade orientation to avoid
twisting and material lost.

Prevent unstick or sharp corner
 
---
FEATURES LIST (more than any one else basic, starter or lite software)
 
 Auto-Backup of your current job
 Save your Personalize Toolbar setup
 Free hand tool
 Interactive messages




Cut and Paste
Easy to Use Measuring Tool
Rotate, Mirror, Scale
Online Help
Interactive Cutter Control
Automatic Color Separation for Cutting
Complete Text & Graphic Layout
Uses your Tru Type Fonts installed on your computer (Auto Font Import)
Import / Export (EPS, DXE, AI,SVG etc.)
Easy node and path Edit
Dictionary
Kiss cutting option
Engraving functions
Intelligent logos search
500 Logos ready to cut and print
Copy properties
Multiply copies, circulars copies
Cut shape with a straight segment
Cropping image with rectangle, circle, oval
Distortions, Outline, Contour with welding, Shadow, Gradient
Draw arrows, stars, polygons, ellipses, circles, rectangles
Cutters drivers installed more than 500
Digital cameras import

 Unicode Paste Chinese, Russian, Arabic ... symbols
 Spiral tool
 Color Scheme
 Zoom with CLICK + CTRL
 Group ungroup (Easy one click)
 Import SVG & PDF (vector file)





Cut & Print all TrueType and Adobe fonts
Cutting by colors and objects
Multiples weeding contours
Edition and special effects on images (noise,emboss, etc.)
Convert vector object to image
Change resolution and color of images (bits, dithering, etc)
Import / Export Bmp, Jpg, Tiff, Eps, Pcx, Wmf, Wpc, Vip
Import vectorized files Eps, Ai, Dxf, Prn, Plt. Wpc, Vip, Svg, Pdf etc
Import PDF vector files
Visual text spacing
Dimension-lines (see and print measurements)
Color scanning & black/white.
Top quality MAX fonts
Separate text in characters, word, line and outline
Convert a segment to Beziers, in Arc and Bezier with a click
Simple interface to write any text on path and circle
Manual vectorization
See opened path (unsnap)
See direction path
Automatic numbers production
Lock and unlock selected object.
Seller Contact Details
Tees and Prints Enterprise
Elaine Marie A. Vizmanos

Name Checked
Contact Details
+63-917

-XXX-XXXX

+63-917-504-8337

(Globe)

+63-932

-XXX-XXXX

+63-932-874-8337

(SUN)

+63-917

-XXX-XXXX

+63-917-559-6054

(Globe)

+63-939

-XXX-XXXX

+63-939-914-3918

(Smart)

02-412

-XXXX

02-412-3714

(Landline)
Last Access From: Philippines
Feedback Score
74
100% Positive Feedback
Close X
Feedback Computation
Feedback
Type
> 12 mos.
x1 pt.
12 mos.
x2 pts.
6 mos.
x3 pts.
3 mos.
x4 pts.
Total
Positive
(28) 28
(15) 30
(4) 12
(1) 4
74
Negative
-
-
-
-
-
Total:
74
Legend: (Feedback Count) Computed Score
Feedback Details