Rhapsody Residences | Affordable Condo In Muntinlupa | DMCI Homes
| Bedrooms | Bathrooms | Floor Area |
| --- | --- | --- |
| 2 | 2 | 68 sqm |
547 views
Price:P

3,179,000.00

Date Posted:

June 16, 2012

Address:

East service Road, Sucat Muntinlupa City

Classification:

For Sale

Condition:

New

Location: Muntinlupa City, Metro Manila
Ad Details
Hannielyn Gonzales Pesigan
License #: 0014564
Contact Numbers:

+63-947

-XXX-XXXX

+63-947- (Smart) 396-2209

+63-906

-XXX-XXXX

+63-906- (Globe) 471-2274

02-401

-XXXX

02-401- 8108

Feedback Score:

SG Ranking:

Member Address:

Taguig City

Last Access From:

Philippines

Registered:

Feb 8, 2010

Last Sign In:

5 days ago

View other ads of Hannielyn.

Seller Details
Description
---
RHAPSODY RESIDENCES | AFFORDABLE CONDO IN MUNTINLUPA | DMCI HOMES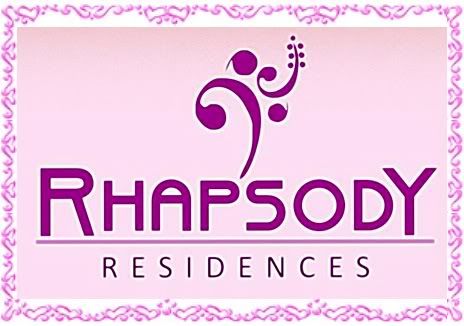 Rediscover the rhythm of life, and bring harmony back into your days, here at Rhapsody Residences. Its distinct, carefully designed Neo-Asian architecture and lush landscaping are a refreshing departure from the steel-and-concrete structures that dominate the urban panorama, providing a relaxing ambiance for its residents. 
Avail our flexible Payment Terms
NO SPOT DOWNPAYMENT!
RESERVATION FEE AS LOW AS Php20,000.oo 
 DP @ ZERO % INTEREST PAYABLE TILL TURN OVER DATE!
An ideal location, an upscale and relaxing home environment and a value-friendly price—modern Filipino homebuyers will get only the real deal at 
"RHAPSODY RESIDENCES"
UNIT PRICE RANGE: 
From Php 2.2To Php 4.0M
(Approximately US$ 51,200 - US$ 94,000)
For more details, site and model unit viewing please call/text: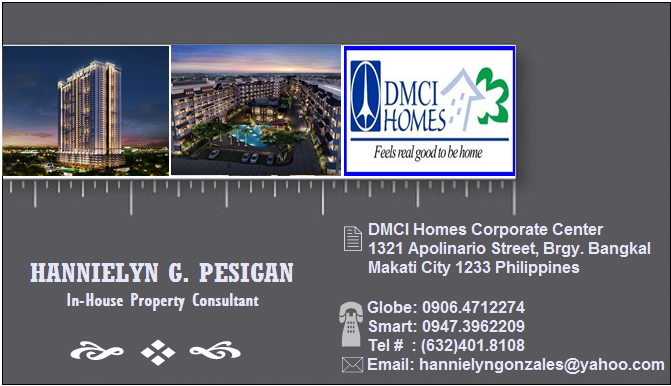 OTHER PAYMENT OPTIONS*   
15% Downpayment - 85% Thru In-House (2.5% Discount)  Bank Financing (4.5% Discount)
20% Downpayment - 80% Thru In-House (3% Discount)     Bank Financing (5% Discount)
30% Downpayment - 70% Thru In-House (4% Discount)     Bank Financing (6% Discount)
40% Downpayment - 60% Thru In-House (5% Discount)     Bank Financing (7% Discount)
100% Spot cash (10% Discount)

Reservation Fee: Php 20,000
Minimum Downpayment: 15% of the List Price (payable until RFO Date)    

Balance may be settled through in-house or bank financing.
Note:
Downpayment can be paid till turnover date of the project at 0% Interest.
Additional 2% PDC discount will be applied provided complete documents 
and PDCs are submitted within 30 days from reservation date.
ACCREDITED BANKS
Banco de Oro
United Coconut Planters Bank
Philippines National Bank
BPI
China Bank
HSBC
Rhapsody Residences: A new gem sparkles in RP's 'Emerald City'
Muntinlupa City has rightfully earned a moniker as the Philippines "Emerald City" in recent years, courtesy of its steady growth as a highly urbanized location with a vibrant business environment and exciting prospects for leisure and recreation, along with a prestigious address for a population of more than 400,000.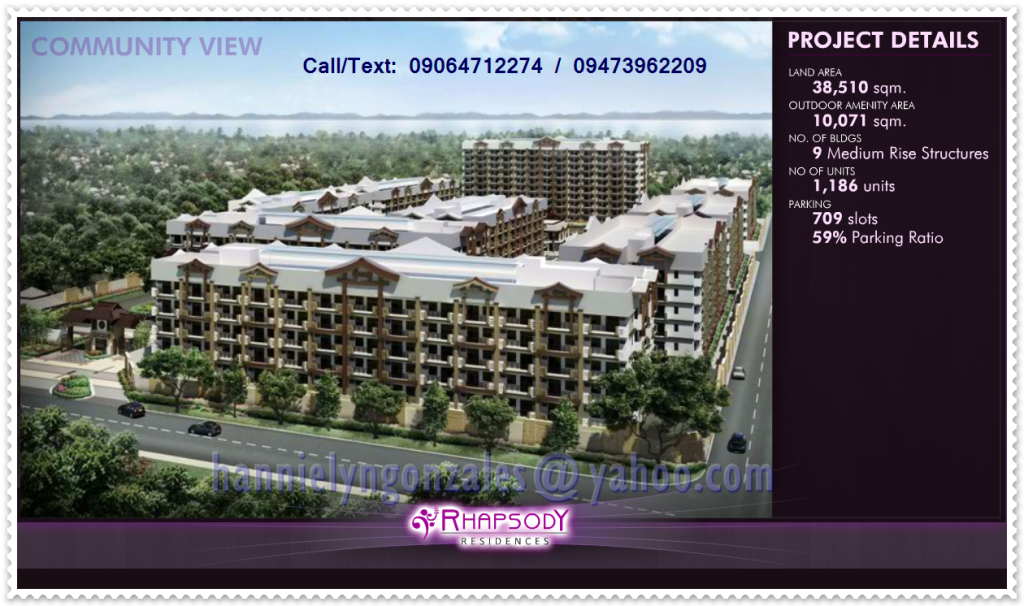 An address of prestige
Located along East Service Road in Barangay Buli, Muntinlupa City, Rhapsody Residences will be the only resort-park family condominium village in its neighborhood – an urban setting just outside the Alabang Central Business District.
This inspired development will join a thriving city scene already composed of some of the best commercial establishments in the metropolis, including the country's premier shopping centers like Alabang Town Center and the Festival Supermall; the towering Insular Life Towers, the state-of-the-art Asian Hospital and Medical Center, and the Northgate Business District, which specializes in hosting information and technology industries.
It is also home to Barangay Alabang, which houses one of the country's biggest and most expensive residential communities, known for its wealthy and famous homeowners.  Two large-scale commercial real estate projects that ushered development and changed the city's landscape have also led to such recent citations as "Most Competitive City" and the "Most Improved City" in the Philippines. Muntinlupa reigns as a prime location, giving residents the convenience of a vibrant work environment as well as comfortable living spaces and a refreshing array of lifestyle options.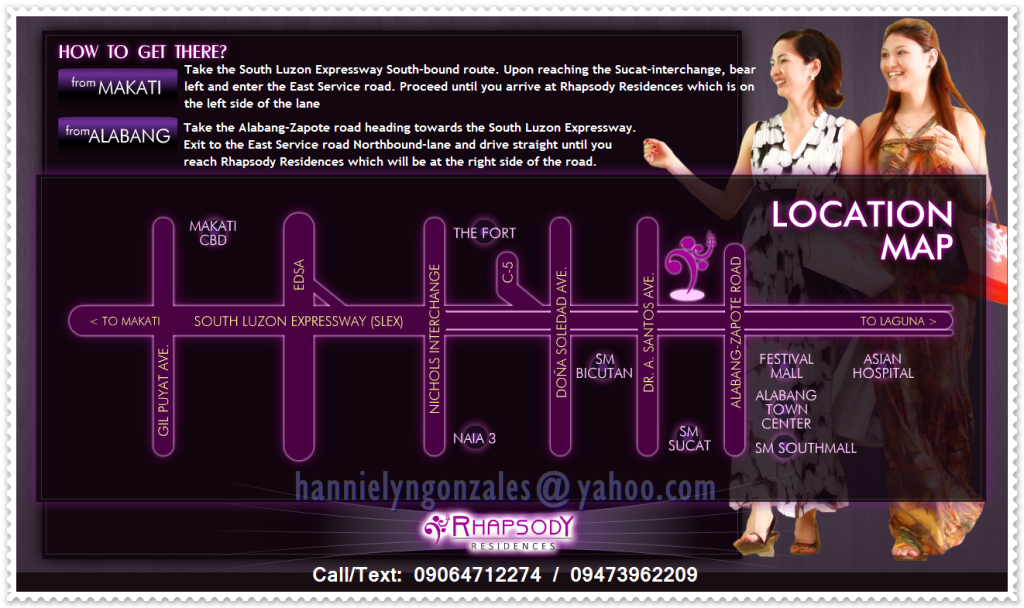 Despite the high-profile address though, Rhapsody Residences will remain true to the essence of a DMCI Homes development by adhering to the core Asian value of gentleness as a resort-themed residence that is the perfect getaway from the concrete and steel of its surrounding environment.   The project is designed for end-users and upgraders from Parañaque, Las Pinas, Muntinlupa and Pasay.  This market segment is composed of modestly-earning young families who are aspiring for a calmer, relaxed, and unhurried home environment where they can raise their children. 

Planned as a medium-rise residential development, it will rise on 3.8 hectares of prime land, consisting of nine mid-rise buildings – eight of which will have five levels. Another innovation, a 10-level residential building, will be included within the property to showcase the excellent living possibilities offered by the company even in structures higher than five stories.
A total of 1,186 units will be available, all composed of two-bedroom units intended for the target market. Home buyers can choose from units of varying sizes, from 54 sqm to 77 sqm.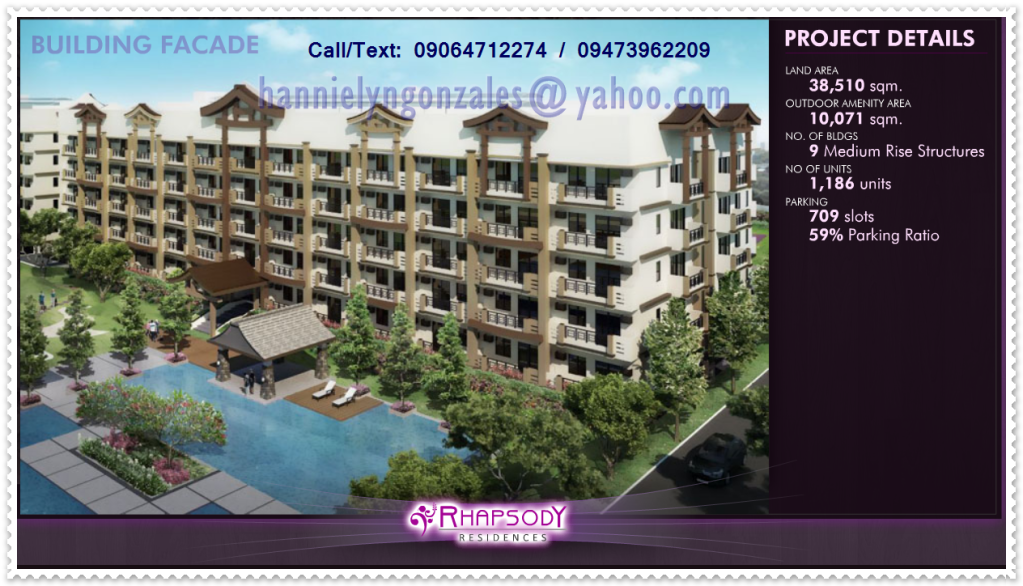 As a major advantage, Rhapsody Residences will also be providing the largest amenities area among all DMCI home developments: more than 1 hectare of community amenities that will be conducive to both active and laid-back family activities.  All these attributes will certainly add to the sparkle of this high-quality development, as a dazzling landmark in the Philippines' Emerald City.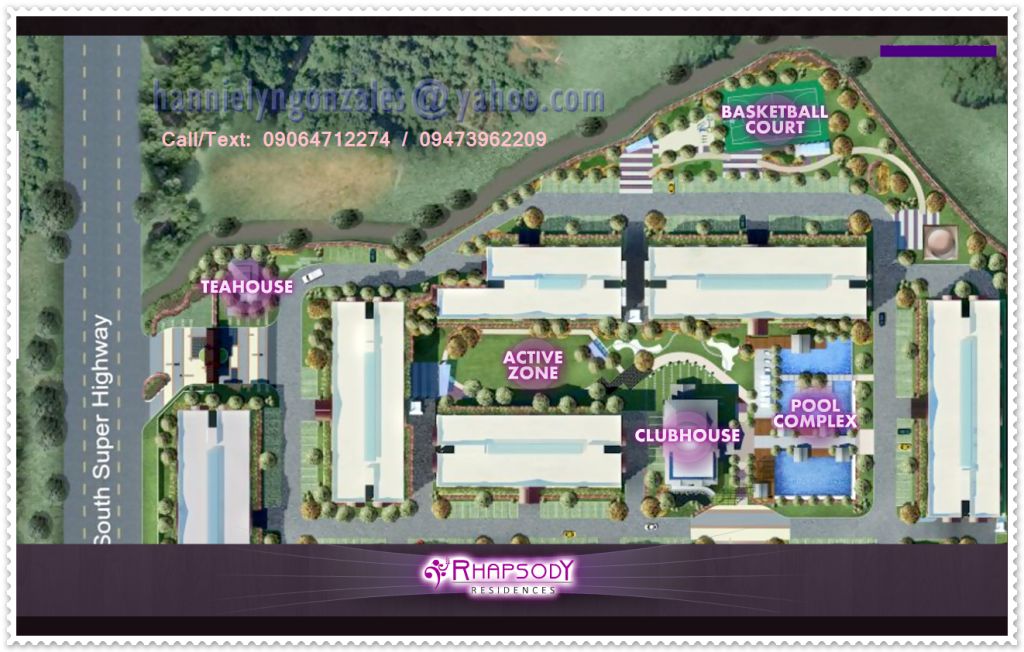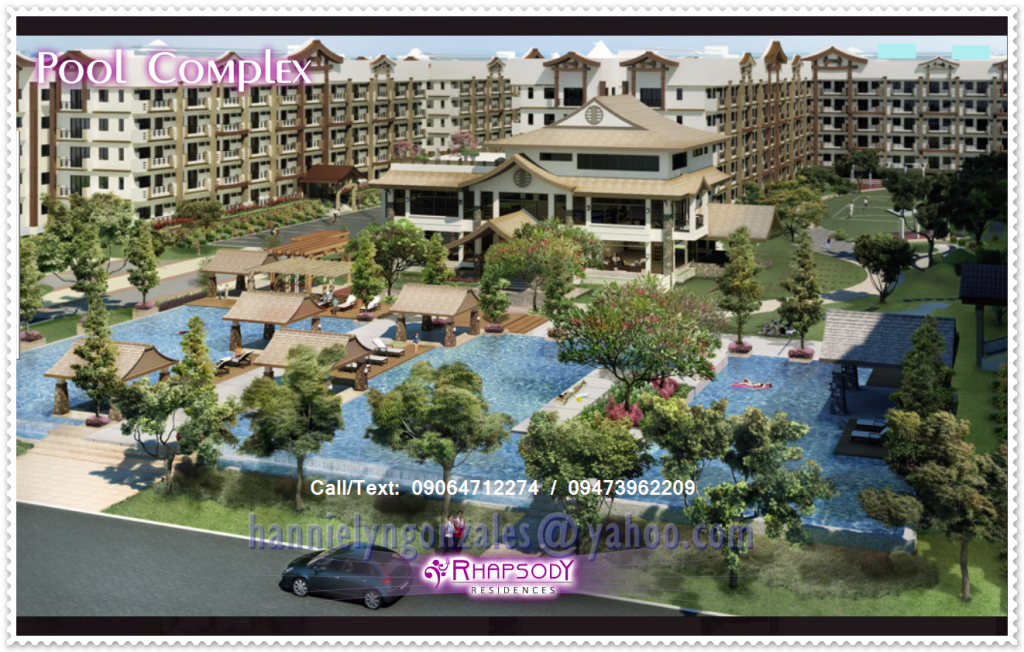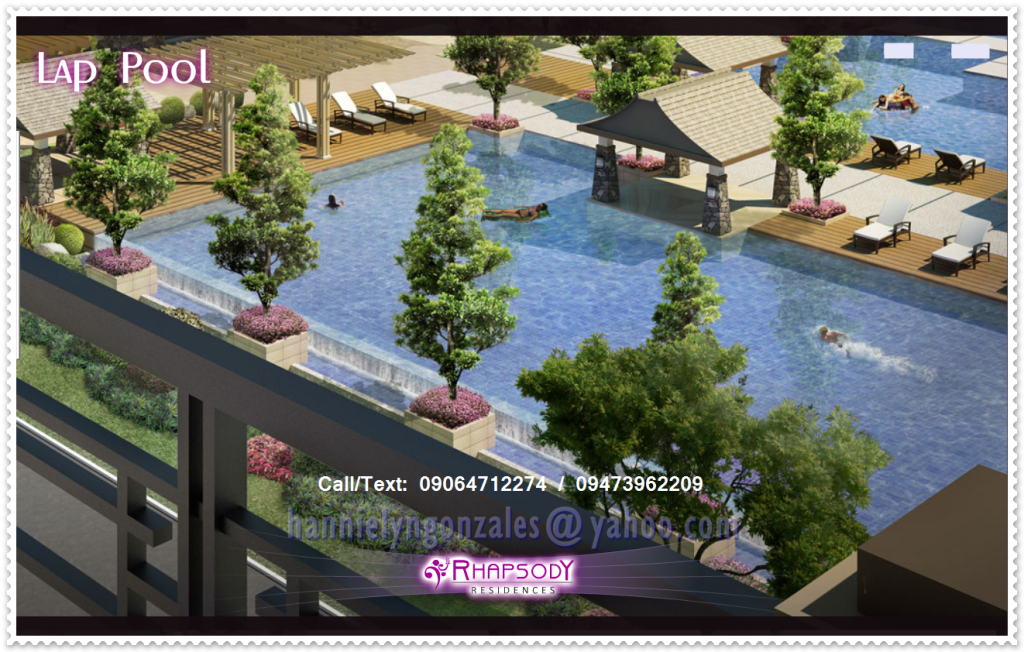 Buyers will also get access to a selection of exclusive indoor and outdoor amenities and facilities, among them a clubhouse lounge and bar area, a sky lounge, function rooms, fitness gym, game room, entertainment room, swimming pool complex with its own kiddie pool, lap pool, and lounge pool; basketball court, play court, playground, gazebos, water features, a teahouse, parks and gardens.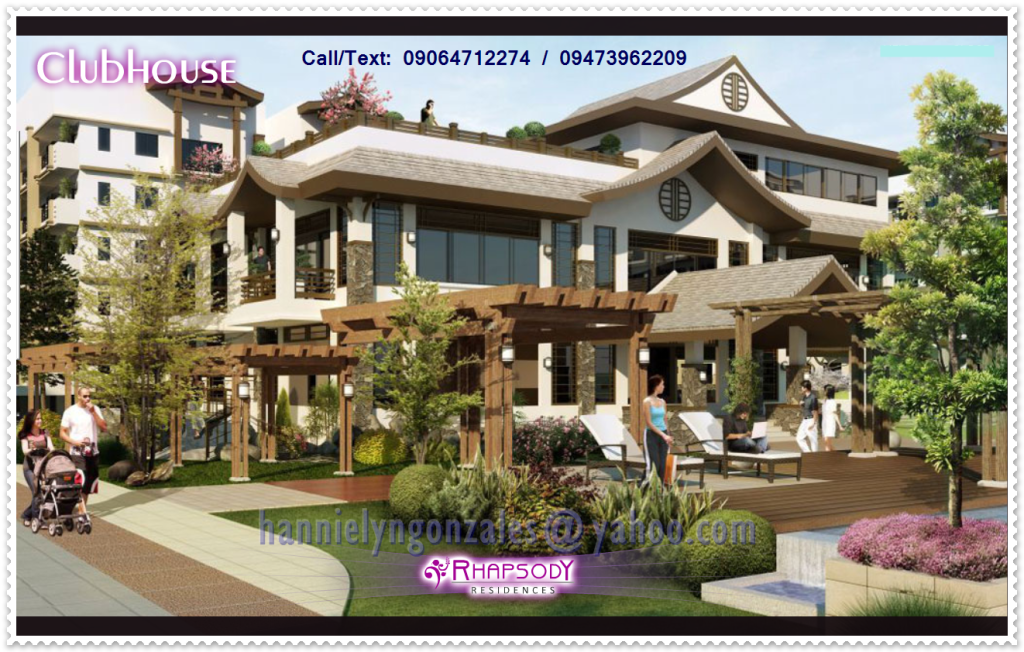 Clubhouse Amenities
  Lounge Area | Function Hall | Fitness Gym | Game Room | Entertainment Room | Water station | Laundry Station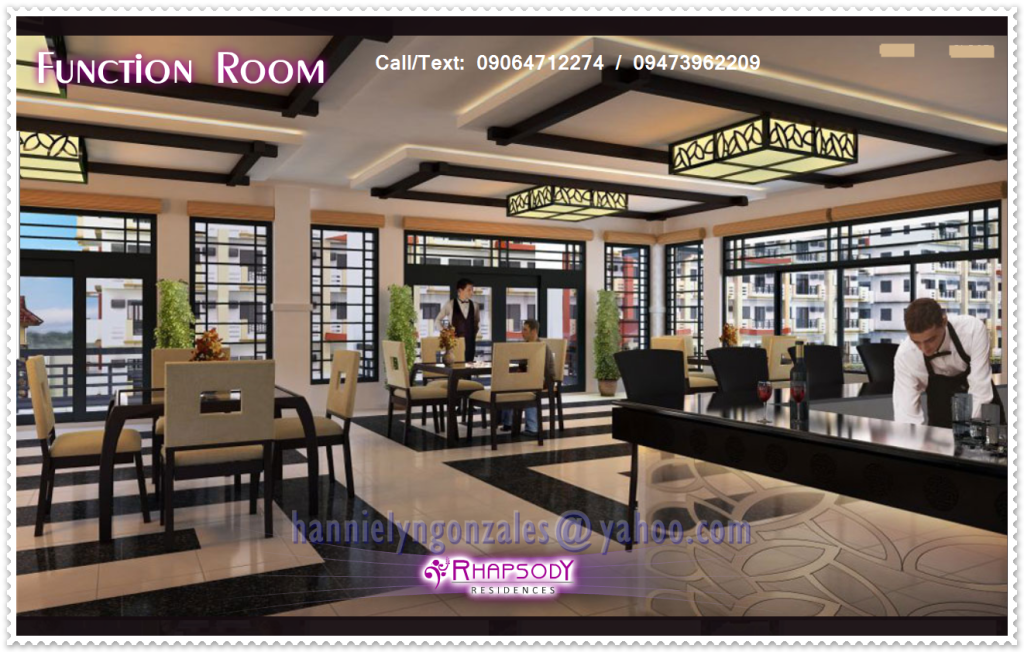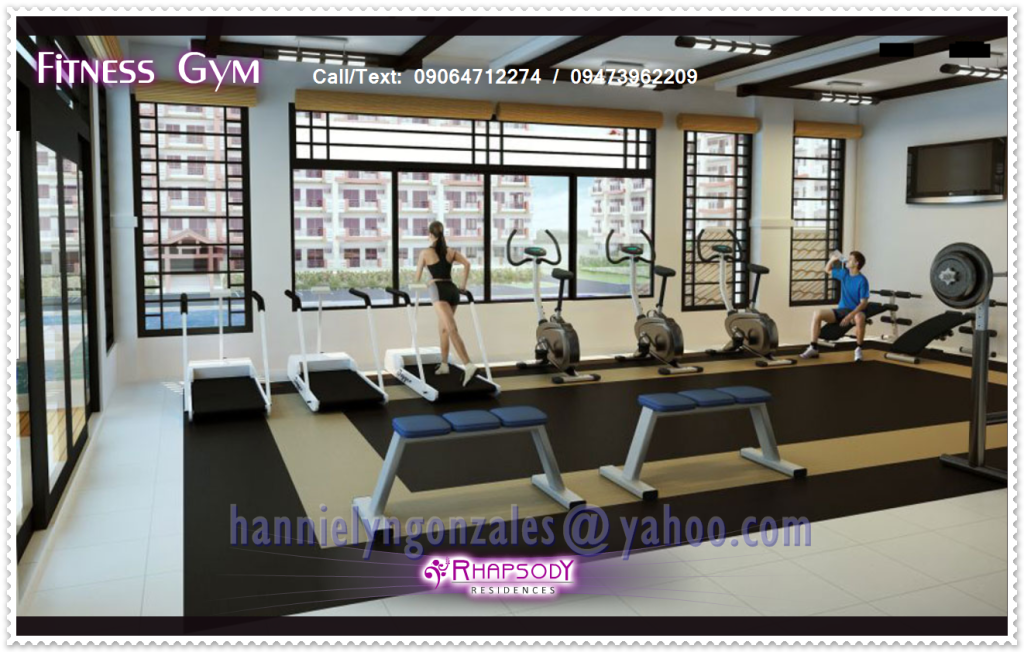 - KOI POND -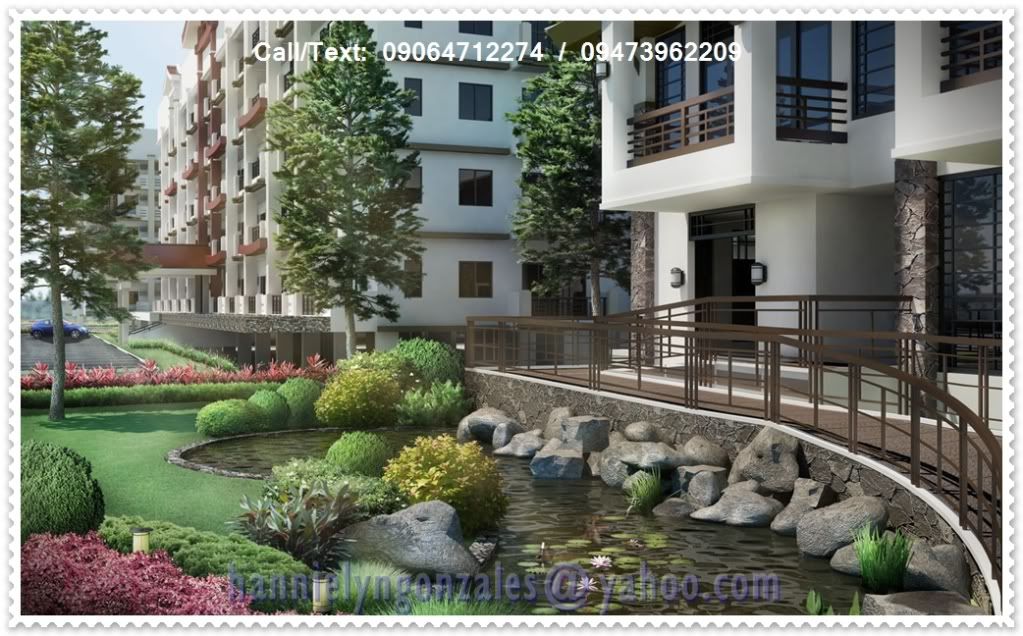 The Neo-Asian amenities design concept will be achieved through elements of landscaping and water that mimic the serenity of a Japanese garden.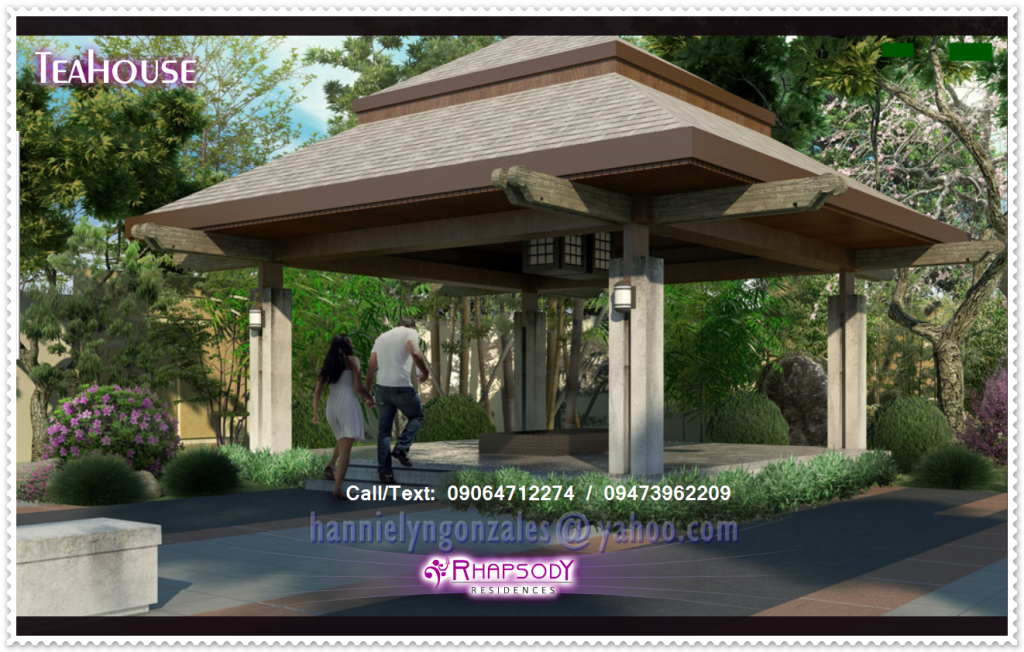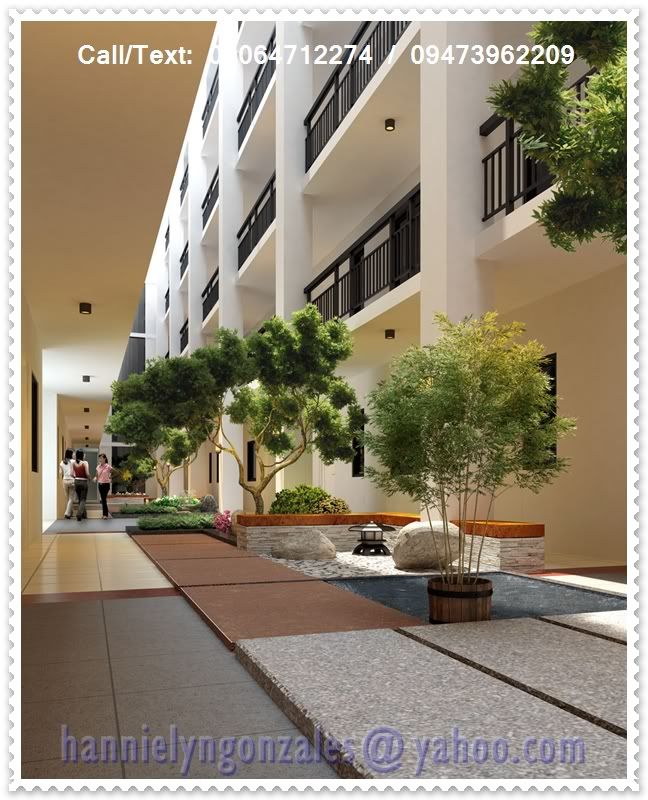 Facilities: 24-hour Security CCTV | Cameras |Perimeter Fence | Main Entrance Gate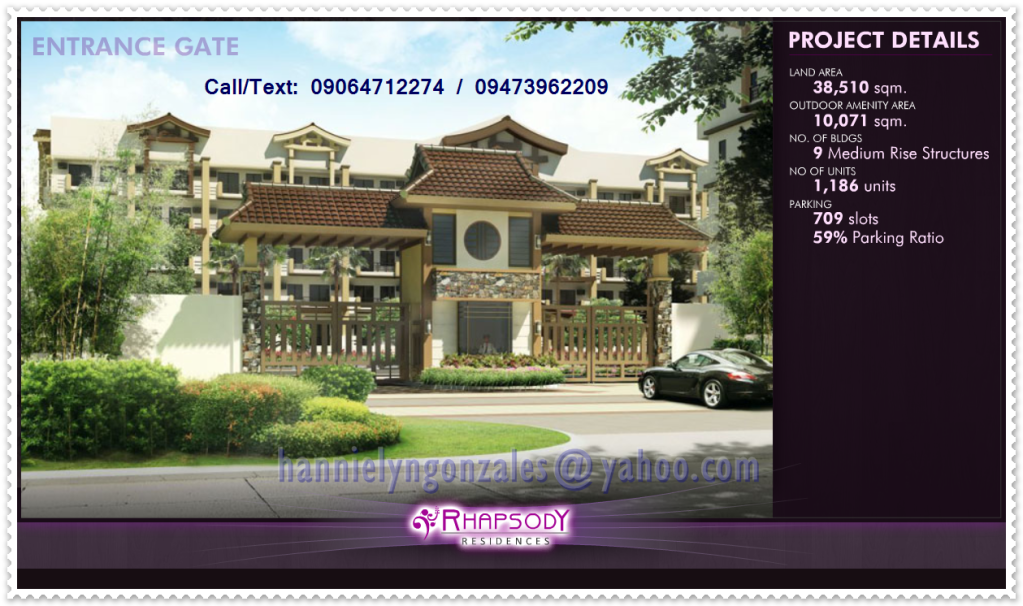 "Rhapsody, aside from its musical connotations, also means great joy and happiness, reflecting the emotions that our resort-inspired amenities and low-density living set-up tend to evoke in people. It is our goal to inspire residents to live the life that they have always dreamed of, and being happy with their surroundings is a good place to begin,"  
With multiple configurations of the 2-bedroom unit, rest assured that you will find the perfect unit type to suit your family's needs and lifestyle. From 54 SQM up to 77SQM offerings, each unit contains all the necessary areas that a growing family needs – a living and dining room, kitchen area, spacious bedrooms, and a beautifully designed toilet and bath area with fixtures that complement your upgraded lifestyle. Each unit is designed to perfectly maximize the livable floor area for every section of your home, ensuring that there is no space wasted, and that there will always be room for all your family's needs.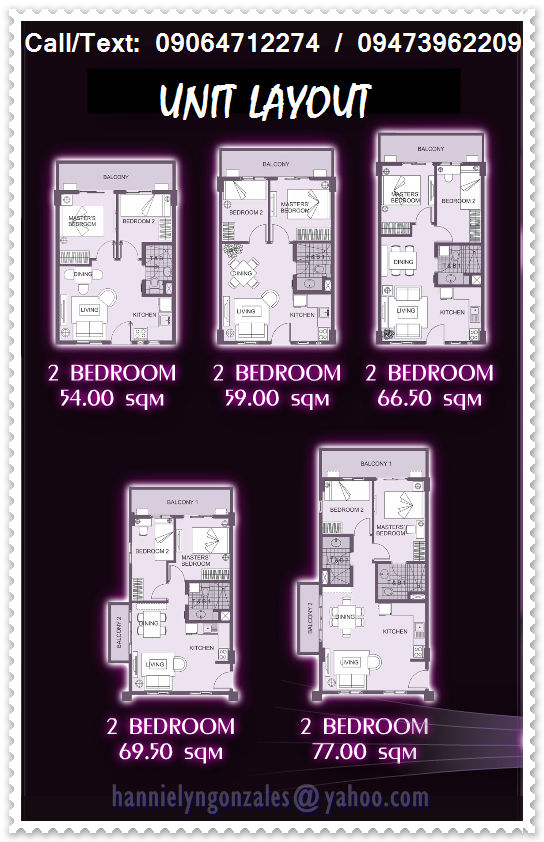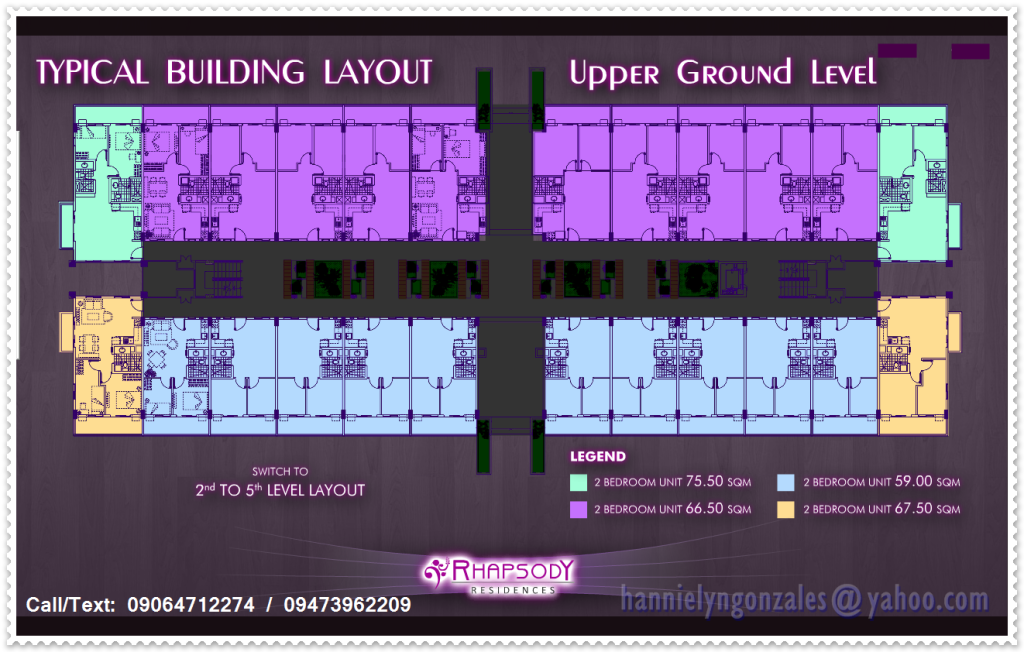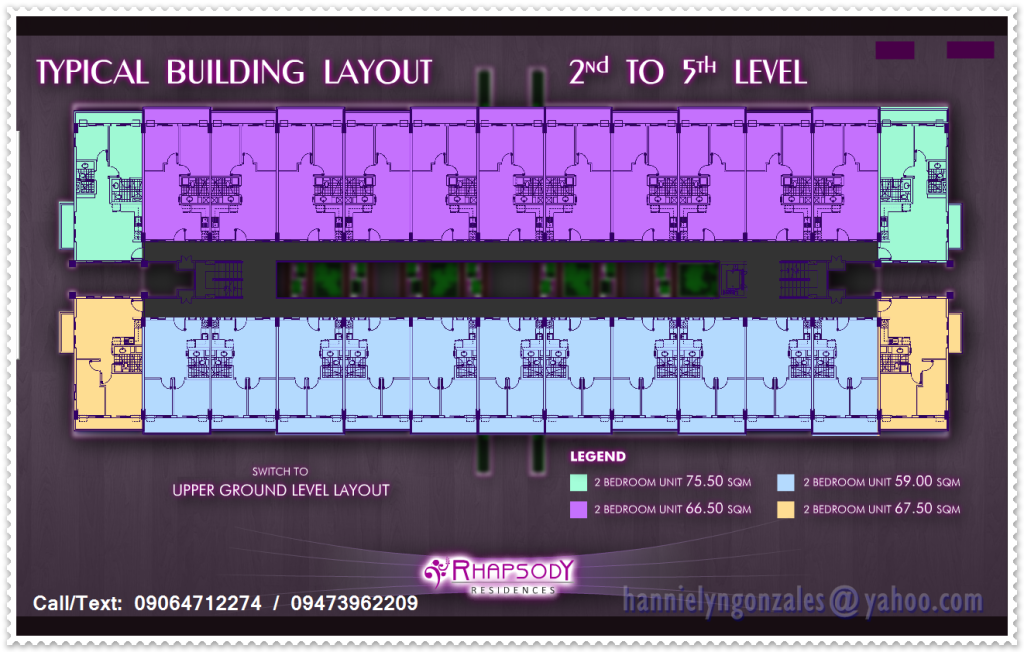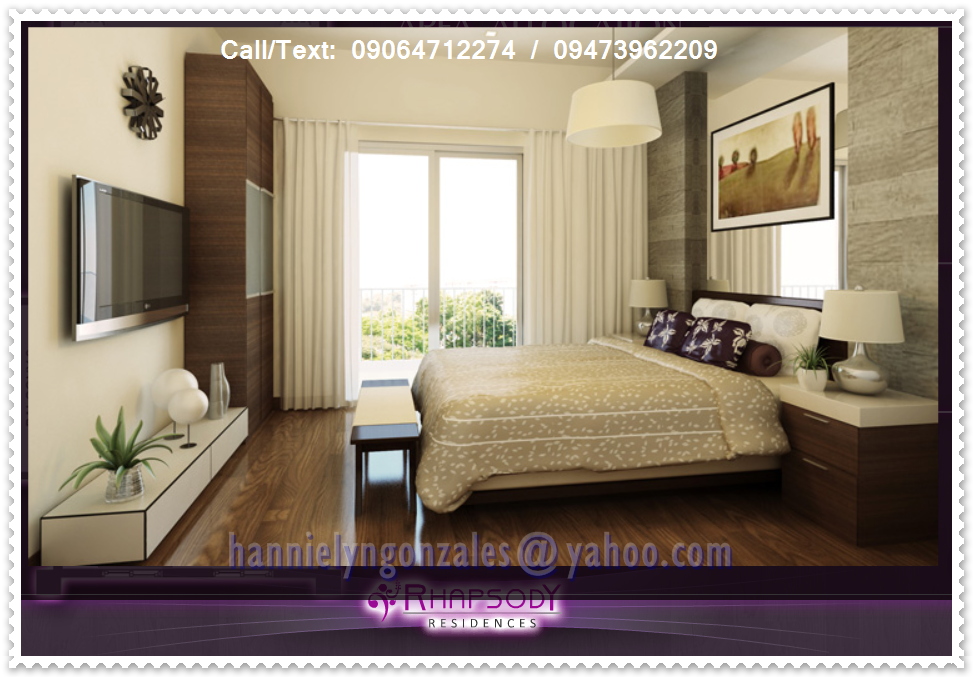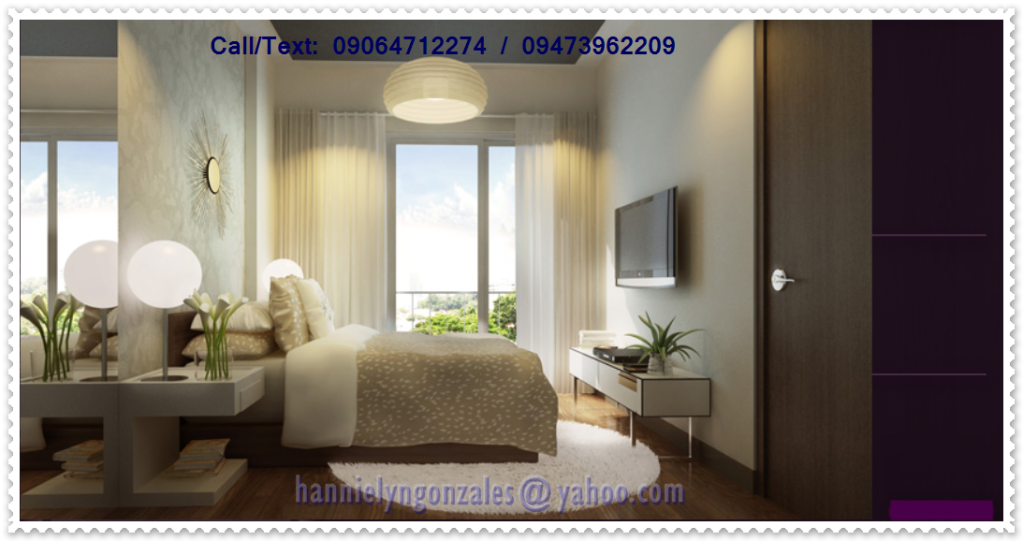 UNIT FEATURES
Provision for air-conditioning units                                                           
Provision for cable TV connection
Provision for telephone line connection
Provision for smoke detectors
Provision for washing machine
INCLUSIONS
Individual mail boxes with keys located in a centralized mail room / area
Individual electric meters
Bedroom partitions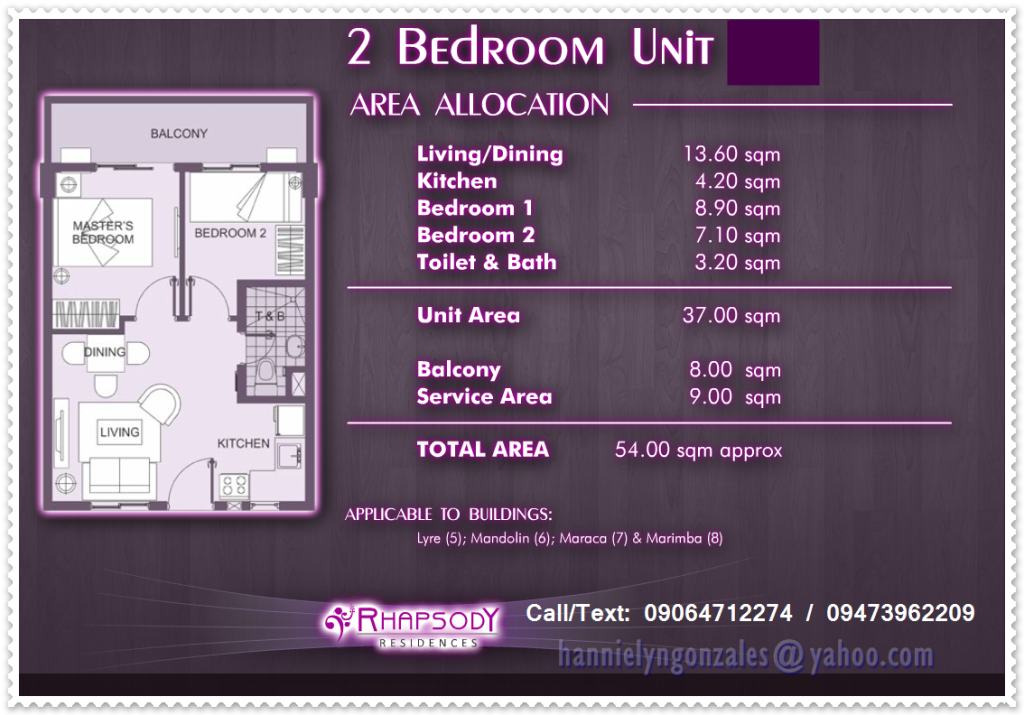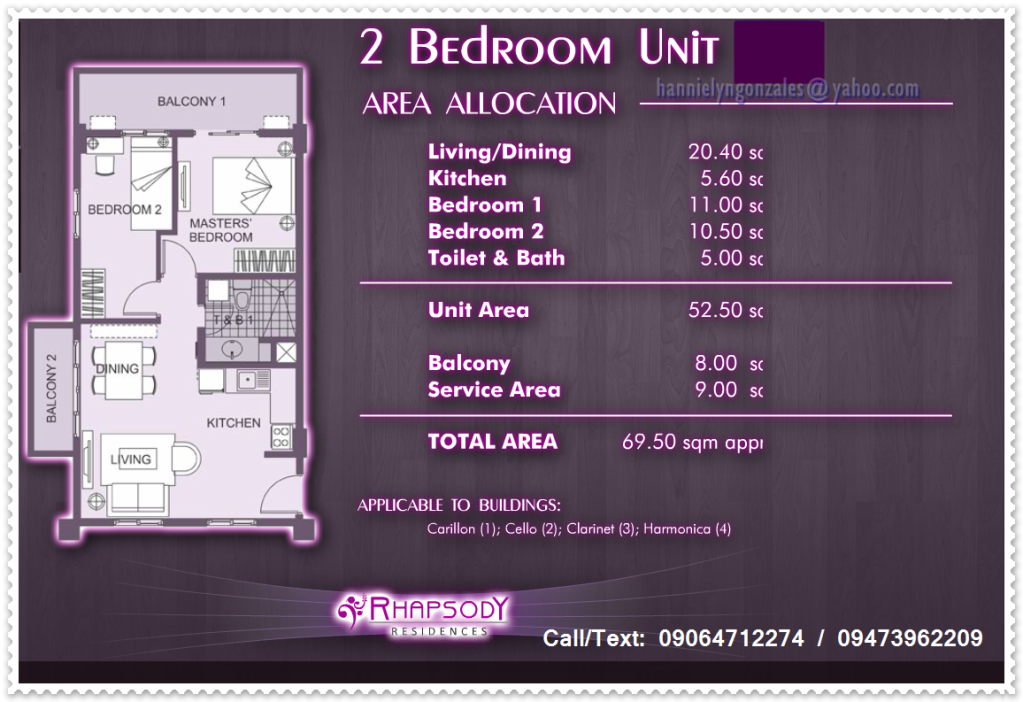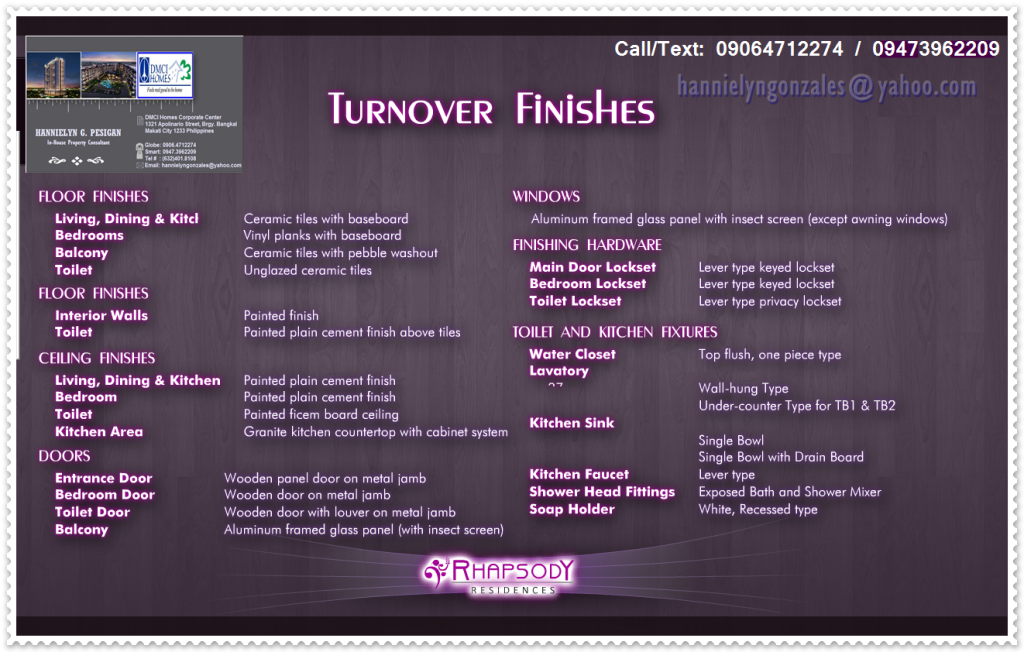 HURRY !!! RESERVE NOW!!!
For more details, site and model unit viewing please call/text: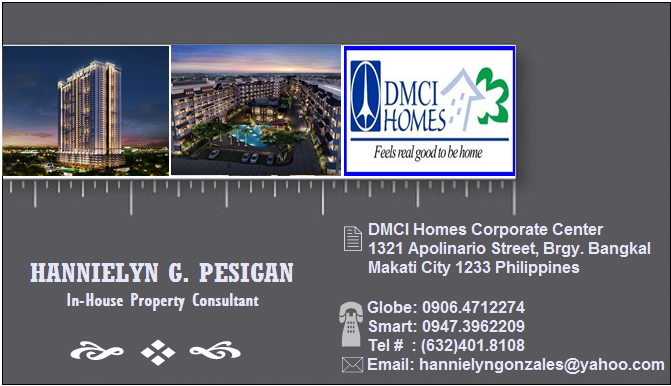 DMCI Homes

 

is the country's premier triple A builder-developer that brings serviced, themed communities within reach of urban families who once had limited residential options, but still aspire to achieve a comfortable, enriching quality of life proximate to their place of interest. 
In so doing, we are committed… 
to ensure customer satisfaction,
to achieve a sustainable growth on our shareholders' investment,
to maintain a mutually beneficial relationship with our partners in the business,
to care for the environment we work in,
to promote the growth of our people…  
while building an organization that espouses Integrity, Excellence and Interdependence.
OTHER PROJECTS ALSO AVAILABLE FROM AND TO YOUR PLACE OF INTEREST.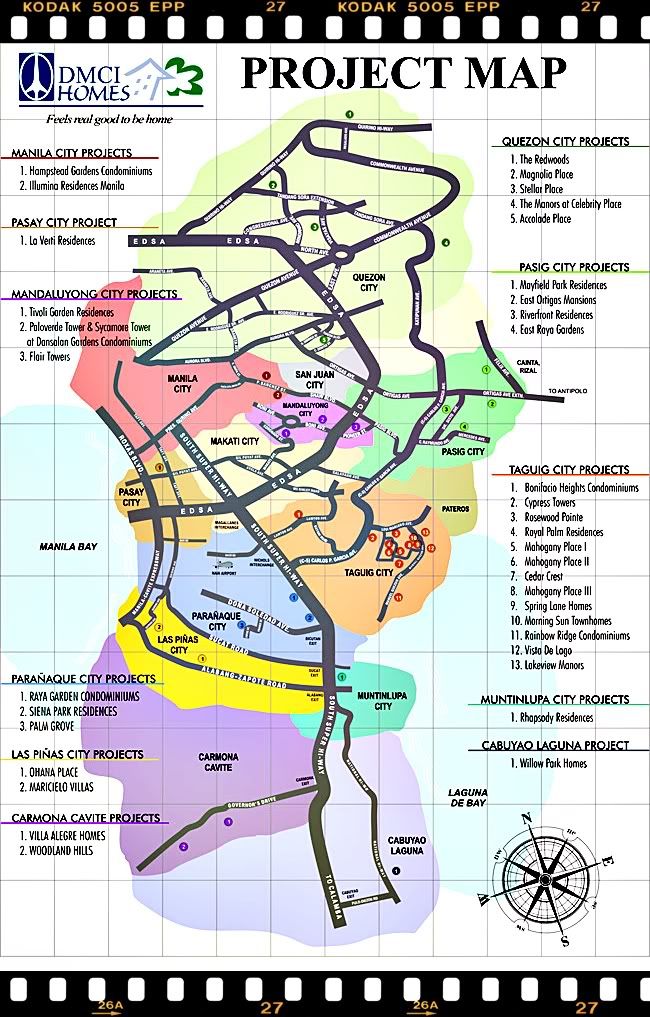 FOR MORE DETAILS AND SITE TRIPPING KINDLY CONTACT: 
HANNIELYN 
Smart : +(63)9473962209 
Globe : +(63)9064712274 
Wireless Landline :  (02) 4018108 
Email : hannielyngonzales@yahoo.com
Legend:
Actual Location
Nearest Landmark
Seller Contact Details
Hannielyn Gonzales Pesigan
Contact Details
+63-947

-XXX-XXXX

+63-947- (Smart) 396-2209

+63-906

-XXX-XXXX

+63-906- (Globe) 471-2274

02-401

-XXXX

02-401- 8108
Last Access From: Philippines
Other Ads by Hannielyn
Comments
Leave a message for the advertisement owner here (for members only). Follow this ad's comments via RSS
No Comments Yet
most expensive house Ads
Related Ads

Related Ads

Related Ads