House and Lot For Sale Antipolo Sponsored
New Ad!
New Comment!
| Bedrooms | Bathrooms | Floor Area | Lot Area |
| --- | --- | --- | --- |
| 3 | 2 | 106.81 sqm | 80 sqm |
Price:P

3,200,000.00

Date Posted:

7 hours ago (May 23, 2013)

Address:

L1-B10 Phase II, Summerhills Subdivision, Antipolo

Classification:

For Sale

Condition:

New

Location: Metro Manila

Ad ID:

5812545

Short URL:

Ad Details
SubNet Construction
Gordon Sherry
Contact Numbers:

+63-919

-XXX-XXXX

+63-919- (Smart) 911-3450

02-706

-XXXX

02-706- (Office) 0414

Feedback Score:

Close X

Feedback Computation

Feedback
Type
> 12 mos.
x1 pt.
12 mos.
x2 pts.
6 mos.
x3 pts.
3 mos.
x4 pts.
Total
Positive
-
-
(1) 3
-
3
Negative
-
-
-
-
-
Total:
3

Legend: (Feedback Count) Computed Score Feedback Details

SG Ranking:

Member Address:

Unit B&C 7th Floor Cyber One Bldg, Eastwood City, Quezon City 1100, Quezon City, Metro Manila

Last Access From:

Philippines

Registered:

Jun 19, 2012

Last Sign In:

8 hours ago

View other ads of 2build4less.

Seller Details
Description
---
House and Lot  For Sale Antipolo
Ready to Move In built by 2Build4Less - Subnet Construction House and Lot For Sale Antipolo - Modern Townhouse design located at Summerhills Subdivision
Turnkey superb modern townhouse are built on a corner lot overlooking the park. Bank Financing Available and fantastic low deposit terms.
Each Beautiful home has 3 spacious bedrooms
Gorgeous View Overlooking the Park
Private Covered CarPort.
Landscaping
Excellent home for the modern up and coming family.
Granite top kitchen
Steel framed stairs with solid wood treads
Powder coated aluminum window
A second floor balcony
Dining area that opens to a back lanai
Combination of direct and indirectly lighted ceiling design
Good investment or rental opportunity. In fact we can rent these investment homes for you when finished easily by placing it within our managed rental pool.
This could be the best investment buy in town.
Be quick with your deposit as prices are rising in the area.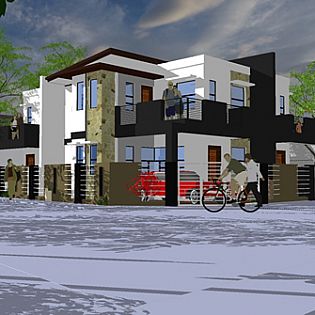 Starting Price of 3.2M
Bank Financing Available and fantastic low deposit terms. Ask for our great computation showing different terms.
Reservation Fee: Php 50,000
Unit A: 
Lot Area = 86sqm
Floor Area = 110.06sqm
Price: 3.28M  AVAILABLE

Unit B:
Lot Area = 80sqm
Floor Area = 106.81sqm
Price: 3.14M  AVAILABLE

Corner Unit C:
Lot Area = 95sqm
Floor Area = 106.60sqm
Price:  = SOLD

Floors: 2
Bathroom: 2
Bedroom: 3
House and Lot For SaleAntipoloLocated in Antipolo in the cooler hills above Manila. Its a growing easy to get to and sought after location. Property prices are rising fast here especially as the new roads like Marikina Highway are recently completed.
Safe from any flooding with no pollution. There are many good schools and new malls nearby. Robinsons are building a new mall and housing. There is Shopwise, SM Marikina, SM Masinag, Sta Lucia and RobinsonsMalls. College and schools are easy to get to. It's an easy ride to Eastwood or Ortigas.
Built in a beautiful, secure and lush subdivision with gorgeous views. Next to a wooded green park with children's play area.
This is a ready to move in Turnkey investment opportunity with prices that can not be repeated.
Make the move NOW to a modern style of living.
For more information you can contact us at:
Tel: (02) 706.0414   Cell: 0919.911.3450
Email: sales@2build4less.com
Website: http://www.2build4less.com
 You can also try logging in to our MyBuild page (a special feature for the client) to see the photos of actual construction of the house.
Legend:
Actual Location
Nearest Landmark
Seller Contact Details
SubNet Construction
Gordon Sherry
Contact Details
+63-919

-XXX-XXXX

+63-919- (Smart) 911-3450

02-706

-XXXX

02-706- (Office) 0414
Last Access From: Philippines
Feedback Score
Close X
Feedback Computation
Feedback
Type
> 12 mos.
x1 pt.
12 mos.
x2 pts.
6 mos.
x3 pts.
3 mos.
x4 pts.
Total
Positive
-
-
(1) 3
-
3
Negative
-
-
-
-
-
Total:
3
Legend: (Feedback Count) Computed Score
Feedback Details